SINAMICS G120X series belongs to the well-proven family of SINAMICS converters. It has been optimized for applications where water and air are moved – for example, for infrastructure projects with a focus on the water/wastewater sectors as well as HVAC applications in building automation. SINAMICS G120X is impressive as a result of its maximum degree of simplicity,reliability, and efficiency. It plays its role in harnessing the force of the elements for the benefit for all.

SINAMICS G120X converters were developed for the optimum operation of pumps and fans in the water industry. The converters are rugged, reliable, and simple to operate. For utility companies,this means that these devices represent the perfect solution to control their water and wastewater systems.

Simple, reliable, and efficient: SINAMICS G120X is the first choice when it comes to controlling pumps and fans in HVAC applications in the building automation domain. The converter was developed to comply with the highest requirements. Our health and quality of life are simply too valuable to compromise.
SINAMICS G120X –
ready for digitalization
Connected to the cloud via the SINAMICS CONNECT 300 IoT Gateway means that the SINAMICS G120X is ready for digitalization: The states of the converter, motor, and driven load can be visualized and analyzed.The MindSphere Analyze MyDrives application provides you with valuable data to optimize your processes and maintenance strategy. The setup is especially simple using the Smart Access Module via Wi-Fi or the IOP-2 Intelligent Operator Panel, both of which have been optimized for pump
and fan applications.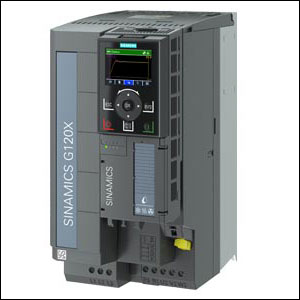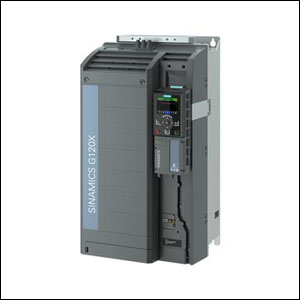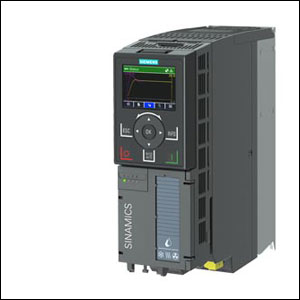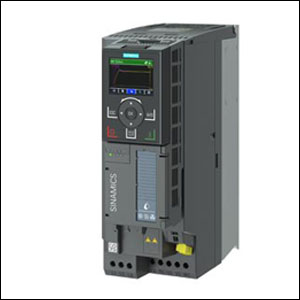 Siemens VFD G120X vendor with best price range in Lucknow
Siemens installed in Bangalore
Siemens Simatic G120X with suppler and installed and distributor in Nashik
Siemens VFD G120X Trader with best price range in Surat
Siemens VFD G120X used for Pick and Place automation in Kolkata
Siemens used for Textile machine synchronization in Nashik
Siemens Simatic G120X used for Pick and Place automation in Vadodara
Siemens Simatic G120X used for Automatic batching system for Cadbury and dealer at Mumbai
Siemens VFD G120X Used to Purified Water Distribution system in Vadodara
Siemens Simatic VFD G120X used for Automatic batching system for Cadbury and distributor at Vadodara
Siemens used for Soap Cutting application installed Jaipur
Siemens Dealer with best price range in Chennai
Siemens Simatic G120X for Fully Automatic PLC based Ointment Plant and distributor in Bangalore
Siemens Simatic VFD G120X Stockist with best price range in Surat
Siemens VFD G120X Stockist with best price range in Bangalore
Siemens distributor in Chennai
Siemens Simatic G120X Standard used for Centrifuge application installed and the best dealer in Bangalore
Siemens VFD G120X for Fully Automatic PLC based Ointment Plant and distributor in Pune
Siemens Simatic G120X used for Fully Automatic PLC based Ointment Plant and distributor in Visakhapatnam
Siemens with suppler and installed and distributor in Ahmedabad
Siemens G120X successfully commissioned thousands of projects in many industries in best price coimbatore
Siemens VFD G120X used for Automatic batching system for Cadbury and distributor at Lucknow
Siemens Simatic G120X top 5 dealer at Jaipur
Siemens vendor with best price range in Bangalore
Siemens G120X vendor with best price range in Nagpur
Siemens Simatic VFD G120X used for Fully Automatic PLC based Ointment Plant and distributor in New Delhi
Siemens Simatic G120X used for Pick and Place automation in Surat
Siemens Simatic G120X used for Automatic batching system for Cadbury and dealer at Panvel
Siemens G120X seller at Nashik
Siemens Simatic G120X used for Textile machine synchronization in Jaipur
Siemens Simatic G120X used for Pick and Place automation in Jaipur
Siemens Simatic VFD G120X installed in Hyderabad
Siemens Simatic VFD G120X with supplier and installed Distribution system in Nashik
Siemens G120X huge stockist with lowest price in Chennai
Siemens G120X successfully commissioned thousands of projects in many industries in best price at Indore
Siemens VFD G120X successfully commissioned at Pune
Siemens Standard used for Centrifuge application installed and the best dealer in Nagpur
Siemens Simatic VFD G120X best stockist Pune
Siemens Simatic G120X installed in Faridabad
Siemens Simatic VFD G120X used for Textile machine synchronization in Hyderabad
Siemens Simatic VFD G120X best stockist Indore
Siemens VFD G120X successfully installed in Bangalore
Siemens G120X successfully commissioned thousands of projects in many industries in best price Indore
Siemens VFD G120X for Fully Automatic PLC based Ointment Plant and distributor in Vadodara
Siemens Simatic G120X successfully commissioned thousands of projects in many industries in best price at Hyderabad
Siemens G120X with supplier and installed Distribution system in coimbatore
Siemens used for Automatic batching system for Cadbury and dealer at Nagpur
Siemens installed in Lucknow
Siemens Simatic G120X used for Automatic batching system for Cadbury and dealer at Panvel
Siemens G120X used for Pick and Place automation in New Delhi
Siemens vendor with best price range in Kanpur
Siemens G120X seller at Nagpur
Siemens top 5 dealer at Surat
Siemens Simatic VFD G120X successfully commissioned thousands of projects in many industries in best price at Kolkata
Siemens VFD G120X with suppler and installed and distributor in Nagpur
Siemens G120X Stockist with best price range in Visakhapatnam
Siemens used for Textile machine synchronization in Hyderabad
Siemens G120X used for Automatic batching system for Cadbury and distributor at Chennai
Siemens Simatic G120X used for Fully Automatic PLC based Ointment Plant and distributor in Chennai
Siemens VFD G120X used for Automatic batching system for Cadbury and distributor at Faridabad
Siemens Simatic G120X Trader with best price range in Bangalore
Siemens Simatic G120X vendor with best price range in Indore
Siemens Simatic G120X used for Automatic batching system for Cadbury and distributor at Hyderabad
Siemens VFD G120X successfully commissioned thousands of projects in many industries in best price at Indore
Siemens VFD G120X used for Pick and Place automation in Pune
Siemens VFD G120X Standard used for Centrifuge application installed and the best dealer in Pune
Siemens VFD G120X best dealer in lowest price in Kanpur
Siemens Simatic G120X seller at Faridabad
Siemens VFD G120X distributor in Hyderabad
Siemens G120X high quality dealer at Surat
Siemens G120X used for Textile machine synchronization in Kolkata
Siemens Simatic VFD G120X distributor in Mumbai
Siemens Simatic VFD G120X used for Textile machine synchronization in Indore
Siemens G120X used for Soap Cutting application installed Jaipur
Siemens Simatic G120X for Fully Automatic PLC based Ointment Plant and distributor in Kolkata
Siemens G120X with supplier and installed Distribution system in Mumbai
Siemens top 5 dealer at Faridabad
Siemens Simatic G120X used for Automatic batching system for Cadbury and dealer at Surat
Siemens used for Textile machine synchronization in Visakhapatnam
Siemens Simatic VFD G120X successfully commissioned thousands of projects in many industries in best price at Faridabad
Siemens Simatic G120X successfully installed in Visakhapatnam
Siemens Simatic G120X successfully installed in Kanpur
Siemens used for Automatic batching system for Cadbury and distributor at Panvel
Siemens G120X successfully installed in coimbatore
Siemens top 5 dealer at Nashik
Siemens VFD G120X vendor with best price range in Nagpur
Siemens G120X used for Centrifuge application installed and the best dealer in Vadodara
Siemens VFD G120X Used to Purified Water Distribution system in New Delhi
Siemens VFD G120X with supplier and installed Distribution system in Mumbai
Siemens G120X used for Automatic batching system for Cadbury and dealer at Lucknow
Siemens Simatic VFD G120X Standard used for Centrifuge application installed and the best dealer in Vadodara
Siemens used for Soap Cutting application installed Nagpur
Siemens VFD G120X used for Automatic batching system for Cadbury and dealer at Kolkata
Siemens G120X dealers in Vadodara
Siemens G120X with suppler and installed and distributor in Hyderabad
Siemens VFD G120X used for Pick and Place automation in Mumbai
Siemens VFD G120X successfully commissioned thousands of projects in many industries in best price at Visakhapatnam
Siemens VFD G120X for Fully Automatic PLC based Ointment Plant and distributor in Kolkata
Siemens VFD G120X used for Centrifuge application installed and the best dealer in Nagpur
Siemens G120X huge stockist with lowest price in Lucknow
Siemens Simatic VFD G120X seller at Visakhapatnam
Siemens G120X huge stockist with lowest price in Indore
Siemens G120X Stockist with best price range in Panvel
Siemens VFD G120X used for Pick and Place automation in Visakhapatnam
Siemens VFD G120X vendor with best price range in Ahmedabad
Siemens VFD G120X best dealer in lowest price in Panvel
Siemens VFD G120X Standard used for Centrifuge application installed and the best dealer in Lucknow
Siemens Simatic G120X high quality dealer at Ahmedabad
Siemens Simatic G120X used for Centrifuge application installed and the best dealer in Pune
Siemens successfully commissioned thousands of projects in many industries in best price Lucknow
Siemens Simatic VFD G120X Trader with best price range in Nashik
Siemens Simatic G120X Stockist with best price range in Lucknow
Siemens Simatic VFD G120X successfully commissioned at coimbatore
Siemens VFD G120X installed in Chennai
Siemens Simatic VFD G120X Trader with best price range in coimbatore
Siemens Simatic G120X used for Pick and Place automation in Chennai
Siemens Simatic VFD G120X successfully commissioned thousands of projects in many industries in best price at Chennai
Siemens G120X vendor with best price range in Faridabad
Siemens used for Textile machine synchronization in Panvel
Siemens best stockist Vadodara
Siemens VFD G120X Stockist with best price range in Faridabad
Siemens Simatic VFD G120X dealers in Kolkata
Siemens VFD G120X successfully commissioned thousands of projects in many industries in best price Bangalore
Siemens VFD G120X Trader with best price range in Faridabad
Siemens successfully commissioned at Kolkata
Siemens Simatic VFD G120X successfully commissioned at Jaipur
Siemens G120X huge stockist with lowest price in Panvel
Siemens G120X top 5 dealer at Nagpur
Siemens successfully commissioned thousands of projects in many industries in best price at Ahmedabad
Siemens VFD G120X with supplier and installed Distribution system in Vadodara
Siemens Simatic G120X best dealer in lowest price in Nagpur
Siemens top 5 dealer at Panvel
Siemens Trader with best price range in Bangalore
Siemens G120X successfully commissioned at New Delhi
Siemens Simatic G120X used for Automatic batching system for Cadbury and dealer at Nagpur
Siemens used for Fully Automatic PLC based Ointment Plant and distributor in Indore
Siemens G120X successfully commissioned thousands of projects in many industries in best price Hyderabad
Siemens Simatic G120X successfully installed in New Delhi
Siemens G120X Used to Purified Water Distribution system in coimbatore
Siemens successfully commissioned thousands of projects in many industries in best price at Indore
Siemens Simatic VFD G120X Standard used for Centrifuge application installed and the best dealer in coimbatore
Siemens G120X successfully commissioned at Jaipur
Siemens Simatic VFD G120X huge stockist with lowest price in Vadodara
Siemens VFD G120X installed in New Delhi
Siemens used for Soap Cutting application installed Vadodara
Siemens VFD G120X used for Fully Automatic PLC based Ointment Plant and distributor in Jaipur
Siemens G120X Trader with best price range in Ahmedabad
Siemens Simatic G120X successfully installed in Faridabad
Siemens used for Automatic batching system for Cadbury and distributor at Indore
Siemens Simatic G120X Used to Purified Water Distribution system in Vadodara
Siemens used for Automatic batching system for Cadbury and distributor at Visakhapatnam
Siemens Simatic G120X successfully installed in Jaipur
Siemens VFD G120X Dealer with best price range in Indore
Siemens Simatic G120X with supplier and installed Distribution system in Jaipur
Siemens Simatic VFD G120X Standard used for Centrifuge application installed and the best dealer in Lucknow
Siemens Simatic VFD G120X high quality dealer at Visakhapatnam
Siemens G120X huge stockist with lowest price in Mumbai
Siemens Simatic VFD G120X Dealer with best price range in Indore
Siemens Used to Purified Water Distribution system in Pune
Siemens VFD G120X best dealer in lowest price in coimbatore
Siemens VFD G120X Stockist with best price range in Vadodara
Siemens VFD G120X installed in Indore
Siemens Simatic VFD G120X best dealer in lowest price in Mumbai
Siemens VFD G120X used for Soap Cutting application installed Nashik
Siemens used for Automatic batching system for Cadbury and dealer at Chennai
Siemens VFD G120X used for Automatic batching system for Cadbury and dealer at Hyderabad
Siemens Simatic VFD G120X used for Automatic batching system for Cadbury and distributor at Hyderabad
Siemens successfully commissioned thousands of projects in many industries in best price at Kanpur
Siemens VFD G120X dealers in Visakhapatnam
Siemens Simatic VFD G120X successfully commissioned at New Delhi
Siemens Simatic VFD G120X used for Fully Automatic PLC based Ointment Plant and distributor in Faridabad
Siemens dealers in Kolkata
Siemens Simatic VFD G120X high quality dealer at coimbatore
Siemens VFD G120X seller at coimbatore
Siemens G120X used for Centrifuge application installed and the best dealer in Visakhapatnam
Siemens Simatic VFD G120X used for Fully Automatic PLC based Ointment Plant and distributor in Vadodara
Siemens Trader with best price range in Lucknow
Siemens Simatic G120X successfully commissioned thousands of projects in many industries in best price Ahmedabad
Siemens G120X high quality dealer at Panvel
Siemens Simatic VFD G120X successfully commissioned thousands of projects in many industries in best price Ahmedabad
Siemens VFD G120X successfully commissioned at Faridabad
Siemens VFD G120X used for Pick and Place automation in Panvel
Siemens G120X dealers in Surat
Siemens Simatic VFD G120X huge stockist with lowest price in Ahmedabad
Siemens VFD G120X used for Textile machine synchronization in Jaipur
Siemens G120X Dealer with best price range in Jaipur
Siemens Simatic G120X with suppler and installed and distributor in Surat
Siemens Simatic G120X Standard used for Centrifuge application installed and the best dealer in Kolkata
Siemens used for Centrifuge application installed and the best dealer in Visakhapatnam
Siemens best dealer in lowest price in Hyderabad
Siemens G120X huge stockist with lowest price in coimbatore
Siemens Simatic VFD G120X installed in Ahmedabad
Siemens G120X used for Automatic batching system for Cadbury and dealer at Bangalore
Siemens VFD G120X used for Automatic batching system for Cadbury and dealer at Kolkata
Siemens Simatic G120X used for Centrifuge application installed and the best dealer in Visakhapatnam
Siemens Simatic G120X top 5 dealer at Hyderabad
Siemens Simatic G120X used for Textile machine synchronization in New Delhi
Siemens Simatic G120X with supplier and installed Distribution system in Hyderabad
Siemens with suppler and installed and distributor in Visakhapatnam
Siemens Simatic G120X used for Automatic batching system for Cadbury and distributor at New Delhi
Siemens best dealer in lowest price in Indore
Siemens successfully commissioned thousands of projects in many industries in best price Bangalore
Siemens VFD G120X vendor with best price range in Kanpur
Siemens Simatic VFD G120X Stockist with best price range in Indore
Siemens G120X installed in Panvel
Siemens Simatic VFD G120X distributor in Surat
Siemens distributor in Nashik
Siemens Simatic G120X best stockist Hyderabad
Siemens VFD G120X distributor in Nagpur
Siemens Simatic G120X Stockist with best price range in Nashik
Siemens Standard used for Centrifuge application installed and the best dealer in Chennai
Siemens VFD G120X used for Textile machine synchronization in Bangalore
Siemens Simatic VFD G120X used for Soap Cutting application installed Nagpur
Siemens dealers in Jaipur
Siemens used for Pick and Place automation in Kolkata
Siemens installed in Pune
Siemens VFD G120X used for Soap Cutting application installed Ahmedabad
Siemens top 5 dealer at Bangalore
Siemens Simatic G120X Standard used for Centrifuge application installed and the best dealer in Panvel
Siemens Simatic VFD G120X top 5 dealer at Pune
Siemens VFD G120X vendor with best price range in Nashik
Siemens Simatic G120X used for Soap Cutting application installed Vadodara
Siemens Simatic G120X Stockist with best price range in Kanpur
Siemens Standard used for Centrifuge application installed and the best dealer in Nashik
Siemens VFD G120X high quality dealer at Nagpur
Siemens G120X successfully installed in Visakhapatnam
Siemens G120X installed in Hyderabad
Siemens huge stockist with lowest price in Indore
Siemens Simatic G120X Dealer with best price range in Lucknow
Siemens Simatic G120X high quality dealer at coimbatore
Siemens Simatic G120X vendor with best price range in New Delhi
Siemens Simatic VFD G120X successfully commissioned at Visakhapatnam
Siemens VFD G120X successfully installed in Kanpur
Siemens G120X best dealer in lowest price in Kanpur
Siemens G120X used for Pick and Place automation in Nashik
Siemens used for Automatic batching system for Cadbury and dealer at Kolkata
Siemens Simatic VFD G120X used for Soap Cutting application installed New Delhi
Siemens VFD G120X seller at Surat
Siemens Simatic G120X with supplier and installed Distribution system in Visakhapatnam
Siemens G120X dealers in Faridabad
Siemens G120X successfully installed in Panvel
Siemens G120X Used to Purified Water Distribution system in New Delhi
Siemens G120X for Fully Automatic PLC based Ointment Plant and distributor in Jaipur
Siemens VFD G120X successfully installed in Surat
Siemens Simatic VFD G120X with supplier and installed Distribution system in Kanpur
Siemens top 5 dealer at Nagpur
Siemens G120X with supplier and installed Distribution system in Chennai
Siemens Simatic VFD G120X high quality dealer at Kanpur
Siemens VFD G120X Trader with best price range in Lucknow
Siemens G120X seller at Kolkata
Siemens G120X successfully installed in Nashik
Siemens Simatic VFD G120X successfully commissioned thousands of projects in many industries in best price Surat
Siemens G120X distributor in Visakhapatnam
Siemens Simatic G120X Used to Purified Water Distribution system in Lucknow
Siemens used for Centrifuge application installed and the best dealer in Mumbai
Siemens VFD G120X successfully commissioned thousands of projects in many industries in best price at Nagpur
Siemens Simatic VFD G120X used for Automatic batching system for Cadbury and dealer at Surat
Siemens used for Pick and Place automation in Indore
Siemens Simatic VFD G120X Standard used for Centrifuge application installed and the best dealer in Indore
Siemens G120X top 5 dealer at Mumbai
Siemens Simatic VFD G120X successfully installed in Hyderabad
Siemens Simatic G120X used for Soap Cutting application installed Ahmedabad
Siemens VFD G120X with suppler and installed and distributor in coimbatore
Siemens G120X best stockist Mumbai
Siemens G120X distributor in Pune
Siemens VFD G120X used for Automatic batching system for Cadbury and dealer at Chennai
Siemens Simatic G120X dealers in Ahmedabad
Siemens Simatic G120X used for Automatic batching system for Cadbury and dealer at Indore
Siemens VFD G120X distributor in Nashik
Siemens Simatic G120X used for Automatic batching system for Cadbury and dealer at Lucknow
Siemens successfully commissioned thousands of projects in many industries in best price at Nashik
Siemens successfully commissioned thousands of projects in many industries in best price Mumbai
Siemens VFD G120X distributor in Jaipur
Siemens Simatic G120X seller at Vadodara
Siemens Simatic VFD G120X used for Textile machine synchronization in Lucknow
Siemens G120X used for Automatic batching system for Cadbury and dealer at Vadodara
Siemens used for Automatic batching system for Cadbury and dealer at Nashik
Siemens Stockist with best price range in Surat
Siemens for Fully Automatic PLC based Ointment Plant and distributor in Kanpur
Siemens G120X Stockist with best price range in Nashik
Siemens VFD G120X used for Textile machine synchronization in Ahmedabad
Siemens Simatic G120X Dealer with best price range in Hyderabad
Siemens Simatic VFD G120X vendor with best price range in Surat
Siemens Simatic G120X with supplier and installed Distribution system in Kanpur
Siemens VFD G120X used for Soap Cutting application installed Lucknow
Siemens Simatic G120X best stockist Vadodara
Siemens Simatic G120X installed in Indore
Siemens VFD G120X successfully commissioned at Ahmedabad
Siemens Simatic VFD G120X distributor in Ahmedabad
Siemens Simatic G120X with supplier and installed Distribution system in Bangalore
Siemens used for Textile machine synchronization in Kolkata
Siemens VFD G120X used for Automatic batching system for Cadbury and dealer at Mumbai
Siemens Simatic VFD G120X with supplier and installed Distribution system in Pune
Siemens Simatic G120X with suppler and installed and distributor in Ahmedabad
Siemens G120X dealers in Nagpur
Siemens Simatic G120X installed in Kanpur
Siemens with supplier and installed Distribution system in Mumbai
Siemens Simatic VFD G120X Dealer with best price range in Vadodara
Siemens G120X for Fully Automatic PLC based Ointment Plant and distributor in Nashik
Siemens successfully commissioned at Ahmedabad
Siemens G120X successfully commissioned at Chennai
Siemens Simatic VFD G120X successfully commissioned at Mumbai
Siemens Simatic VFD G120X for Fully Automatic PLC based Ointment Plant and distributor in Panvel
Siemens Simatic VFD G120X Stockist with best price range in Nagpur
Siemens G120X used for Automatic batching system for Cadbury and dealer at Chennai
Siemens used for Automatic batching system for Cadbury and dealer at Visakhapatnam
Siemens top 5 dealer at coimbatore
Siemens VFD G120X used for Automatic batching system for Cadbury and dealer at Jaipur
Siemens Trader with best price range in Faridabad
Siemens VFD G120X installed in Panvel
Siemens successfully commissioned thousands of projects in many industries in best price at Visakhapatnam
Siemens VFD G120X successfully commissioned thousands of projects in many industries in best price coimbatore
Siemens G120X distributor in Mumbai
Siemens G120X best dealer in lowest price in Lucknow
Siemens Simatic VFD G120X used for Soap Cutting application installed Kolkata
Siemens huge stockist with lowest price in New Delhi
Siemens VFD G120X huge stockist with lowest price in Jaipur
Siemens G120X successfully installed in Lucknow
Siemens VFD G120X seller at Pune
Siemens G120X used for Automatic batching system for Cadbury and dealer at Hyderabad
Siemens dealers in New Delhi
Siemens Simatic VFD G120X used for Automatic batching system for Cadbury and dealer at Faridabad
Siemens G120X Trader with best price range in Kanpur
Siemens VFD G120X with suppler and installed and distributor in Kolkata
Siemens VFD G120X best stockist New Delhi
Siemens Simatic G120X best stockist Jaipur
Siemens Simatic G120X Stockist with best price range in coimbatore
Siemens Simatic G120X used for Textile machine synchronization in Kolkata
Siemens Simatic VFD G120X Standard used for Centrifuge application installed and the best dealer in New Delhi
Siemens Simatic G120X successfully commissioned at New Delhi
Siemens VFD G120X used for Automatic batching system for Cadbury and distributor at Pune
Siemens Simatic G120X used for Automatic batching system for Cadbury and dealer at Bangalore
Siemens G120X top 5 dealer at Faridabad
Siemens Simatic G120X used for Soap Cutting application installed Ahmedabad
Siemens top 5 dealer at Kanpur
Siemens VFD G120X best stockist Jaipur
Siemens Dealer with best price range in Panvel
Siemens G120X used for Automatic batching system for Cadbury and dealer at Nagpur
Siemens Simatic VFD G120X huge stockist with lowest price in Kanpur
Siemens for Fully Automatic PLC based Ointment Plant and distributor in Hyderabad
Siemens G120X seller at coimbatore
Siemens G120X vendor with best price range in Kolkata
Siemens Simatic VFD G120X used for Automatic batching system for Cadbury and dealer at coimbatore
Siemens Simatic G120X top 5 dealer at Lucknow
Siemens for Fully Automatic PLC based Ointment Plant and distributor in Nashik
Siemens Simatic VFD G120X top 5 dealer at Vadodara
Siemens VFD G120X Dealer with best price range in Chennai
Siemens VFD G120X distributor in Mumbai
Siemens Simatic VFD G120X Dealer with best price range in Bangalore
Siemens seller at Hyderabad
Siemens VFD G120X seller at Panvel
Siemens G120X used for Pick and Place automation in Visakhapatnam
Siemens Simatic G120X best stockist Pune
Siemens VFD G120X Standard used for Centrifuge application installed and the best dealer in Bangalore
Siemens G120X successfully commissioned thousands of projects in many industries in best price at Nashik
Siemens G120X top 5 dealer at coimbatore
Siemens G120X with supplier and installed Distribution system in Faridabad
Siemens Simatic VFD G120X distributor in Lucknow
Siemens Simatic G120X huge stockist with lowest price in Mumbai
Siemens VFD G120X high quality dealer at Pune
Siemens G120X for Fully Automatic PLC based Ointment Plant and distributor in New Delhi
Siemens for Fully Automatic PLC based Ointment Plant and distributor in Lucknow
Siemens Simatic G120X distributor in Hyderabad
Siemens Simatic VFD G120X Trader with best price range in Jaipur
Siemens Simatic G120X used for Centrifuge application installed and the best dealer in Faridabad
Siemens Simatic VFD G120X used for Automatic batching system for Cadbury and distributor at New Delhi
Siemens VFD G120X successfully commissioned at Hyderabad
Siemens Simatic G120X Used to Purified Water Distribution system in Kanpur
Siemens Simatic G120X successfully commissioned thousands of projects in many industries in best price Visakhapatnam
Siemens high quality dealer at Ahmedabad
Siemens Simatic VFD G120X used for Pick and Place automation in Lucknow
Siemens VFD G120X Trader with best price range in Hyderabad
Siemens VFD G120X best stockist Mumbai
Siemens successfully installed in coimbatore
Siemens Simatic G120X Stockist with best price range in Kolkata
Siemens Simatic G120X used for Automatic batching system for Cadbury and distributor at Kanpur
Siemens used for Automatic batching system for Cadbury and distributor at Chennai
Siemens Simatic VFD G120X for Fully Automatic PLC based Ointment Plant and distributor in Pune
Siemens G120X used for Textile machine synchronization in Nagpur
Siemens Simatic VFD G120X used for Fully Automatic PLC based Ointment Plant and distributor in coimbatore
Siemens for Fully Automatic PLC based Ointment Plant and distributor in Chennai
Siemens G120X dealers in Bangalore
Siemens VFD G120X successfully installed in Chennai
Siemens best dealer in lowest price in Pune
Siemens G120X Stockist with best price range in Ahmedabad
Siemens Simatic VFD G120X Stockist with best price range in Panvel
Siemens G120X Stockist with best price range in Indore
Siemens Simatic VFD G120X with suppler and installed and distributor in Kolkata
Siemens Simatic VFD G120X Standard used for Centrifuge application installed and the best dealer in Ahmedabad
Siemens G120X used for Automatic batching system for Cadbury and distributor at Lucknow
Siemens Simatic VFD G120X huge stockist with lowest price in Surat
Siemens VFD G120X top 5 dealer at Hyderabad
Siemens VFD G120X with suppler and installed and distributor in Pune
Siemens distributor in Vadodara
Siemens used for Centrifuge application installed and the best dealer in Panvel
Siemens Simatic VFD G120X used for Soap Cutting application installed Surat
Siemens used for Soap Cutting application installed New Delhi
Siemens dealers in Panvel
Siemens Simatic VFD G120X Dealer with best price range in Jaipur
Siemens Simatic G120X vendor with best price range in Chennai
Siemens Simatic VFD G120X used for Textile machine synchronization in Pune
Siemens used for Textile machine synchronization in Nagpur
Siemens G120X Dealer with best price range in Surat
Siemens Simatic VFD G120X with suppler and installed and distributor in Indore
Siemens VFD G120X with suppler and installed and distributor in Jaipur
Siemens Simatic G120X used for Textile machine synchronization in Chennai
Siemens used for Automatic batching system for Cadbury and dealer at Nashik
Siemens G120X used for Textile machine synchronization in Hyderabad
Siemens G120X used for Soap Cutting application installed Lucknow
Siemens Simatic G120X Dealer with best price range in Indore
Siemens G120X successfully commissioned at Lucknow
Siemens G120X Stockist with best price range in Chennai
Siemens G120X used for Automatic batching system for Cadbury and dealer at Faridabad
Siemens VFD G120X used for Pick and Place automation in Ahmedabad
Siemens G120X used for Centrifuge application installed and the best dealer in Kanpur
Siemens used for Pick and Place automation in Mumbai
Siemens VFD G120X Standard used for Centrifuge application installed and the best dealer in Nagpur
Siemens Used to Purified Water Distribution system in coimbatore
Siemens Simatic VFD G120X huge stockist with lowest price in Chennai
Siemens VFD G120X used for Automatic batching system for Cadbury and distributor at Mumbai
Siemens G120X used for Soap Cutting application installed Jaipur
Siemens used for Automatic batching system for Cadbury and dealer at Vadodara
Siemens best stockist Nagpur
Siemens Simatic G120X Standard used for Centrifuge application installed and the best dealer in Hyderabad
Siemens Simatic G120X successfully commissioned at Indore
Siemens Simatic VFD G120X used for Automatic batching system for Cadbury and dealer at Mumbai
Siemens Simatic G120X successfully commissioned thousands of projects in many industries in best price at Faridabad
Siemens Trader with best price range in Surat
Siemens G120X successfully commissioned thousands of projects in many industries in best price Surat
Siemens G120X successfully installed in Pune
Siemens successfully commissioned thousands of projects in many industries in best price Indore
Siemens Simatic G120X installed in Surat
Siemens Simatic G120X distributor in Jaipur
Siemens Simatic VFD G120X successfully installed in Pune
Siemens G120X best dealer in lowest price in Ahmedabad
Siemens Simatic VFD G120X best dealer in lowest price in Chennai
Siemens G120X Standard used for Centrifuge application installed and the best dealer in Mumbai
Siemens G120X successfully commissioned at Vadodara
Siemens G120X seller at Lucknow
Siemens Simatic G120X used for Soap Cutting application installed Faridabad
Siemens Simatic VFD G120X distributor in Jaipur
Siemens Simatic VFD G120X vendor with best price range in Ahmedabad
Siemens Simatic VFD G120X used for Centrifuge application installed and the best dealer in Indore
Siemens VFD G120X used for Centrifuge application installed and the best dealer in Chennai
Siemens VFD G120X top 5 dealer at Mumbai
Siemens G120X seller at Vadodara
Siemens Simatic VFD G120X successfully installed in Nashik
Siemens Simatic VFD G120X distributor in Kolkata
Siemens used for Automatic batching system for Cadbury and dealer at Bangalore
Siemens Simatic VFD G120X used for Fully Automatic PLC based Ointment Plant and distributor in Mumbai
Siemens Standard used for Centrifuge application installed and the best dealer in Bangalore
Siemens G120X huge stockist with lowest price in New Delhi
Siemens Simatic G120X used for Centrifuge application installed and the best dealer in Nagpur
Siemens Used to Purified Water Distribution system in Panvel
Siemens best dealer in lowest price in Jaipur
Siemens Simatic G120X Dealer with best price range in Faridabad
Siemens Simatic G120X seller at coimbatore
Siemens with supplier and installed Distribution system in Hyderabad
Siemens used for Textile machine synchronization in New Delhi
Siemens Simatic G120X installed in Jaipur
Siemens VFD G120X best stockist coimbatore
Siemens Simatic VFD G120X used for Automatic batching system for Cadbury and distributor at Pune
Siemens VFD G120X successfully commissioned at Jaipur
Siemens Simatic G120X with suppler and installed and distributor in Nagpur
Siemens VFD G120X successfully installed in Mumbai
Siemens seller at New Delhi
Siemens top 5 dealer at Mumbai
Siemens seller at Mumbai
Siemens Simatic VFD G120X used for Centrifuge application installed and the best dealer in Surat
Siemens Simatic G120X Stockist with best price range in Surat
Siemens Simatic G120X used for Fully Automatic PLC based Ointment Plant and distributor in Panvel
Siemens VFD G120X Standard used for Centrifuge application installed and the best dealer in New Delhi
Siemens Simatic G120X huge stockist with lowest price in Panvel
Siemens VFD G120X used for Soap Cutting application installed Faridabad
Siemens Simatic VFD G120X used for Centrifuge application installed and the best dealer in Bangalore
Siemens Simatic G120X high quality dealer at Vadodara
Siemens Simatic G120X used for Automatic batching system for Cadbury and dealer at Visakhapatnam
Siemens Simatic VFD G120X installed in Kanpur
Siemens G120X Used to Purified Water Distribution system in Nagpur
Siemens VFD G120X successfully commissioned at Bangalore
Siemens Simatic VFD G120X with supplier and installed Distribution system in Visakhapatnam
Siemens Simatic VFD G120X with suppler and installed and distributor in Nashik
Siemens Simatic G120X Standard used for Centrifuge application installed and the best dealer in Vadodara
Siemens G120X used for Automatic batching system for Cadbury and distributor at Ahmedabad
Siemens Simatic VFD G120X distributor in New Delhi
Siemens G120X installed in Kanpur
Siemens Simatic G120X used for Soap Cutting application installed Visakhapatnam
Siemens VFD G120X used for Soap Cutting application installed Vadodara
Siemens Simatic G120X seller at Chennai
Siemens VFD G120X best dealer in lowest price in Lucknow
Siemens Simatic VFD G120X best stockist New Delhi
Siemens Simatic VFD G120X used for Pick and Place automation in Hyderabad
Siemens G120X installed in Faridabad
Siemens G120X for Fully Automatic PLC based Ointment Plant and distributor in Visakhapatnam
Siemens dealers in Nashik
Siemens used for Soap Cutting application installed Ahmedabad
Siemens VFD G120X with suppler and installed and distributor in Nashik
Siemens G120X used for Soap Cutting application installed Visakhapatnam
Siemens G120X Dealer with best price range in New Delhi
Siemens VFD G120X used for Pick and Place automation in Nagpur
Siemens Simatic G120X with supplier and installed Distribution system in New Delhi
Siemens Simatic VFD G120X dealers in coimbatore
Siemens Simatic G120X Used to Purified Water Distribution system in New Delhi
Siemens Simatic VFD G120X used for Automatic batching system for Cadbury and dealer at Panvel
Siemens Simatic VFD G120X high quality dealer at Hyderabad
Siemens G120X Stockist with best price range in Lucknow
Siemens VFD G120X successfully commissioned thousands of projects in many industries in best price at Vadodara
Siemens Simatic G120X huge stockist with lowest price in Faridabad
Siemens with suppler and installed and distributor in New Delhi
Siemens Simatic G120X Stockist with best price range in Hyderabad
Siemens Simatic G120X top 5 dealer at Chennai
Siemens G120X Trader with best price range in Kolkata
Siemens Simatic G120X successfully commissioned thousands of projects in many industries in best price at Indore
Siemens G120X used for Automatic batching system for Cadbury and distributor at Kanpur
Siemens Simatic VFD G120X high quality dealer at Surat
Siemens VFD G120X used for Pick and Place automation in Chennai
Siemens dealers in Chennai
Siemens Simatic VFD G120X Dealer with best price range in Pune
Siemens Simatic G120X used for Soap Cutting application installed Mumbai
Siemens huge stockist with lowest price in Nagpur
Siemens Simatic G120X used for Pick and Place automation in Hyderabad
Siemens G120X for Fully Automatic PLC based Ointment Plant and distributor in Nagpur
Siemens Dealer with best price range in Vadodara
Siemens Simatic G120X Stockist with best price range in Faridabad
Siemens VFD G120X high quality dealer at coimbatore
Siemens Simatic G120X Stockist with best price range in Visakhapatnam
Siemens G120X used for Textile machine synchronization in Vadodara
Siemens Simatic VFD G120X successfully commissioned thousands of projects in many industries in best price coimbatore
Siemens best dealer in lowest price in Faridabad
Siemens Simatic VFD G120X with supplier and installed Distribution system in Vadodara
Siemens VFD G120X Dealer with best price range in Pune
Siemens Dealer with best price range in Surat
Siemens used for Pick and Place automation in Vadodara
Siemens Simatic VFD G120X with suppler and installed and distributor in Lucknow
Siemens G120X high quality dealer at New Delhi
Siemens G120X used for Soap Cutting application installed Kanpur
Siemens Simatic VFD G120X Standard used for Centrifuge application installed and the best dealer in Mumbai
Siemens G120X successfully commissioned at Hyderabad
Siemens Simatic G120X high quality dealer at Kanpur
Siemens G120X successfully commissioned at Nagpur
Siemens VFD G120X used for Textile machine synchronization in Visakhapatnam
Siemens Simatic VFD G120X used for Pick and Place automation in Jaipur
Siemens G120X Trader with best price range in Lucknow
Siemens Simatic VFD G120X successfully commissioned thousands of projects in many industries in best price at New Delhi
Siemens Simatic G120X used for Soap Cutting application installed Panvel
Siemens VFD G120X used for Soap Cutting application installed Mumbai
Siemens Simatic G120X used for Pick and Place automation in coimbatore
Siemens used for Soap Cutting application installed Hyderabad
Siemens top 5 dealer at Jaipur
Siemens Simatic VFD G120X for Fully Automatic PLC based Ointment Plant and distributor in Bangalore
Siemens VFD G120X used for Centrifuge application installed and the best dealer in Bangalore
Siemens G120X Dealer with best price range in Pune
Siemens Simatic G120X successfully installed in Pune
Siemens for Fully Automatic PLC based Ointment Plant and distributor in Kolkata
Siemens Simatic G120X Used to Purified Water Distribution system in Chennai
Siemens VFD G120X used for Automatic batching system for Cadbury and distributor at Kolkata
Siemens VFD G120X distributor in Lucknow
Siemens VFD G120X successfully commissioned thousands of projects in many industries in best price New Delhi
Siemens G120X used for Soap Cutting application installed coimbatore
Siemens best stockist Indore
Siemens with supplier and installed Distribution system in Lucknow
Siemens G120X top 5 dealer at Pune
Siemens Simatic VFD G120X used for Fully Automatic PLC based Ointment Plant and distributor in Indore
Siemens VFD G120X successfully installed in Jaipur
Siemens G120X for Fully Automatic PLC based Ointment Plant and distributor in Indore
Siemens Simatic G120X used for Automatic batching system for Cadbury and distributor at Vadodara
Siemens installed in Nagpur
Siemens seller at Nagpur
Siemens Simatic G120X used for Automatic batching system for Cadbury and dealer at Chennai
Siemens Simatic G120X used for Textile machine synchronization in Lucknow
Siemens used for Automatic batching system for Cadbury and dealer at Pune
Siemens VFD G120X successfully commissioned thousands of projects in many industries in best price Indore
Siemens Simatic G120X top 5 dealer at Nashik
Siemens G120X high quality dealer at Nashik
Siemens G120X used for Automatic batching system for Cadbury and distributor at Panvel
Siemens Simatic G120X seller at Bangalore
Siemens VFD G120X vendor with best price range in Mumbai
Siemens Simatic G120X best dealer in lowest price in Chennai
Siemens successfully commissioned thousands of projects in many industries in best price Ahmedabad
Siemens huge stockist with lowest price in Kolkata
Siemens VFD G120X used for Textile machine synchronization in Indore
Siemens Simatic G120X top 5 dealer at Visakhapatnam
Siemens Simatic VFD G120X successfully commissioned thousands of projects in many industries in best price at Hyderabad
Siemens Simatic G120X Used to Purified Water Distribution system in Panvel
Siemens best stockist Mumbai
Siemens Simatic VFD G120X installed in Faridabad
Siemens Simatic VFD G120X huge stockist with lowest price in Bangalore
Siemens successfully commissioned thousands of projects in many industries in best price at Kolkata
Siemens Simatic VFD G120X best stockist Chennai
Siemens top 5 dealer at Chennai
Siemens huge stockist with lowest price in Ahmedabad
Siemens Simatic VFD G120X best stockist Nagpur
Siemens used for Automatic batching system for Cadbury and distributor at Surat
Siemens G120X used for Textile machine synchronization in coimbatore
Siemens distributor in New Delhi
Siemens G120X Stockist with best price range in Mumbai
Siemens for Fully Automatic PLC based Ointment Plant and distributor in Pune
Siemens Simatic G120X successfully commissioned thousands of projects in many industries in best price Hyderabad
Siemens G120X Dealer with best price range in Bangalore
Siemens G120X used for Soap Cutting application installed Nagpur
Siemens Simatic VFD G120X dealers in Jaipur
Siemens VFD G120X successfully commissioned thousands of projects in many industries in best price at Kanpur
Siemens VFD G120X successfully commissioned thousands of projects in many industries in best price at Hyderabad
Siemens VFD G120X Used to Purified Water Distribution system in Nashik
Siemens Simatic G120X dealers in Vadodara
Siemens Simatic G120X with suppler and installed and distributor in New Delhi
Siemens VFD G120X best stockist Hyderabad
Siemens VFD G120X huge stockist with lowest price in Nagpur
Siemens Simatic G120X best dealer in lowest price in Indore
Siemens Simatic VFD G120X seller at Nashik
Siemens VFD G120X successfully commissioned at Nashik
Siemens Simatic G120X used for Soap Cutting application installed Nagpur
Siemens Simatic G120X Trader with best price range in Chennai
Siemens G120X used for Fully Automatic PLC based Ointment Plant and distributor in Indore
Siemens Simatic G120X used for Automatic batching system for Cadbury and dealer at Nagpur
Siemens VFD G120X distributor in Pune
Siemens G120X used for Pick and Place automation in Nagpur
Siemens VFD G120X used for Soap Cutting application installed Lucknow
Siemens used for Fully Automatic PLC based Ointment Plant and distributor in Visakhapatnam
Siemens VFD G120X vendor with best price range in Hyderabad
Siemens VFD G120X Stockist with best price range in Hyderabad
Siemens G120X installed in coimbatore
Siemens VFD G120X best stockist Surat
Siemens VFD G120X used for Textile machine synchronization in Pune
Siemens Simatic G120X used for Centrifuge application installed and the best dealer in Vadodara
Siemens Simatic G120X high quality dealer at Pune
Siemens G120X Trader with best price range in Vadodara
Siemens with supplier and installed Distribution system in Pune
Siemens successfully commissioned thousands of projects in many industries in best price at Jaipur
Siemens Simatic VFD G120X used for Soap Cutting application installed Nagpur
Siemens successfully commissioned thousands of projects in many industries in best price Kanpur
Siemens VFD G120X top 5 dealer at coimbatore
Siemens installed in Ahmedabad
Siemens dealers in Ahmedabad
Siemens Simatic VFD G120X with suppler and installed and distributor in coimbatore
Siemens Simatic G120X Used to Purified Water Distribution system in Hyderabad
Siemens successfully commissioned thousands of projects in many industries in best price Kolkata
Siemens Simatic VFD G120X seller at Faridabad
Siemens VFD G120X successfully installed in Nashik
Siemens Simatic VFD G120X distributor in Nashik
Siemens Simatic VFD G120X best dealer in lowest price in Indore
Siemens Simatic G120X seller at Visakhapatnam
Siemens successfully commissioned thousands of projects in many industries in best price Hyderabad
Siemens Simatic G120X used for Automatic batching system for Cadbury and dealer at Surat
Siemens Simatic G120X successfully commissioned thousands of projects in many industries in best price at New Delhi
Siemens G120X used for Soap Cutting application installed Bangalore
Siemens Simatic VFD G120X successfully commissioned at Kanpur
Siemens Simatic VFD G120X for Fully Automatic PLC based Ointment Plant and distributor in Nashik
Siemens Simatic G120X with suppler and installed and distributor in Kolkata
Siemens vendor with best price range in New Delhi
Siemens Used to Purified Water Distribution system in Mumbai
Siemens distributor in Lucknow
Siemens VFD G120X used for Soap Cutting application installed Pune
Siemens G120X with suppler and installed and distributor in Ahmedabad
Siemens Standard used for Centrifuge application installed and the best dealer in Kanpur
Siemens successfully commissioned thousands of projects in many industries in best price at Chennai
Siemens Simatic VFD G120X used for Soap Cutting application installed Mumbai
Siemens VFD G120X successfully commissioned thousands of projects in many industries in best price Pune
Siemens Simatic G120X seller at Surat
Siemens Simatic G120X top 5 dealer at Surat
Siemens VFD G120X successfully commissioned at New Delhi
Siemens G120X Used to Purified Water Distribution system in Surat
Siemens VFD G120X Standard used for Centrifuge application installed and the best dealer in Ahmedabad
Siemens Simatic VFD G120X used for Automatic batching system for Cadbury and distributor at coimbatore
Siemens Simatic G120X successfully commissioned thousands of projects in many industries in best price at Surat
Siemens Simatic VFD G120X with supplier and installed Distribution system in Indore
Siemens Stockist with best price range in Mumbai
Siemens Simatic G120X used for Automatic batching system for Cadbury and distributor at Indore
Siemens Simatic G120X used for Automatic batching system for Cadbury and distributor at Panvel
Siemens Simatic G120X Trader with best price range in coimbatore
Siemens G120X successfully commissioned at Indore
Siemens best dealer in lowest price in coimbatore
Siemens Simatic VFD G120X successfully commissioned at Nashik
Siemens best stockist Bangalore
Siemens installed in Chennai
Siemens VFD G120X for Fully Automatic PLC based Ointment Plant and distributor in Mumbai
Siemens Simatic VFD G120X top 5 dealer at Indore
Siemens VFD G120X successfully commissioned at Nagpur
Siemens Simatic VFD G120X used for Centrifuge application installed and the best dealer in Jaipur
Siemens VFD G120X Trader with best price range in Kolkata
Siemens successfully commissioned thousands of projects in many industries in best price at Bangalore
Siemens with supplier and installed Distribution system in Jaipur
Siemens G120X with supplier and installed Distribution system in New Delhi
Siemens Simatic G120X best dealer in lowest price in New Delhi
Siemens G120X with suppler and installed and distributor in Bangalore
Siemens VFD G120X seller at Faridabad
Siemens VFD G120X used for Pick and Place automation in New Delhi
Siemens seller at Ahmedabad
Siemens VFD G120X successfully commissioned at Surat
Siemens used for Automatic batching system for Cadbury and dealer at Hyderabad
Siemens huge stockist with lowest price in Nashik
Siemens VFD G120X for Fully Automatic PLC based Ointment Plant and distributor in New Delhi
Siemens successfully commissioned thousands of projects in many industries in best price at Faridabad
Siemens successfully installed in Vadodara
Siemens G120X Used to Purified Water Distribution system in Vadodara
Siemens VFD G120X Trader with best price range in Chennai
Siemens successfully commissioned at Nashik
Siemens used for Pick and Place automation in Visakhapatnam
Siemens Simatic VFD G120X Trader with best price range in Surat
Siemens with supplier and installed Distribution system in New Delhi
Siemens Simatic G120X Dealer with best price range in Bangalore
Siemens Simatic VFD G120X successfully commissioned thousands of projects in many industries in best price at Vadodara
Siemens distributor in Visakhapatnam
Siemens Simatic VFD G120X used for Automatic batching system for Cadbury and distributor at Indore
Siemens G120X Stockist with best price range in Hyderabad
Siemens VFD G120X with supplier and installed Distribution system in coimbatore
Siemens best dealer in lowest price in Lucknow
Siemens VFD G120X Used to Purified Water Distribution system in Ahmedabad
Siemens used for Fully Automatic PLC based Ointment Plant and distributor in Vadodara
Siemens VFD G120X used for Pick and Place automation in Vadodara
Siemens G120X successfully commissioned thousands of projects in many industries in best price at Ahmedabad
Siemens VFD G120X used for Textile machine synchronization in Kanpur
Siemens Simatic G120X installed in Panvel
Siemens Simatic VFD G120X huge stockist with lowest price in Indore
Siemens G120X best stockist Nagpur
Siemens high quality dealer at Surat
Siemens Simatic VFD G120X distributor in coimbatore
Siemens Simatic VFD G120X used for Pick and Place automation in Pune
Siemens VFD G120X used for Fully Automatic PLC based Ointment Plant and distributor in Kolkata
Siemens VFD G120X used for Centrifuge application installed and the best dealer in New Delhi
Siemens Simatic VFD G120X seller at Chennai
Siemens G120X used for Soap Cutting application installed Vadodara
Siemens used for Centrifuge application installed and the best dealer in Indore
Siemens G120X used for Pick and Place automation in Surat
Siemens Simatic VFD G120X used for Fully Automatic PLC based Ointment Plant and distributor in Kanpur
Siemens Simatic VFD G120X used for Soap Cutting application installed Hyderabad
Siemens G120X used for Automatic batching system for Cadbury and dealer at Indore
Siemens Simatic G120X used for Pick and Place automation in Indore
Siemens Simatic G120X used for Fully Automatic PLC based Ointment Plant and distributor in Faridabad
Siemens G120X best dealer in lowest price in New Delhi
Siemens Simatic G120X successfully commissioned thousands of projects in many industries in best price New Delhi
Siemens Simatic G120X used for Soap Cutting application installed Indore
Siemens VFD G120X used for Soap Cutting application installed Ahmedabad
Siemens used for Centrifuge application installed and the best dealer in Faridabad
Siemens VFD G120X distributor in Bangalore
Siemens G120X distributor in Nashik
Siemens Simatic G120X used for Automatic batching system for Cadbury and dealer at Kolkata
Siemens Trader with best price range in Mumbai
Siemens Simatic VFD G120X top 5 dealer at Visakhapatnam
Siemens distributor in Indore
Siemens G120X successfully commissioned thousands of projects in many industries in best price Faridabad
Siemens G120X used for Centrifuge application installed and the best dealer in Jaipur
Siemens for Fully Automatic PLC based Ointment Plant and distributor in Faridabad
Siemens Simatic VFD G120X vendor with best price range in Vadodara
Siemens VFD G120X successfully installed in Faridabad
Siemens VFD G120X vendor with best price range in New Delhi
Siemens Simatic G120X used for Automatic batching system for Cadbury and dealer at Pune
Siemens VFD G120X used for Automatic batching system for Cadbury and dealer at Ahmedabad
Siemens Simatic VFD G120X with supplier and installed Distribution system in Surat
Siemens G120X best stockist Indore
Siemens Simatic G120X successfully commissioned thousands of projects in many industries in best price Lucknow
Siemens VFD G120X vendor with best price range in Pune
Siemens G120X distributor in Vadodara
Siemens Simatic VFD G120X for Fully Automatic PLC based Ointment Plant and distributor in Ahmedabad
Siemens G120X used for Soap Cutting application installed Mumbai
Siemens Simatic VFD G120X high quality dealer at Ahmedabad
Siemens with suppler and installed and distributor in Mumbai
Siemens Simatic VFD G120X used for Centrifuge application installed and the best dealer in Lucknow
Siemens G120X used for Automatic batching system for Cadbury and distributor at Nagpur
Siemens Simatic G120X Dealer with best price range in Jaipur
Siemens VFD G120X successfully commissioned thousands of projects in many industries in best price Surat
Siemens G120X huge stockist with lowest price in Hyderabad
Siemens G120X for Fully Automatic PLC based Ointment Plant and distributor in Pune
Siemens used for Pick and Place automation in Faridabad
Siemens successfully commissioned at Nagpur
Siemens G120X distributor in Kanpur
Siemens VFD G120X Used to Purified Water Distribution system in Kolkata
Siemens Simatic G120X used for Centrifuge application installed and the best dealer in Kanpur
Siemens G120X successfully commissioned thousands of projects in many industries in best price at Lucknow
Siemens Simatic VFD G120X high quality dealer at Nagpur
Siemens seller at Chennai
Siemens Simatic VFD G120X seller at coimbatore
Siemens Simatic G120X for Fully Automatic PLC based Ointment Plant and distributor in Surat
Siemens VFD G120X with suppler and installed and distributor in Faridabad
Siemens Simatic G120X used for Automatic batching system for Cadbury and distributor at Ahmedabad
Siemens seller at Jaipur
Siemens Simatic VFD G120X Dealer with best price range in Mumbai
Siemens used for Automatic batching system for Cadbury and dealer at coimbatore
Siemens VFD G120X Stockist with best price range in Pune
Siemens VFD G120X used for Textile machine synchronization in Lucknow
Siemens successfully commissioned at Mumbai
Siemens VFD G120X successfully commissioned thousands of projects in many industries in best price Nashik
Siemens Simatic VFD G120X best stockist Hyderabad
Siemens used for Soap Cutting application installed Kolkata
Siemens with supplier and installed Distribution system in Ahmedabad
Siemens VFD G120X for Fully Automatic PLC based Ointment Plant and distributor in coimbatore
Siemens VFD G120X used for Soap Cutting application installed Nashik
Siemens Used to Purified Water Distribution system in Ahmedabad
Siemens successfully installed in New Delhi
Siemens VFD G120X high quality dealer at Nashik
Siemens with suppler and installed and distributor in Lucknow
Siemens Simatic G120X best stockist Nashik
Siemens Simatic G120X with supplier and installed Distribution system in coimbatore
Siemens Simatic G120X Stockist with best price range in Jaipur
Siemens Simatic VFD G120X Trader with best price range in Chennai
Siemens Simatic VFD G120X used for Automatic batching system for Cadbury and dealer at Vadodara
Siemens VFD G120X with suppler and installed and distributor in Surat
Siemens G120X seller at Chennai
Siemens Simatic G120X dealers in Surat
Siemens VFD G120X successfully commissioned at Mumbai
Siemens G120X used for Automatic batching system for Cadbury and dealer at Mumbai
Siemens Simatic G120X high quality dealer at Indore
Siemens Simatic G120X dealers in Faridabad
Siemens G120X successfully commissioned thousands of projects in many industries in best price Nagpur
Siemens VFD G120X with supplier and installed Distribution system in New Delhi
Siemens G120X used for Soap Cutting application installed Hyderabad
Siemens high quality dealer at Panvel
Siemens high quality dealer at Hyderabad
Siemens used for Automatic batching system for Cadbury and distributor at Kolkata
Siemens Simatic G120X dealers in Nashik
Siemens VFD G120X top 5 dealer at Indore
Siemens Simatic G120X Stockist with best price range in New Delhi
Siemens Simatic G120X distributor in Indore
Siemens Simatic VFD G120X used for Automatic batching system for Cadbury and distributor at Chennai
Siemens VFD G120X distributor in Vadodara
Siemens used for Automatic batching system for Cadbury and dealer at Panvel
Siemens VFD G120X with suppler and installed and distributor in Lucknow
Siemens Simatic G120X used for Soap Cutting application installed Lucknow
Siemens VFD G120X successfully installed in Visakhapatnam
Siemens Simatic G120X for Fully Automatic PLC based Ointment Plant and distributor in Pune
Siemens Simatic G120X Trader with best price range in Faridabad
Siemens Simatic VFD G120X successfully installed in coimbatore
Siemens Simatic G120X dealers in Jaipur
Siemens Simatic VFD G120X Standard used for Centrifuge application installed and the best dealer in Jaipur
Siemens Simatic VFD G120X for Fully Automatic PLC based Ointment Plant and distributor in Kolkata
Siemens VFD G120X Standard used for Centrifuge application installed and the best dealer in Indore
Siemens with suppler and installed and distributor in Indore
Siemens Simatic VFD G120X dealers in Ahmedabad
Siemens G120X used for Soap Cutting application installed Vadodara
Siemens successfully commissioned thousands of projects in many industries in best price at Vadodara
Siemens Stockist with best price range in Lucknow
Siemens G120X best dealer in lowest price in Panvel
Siemens VFD G120X for Fully Automatic PLC based Ointment Plant and distributor in Kanpur
Siemens Simatic VFD G120X Trader with best price range in Lucknow
Siemens Simatic VFD G120X Used to Purified Water Distribution system in Visakhapatnam
Siemens used for Automatic batching system for Cadbury and dealer at Ahmedabad
Siemens Simatic G120X used for Soap Cutting application installed Kolkata
Siemens G120X used for Soap Cutting application installed Ahmedabad
Siemens Simatic VFD G120X huge stockist with lowest price in Kolkata
Siemens G120X dealers in Chennai
Siemens Simatic VFD G120X used for Soap Cutting application installed Lucknow
Siemens Simatic VFD G120X successfully installed in Chennai
Siemens successfully commissioned thousands of projects in many industries in best price Chennai
Siemens G120X with supplier and installed Distribution system in Pune
Siemens G120X used for Automatic batching system for Cadbury and dealer at coimbatore
Siemens G120X used for Textile machine synchronization in Lucknow
Siemens Simatic G120X used for Textile machine synchronization in Ahmedabad
Siemens used for Textile machine synchronization in Jaipur
Siemens Simatic VFD G120X vendor with best price range in Nagpur
Siemens G120X Standard used for Centrifuge application installed and the best dealer in Ahmedabad
Siemens Simatic VFD G120X vendor with best price range in Bangalore
Siemens Simatic VFD G120X with suppler and installed and distributor in Chennai
Siemens VFD G120X Dealer with best price range in coimbatore
Siemens Stockist with best price range in Hyderabad
Siemens used for Soap Cutting application installed Pune
Siemens Simatic G120X best stockist Faridabad
Siemens VFD G120X used for Automatic batching system for Cadbury and dealer at Mumbai
Siemens VFD G120X used for Fully Automatic PLC based Ointment Plant and distributor in Pune
Siemens top 5 dealer at New Delhi
Siemens VFD G120X dealers in Hyderabad
Siemens G120X dealers in Visakhapatnam
Siemens Simatic G120X used for Automatic batching system for Cadbury and distributor at Jaipur
Siemens Simatic VFD G120X used for Textile machine synchronization in Bangalore
Siemens high quality dealer at Kanpur
Siemens G120X successfully commissioned at Bangalore
Siemens Simatic G120X best dealer in lowest price in Vadodara
Siemens Simatic G120X Trader with best price range in Mumbai
Siemens G120X used for Soap Cutting application installed Lucknow
Siemens G120X installed in Surat
Siemens Simatic VFD G120X top 5 dealer at Kolkata
Siemens G120X with supplier and installed Distribution system in Visakhapatnam
Siemens Simatic VFD G120X dealers in Kanpur
Siemens VFD G120X high quality dealer at Indore
Siemens VFD G120X Standard used for Centrifuge application installed and the best dealer in coimbatore
Siemens Simatic G120X best dealer in lowest price in Bangalore
Siemens G120X Dealer with best price range in Panvel
Siemens Simatic G120X Used to Purified Water Distribution system in Mumbai
Siemens G120X used for Centrifuge application installed and the best dealer in Hyderabad
Siemens Simatic VFD G120X high quality dealer at Panvel
Siemens used for Pick and Place automation in Bangalore
Siemens VFD G120X seller at Nashik
Siemens Simatic G120X used for Centrifuge application installed and the best dealer in Bangalore
Siemens Simatic G120X installed in Chennai
Siemens successfully commissioned at Jaipur
Siemens VFD G120X used for Textile machine synchronization in Surat
Siemens Standard used for Centrifuge application installed and the best dealer in Mumbai
Siemens Simatic VFD G120X used for Soap Cutting application installed Lucknow
Siemens used for Pick and Place automation in Ahmedabad
Siemens Simatic VFD G120X used for Soap Cutting application installed coimbatore
Siemens Simatic VFD G120X successfully commissioned thousands of projects in many industries in best price Mumbai
Siemens G120X used for Textile machine synchronization in Chennai
Siemens G120X used for Automatic batching system for Cadbury and distributor at Faridabad
Siemens Simatic G120X for Fully Automatic PLC based Ointment Plant and distributor in Jaipur
Siemens Simatic VFD G120X used for Soap Cutting application installed Panvel
Siemens used for Soap Cutting application installed Vadodara
Siemens Simatic VFD G120X installed in Bangalore
Siemens G120X used for Fully Automatic PLC based Ointment Plant and distributor in Jaipur
Siemens Simatic G120X used for Automatic batching system for Cadbury and distributor at coimbatore
Siemens VFD G120X successfully commissioned thousands of projects in many industries in best price Nagpur
Siemens VFD G120X used for Fully Automatic PLC based Ointment Plant and distributor in coimbatore
Siemens high quality dealer at Faridabad
Siemens VFD G120X seller at Visakhapatnam
Siemens best stockist Chennai
Siemens VFD G120X Standard used for Centrifuge application installed and the best dealer in Vadodara
Siemens used for Fully Automatic PLC based Ointment Plant and distributor in Nashik
Siemens with suppler and installed and distributor in Faridabad
Siemens VFD G120X used for Centrifuge application installed and the best dealer in coimbatore
Siemens G120X best dealer in lowest price in Nagpur
Siemens best stockist Lucknow
Siemens Simatic G120X best dealer in lowest price in Surat
Siemens with suppler and installed and distributor in Pune
Siemens VFD G120X used for Automatic batching system for Cadbury and distributor at Kanpur
Siemens with suppler and installed and distributor in Nashik
Siemens Simatic G120X distributor in Mumbai
Siemens Simatic VFD G120X dealers in Panvel
Siemens Simatic VFD G120X with suppler and installed and distributor in Mumbai
Siemens successfully commissioned thousands of projects in many industries in best price Visakhapatnam
Siemens Simatic VFD G120X distributor in Vadodara
Siemens G120X Stockist with best price range in Pune
Siemens Simatic VFD G120X used for Textile machine synchronization in New Delhi
Siemens best dealer in lowest price in Mumbai
Siemens VFD G120X dealers in Kanpur
Siemens Simatic G120X vendor with best price range in Faridabad
Siemens VFD G120X seller at Hyderabad
Siemens Simatic G120X huge stockist with lowest price in Hyderabad
Siemens VFD G120X seller at Kanpur
Siemens Simatic G120X vendor with best price range in Pune
Siemens Simatic VFD G120X Standard used for Centrifuge application installed and the best dealer in Bangalore
Siemens Simatic VFD G120X used for Automatic batching system for Cadbury and dealer at New Delhi
Siemens Simatic VFD G120X high quality dealer at Jaipur
Siemens VFD G120X distributor in Ahmedabad
Siemens Simatic G120X best dealer in lowest price in Panvel
Siemens G120X top 5 dealer at Visakhapatnam
Siemens Simatic G120X vendor with best price range in Hyderabad
Siemens Simatic VFD G120X with suppler and installed and distributor in New Delhi
Siemens G120X used for Textile machine synchronization in Faridabad
Siemens Simatic VFD G120X installed in New Delhi
Siemens used for Textile machine synchronization in Bangalore
Siemens Simatic VFD G120X installed in Panvel
Siemens G120X successfully commissioned at coimbatore
Siemens Simatic G120X with supplier and installed Distribution system in Panvel
Siemens huge stockist with lowest price in coimbatore
Siemens G120X used for Centrifuge application installed and the best dealer in Pune
Siemens Simatic VFD G120X successfully commissioned thousands of projects in many industries in best price at Panvel
Siemens G120X top 5 dealer at Surat
Siemens VFD G120X used for Automatic batching system for Cadbury and dealer at Panvel
Siemens G120X used for Centrifuge application installed and the best dealer in Ahmedabad
Siemens Simatic G120X Stockist with best price range in Ahmedabad
Siemens Simatic VFD G120X for Fully Automatic PLC based Ointment Plant and distributor in Visakhapatnam
Siemens Simatic G120X dealers in Nagpur
Siemens G120X successfully installed in Kolkata
Siemens G120X seller at Faridabad
Siemens Simatic G120X used for Centrifuge application installed and the best dealer in Jaipur
Siemens used for Soap Cutting application installed Jaipur
Siemens successfully installed in Surat
Siemens VFD G120X high quality dealer at Surat
Siemens G120X successfully commissioned thousands of projects in many industries in best price at coimbatore
Siemens Simatic G120X top 5 dealer at Indore
Siemens used for Centrifuge application installed and the best dealer in Bangalore
Siemens successfully commissioned thousands of projects in many industries in best price Panvel
Siemens Simatic VFD G120X for Fully Automatic PLC based Ointment Plant and distributor in New Delhi
Siemens Simatic G120X huge stockist with lowest price in Lucknow
Siemens VFD G120X best stockist Faridabad
Siemens G120X dealers in Jaipur
Siemens Simatic G120X Trader with best price range in Indore
Siemens Simatic G120X vendor with best price range in Nashik
Siemens G120X used for Soap Cutting application installed Nagpur
Siemens G120X best stockist Pune
Siemens Simatic VFD G120X successfully installed in Panvel
Siemens G120X successfully commissioned thousands of projects in many industries in best price at Jaipur
Siemens VFD G120X seller at New Delhi
Siemens installed in Nashik
Siemens Simatic VFD G120X distributor in Pune
Siemens VFD G120X dealers in Panvel
Siemens Simatic VFD G120X used for Pick and Place automation in Nashik
Siemens Simatic G120X distributor in Ahmedabad
Siemens Simatic VFD G120X used for Fully Automatic PLC based Ointment Plant and distributor in Chennai
Siemens VFD G120X seller at Vadodara
Siemens G120X vendor with best price range in Jaipur
Siemens G120X with suppler and installed and distributor in Mumbai
Siemens G120X top 5 dealer at Jaipur
Siemens used for Pick and Place automation in Kanpur
Siemens G120X Dealer with best price range in Visakhapatnam
Siemens G120X distributor in Indore
Siemens G120X successfully installed in Indore
Siemens Simatic G120X Standard used for Centrifuge application installed and the best dealer in coimbatore
Siemens used for Automatic batching system for Cadbury and dealer at Panvel
Siemens Trader with best price range in Jaipur
Siemens Simatic G120X best stockist coimbatore
Siemens VFD G120X top 5 dealer at Faridabad
Siemens Simatic G120X successfully installed in Nashik
Siemens used for Automatic batching system for Cadbury and dealer at Chennai
Siemens G120X installed in Visakhapatnam
Siemens Simatic G120X Dealer with best price range in coimbatore
Siemens VFD G120X used for Fully Automatic PLC based Ointment Plant and distributor in Panvel
Siemens Simatic G120X used for Centrifuge application installed and the best dealer in Ahmedabad
Siemens G120X seller at Indore
Siemens G120X for Fully Automatic PLC based Ointment Plant and distributor in Ahmedabad
Siemens VFD G120X successfully commissioned at Lucknow
Siemens G120X used for Pick and Place automation in Chennai
Siemens G120X used for Centrifuge application installed and the best dealer in Lucknow
Siemens Simatic VFD G120X high quality dealer at New Delhi
Siemens successfully installed in Ahmedabad
Siemens Simatic G120X distributor in Nagpur
Siemens used for Automatic batching system for Cadbury and dealer at Kolkata
Siemens Simatic VFD G120X best dealer in lowest price in Kanpur
Siemens Simatic G120X dealers in Indore
Siemens Simatic G120X used for Soap Cutting application installed Jaipur
Siemens Simatic VFD G120X used for Pick and Place automation in Mumbai
Siemens G120X used for Textile machine synchronization in Visakhapatnam
Siemens Simatic G120X seller at Nashik
Siemens used for Automatic batching system for Cadbury and distributor at coimbatore
Siemens Simatic VFD G120X best stockist coimbatore
Siemens VFD G120X used for Pick and Place automation in Lucknow
Siemens Simatic VFD G120X Stockist with best price range in New Delhi
Siemens Simatic VFD G120X with supplier and installed Distribution system in Mumbai
Siemens Simatic VFD G120X for Fully Automatic PLC based Ointment Plant and distributor in Hyderabad
Siemens G120X huge stockist with lowest price in Bangalore
Siemens G120X seller at Bangalore
Siemens Trader with best price range in New Delhi
Siemens Simatic VFD G120X with suppler and installed and distributor in Visakhapatnam
Siemens VFD G120X Stockist with best price range in Surat
Siemens VFD G120X Standard used for Centrifuge application installed and the best dealer in Panvel
Siemens Simatic G120X used for Automatic batching system for Cadbury and dealer at Pune
Siemens used for Automatic batching system for Cadbury and distributor at Hyderabad
Siemens VFD G120X successfully commissioned thousands of projects in many industries in best price at Pune
Siemens installed in New Delhi
Siemens Simatic VFD G120X used for Centrifuge application installed and the best dealer in Mumbai
Siemens G120X Used to Purified Water Distribution system in Chennai
Siemens G120X high quality dealer at Kolkata
Siemens Simatic G120X high quality dealer at Kolkata
Siemens Simatic G120X used for Centrifuge application installed and the best dealer in Lucknow
Siemens Simatic VFD G120X seller at Surat
Siemens high quality dealer at Vadodara
Siemens successfully commissioned thousands of projects in many industries in best price Nashik
Siemens VFD G120X seller at Kolkata
Siemens G120X used for Automatic batching system for Cadbury and dealer at Pune
Siemens Simatic VFD G120X best dealer in lowest price in Visakhapatnam
Siemens best dealer in lowest price in Kolkata
Siemens G120X Stockist with best price range in Bangalore
Siemens G120X used for Soap Cutting application installed Ahmedabad
Siemens G120X used for Automatic batching system for Cadbury and dealer at Visakhapatnam
Siemens Dealer with best price range in Jaipur
Siemens Simatic G120X Used to Purified Water Distribution system in Jaipur
Siemens G120X Trader with best price range in Nagpur
Siemens VFD G120X used for Fully Automatic PLC based Ointment Plant and distributor in Vadodara
Siemens G120X distributor in Faridabad
Siemens Simatic VFD G120X Dealer with best price range in Surat
Siemens used for Automatic batching system for Cadbury and dealer at Hyderabad
Siemens G120X used for Fully Automatic PLC based Ointment Plant and distributor in Nashik
Siemens VFD G120X Stockist with best price range in Visakhapatnam
Siemens G120X with suppler and installed and distributor in Nagpur
Siemens Simatic VFD G120X successfully commissioned thousands of projects in many industries in best price Hyderabad
Siemens VFD G120X high quality dealer at Kolkata
Siemens Simatic VFD G120X seller at Mumbai
Siemens G120X used for Automatic batching system for Cadbury and distributor at Indore
Siemens Simatic VFD G120X best dealer in lowest price in Hyderabad
Siemens Simatic G120X Used to Purified Water Distribution system in Faridabad
Siemens Simatic VFD G120X Used to Purified Water Distribution system in Indore
Siemens Used to Purified Water Distribution system in Jaipur
Siemens G120X top 5 dealer at Chennai
Siemens Simatic VFD G120X used for Soap Cutting application installed Chennai
Siemens VFD G120X used for Soap Cutting application installed Jaipur
Siemens Simatic G120X Used to Purified Water Distribution system in Visakhapatnam
Siemens Simatic VFD G120X used for Soap Cutting application installed Mumbai
Siemens successfully commissioned at Panvel
Siemens G120X successfully commissioned thousands of projects in many industries in best price at Hyderabad
Siemens G120X successfully commissioned at Surat
Siemens Simatic G120X best stockist Kanpur
Siemens G120X top 5 dealer at Ahmedabad
Siemens G120X used for Automatic batching system for Cadbury and distributor at Vadodara
Siemens G120X used for Textile machine synchronization in Pune
Siemens Simatic VFD G120X high quality dealer at Kolkata
Siemens Simatic VFD G120X top 5 dealer at Panvel
Siemens G120X used for Fully Automatic PLC based Ointment Plant and distributor in Bangalore
Siemens Simatic G120X used for Automatic batching system for Cadbury and dealer at Vadodara
Siemens Simatic G120X top 5 dealer at Panvel
Siemens Simatic VFD G120X best stockist Surat
Siemens Simatic VFD G120X seller at Bangalore
Siemens G120X high quality dealer at coimbatore
Siemens successfully commissioned at Lucknow
Siemens Simatic VFD G120X Trader with best price range in Ahmedabad
Siemens Simatic VFD G120X best dealer in lowest price in Pune
Siemens successfully installed in Faridabad
Siemens dealers in Indore
Siemens VFD G120X high quality dealer at Ahmedabad
Siemens used for Soap Cutting application installed Indore
Siemens VFD G120X dealers in Lucknow
Siemens VFD G120X installed in coimbatore
Siemens G120X with supplier and installed Distribution system in Jaipur
Siemens Simatic VFD G120X used for Centrifuge application installed and the best dealer in Nagpur
Siemens Simatic VFD G120X with suppler and installed and distributor in Nagpur
Siemens dealers in Pune
Siemens VFD G120X top 5 dealer at Pune
Siemens used for Centrifuge application installed and the best dealer in coimbatore
Siemens Simatic G120X used for Automatic batching system for Cadbury and dealer at Nashik
Siemens VFD G120X used for Automatic batching system for Cadbury and dealer at Chennai
Siemens G120X successfully commissioned thousands of projects in many industries in best price at Nagpur
Siemens with suppler and installed and distributor in coimbatore
Siemens Simatic G120X installed in Mumbai
Siemens G120X Stockist with best price range in New Delhi
Siemens Simatic G120X successfully commissioned thousands of projects in many industries in best price Nashik
Siemens Simatic VFD G120X successfully commissioned thousands of projects in many industries in best price at Surat
Siemens VFD G120X used for Automatic batching system for Cadbury and distributor at Nashik
Siemens used for Soap Cutting application installed Kanpur
Siemens Simatic VFD G120X top 5 dealer at Chennai
Siemens Dealer with best price range in Nashik
Siemens Simatic G120X high quality dealer at New Delhi
Siemens Simatic VFD G120X used for Soap Cutting application installed Kanpur
Siemens G120X used for Automatic batching system for Cadbury and distributor at Bangalore
Siemens Simatic G120X Trader with best price range in Surat
Siemens G120X used for Automatic batching system for Cadbury and dealer at Panvel
Siemens G120X Stockist with best price range in Surat
Siemens Simatic G120X successfully installed in Nagpur
Siemens Used to Purified Water Distribution system in Lucknow
Siemens high quality dealer at Nashik
Siemens Simatic G120X successfully commissioned at Kanpur
Siemens G120X used for Automatic batching system for Cadbury and dealer at Indore
Siemens Simatic VFD G120X used for Pick and Place automation in Panvel
Siemens Simatic G120X used for Automatic batching system for Cadbury and dealer at Ahmedabad
Siemens G120X top 5 dealer at Kolkata
Siemens Simatic G120X Standard used for Centrifuge application installed and the best dealer in Indore
Siemens Simatic VFD G120X Standard used for Centrifuge application installed and the best dealer in Nagpur
Siemens G120X installed in Lucknow
Siemens Simatic VFD G120X used for Centrifuge application installed and the best dealer in Hyderabad
Siemens used for Soap Cutting application installed Ahmedabad
Siemens used for Automatic batching system for Cadbury and distributor at Bangalore
Siemens G120X Standard used for Centrifuge application installed and the best dealer in Nashik
Siemens Simatic VFD G120X used for Automatic batching system for Cadbury and distributor at Kolkata
Siemens Simatic VFD G120X successfully installed in Faridabad
Siemens Simatic VFD G120X with supplier and installed Distribution system in Hyderabad
Siemens Simatic VFD G120X successfully commissioned thousands of projects in many industries in best price Panvel
Siemens Simatic VFD G120X with supplier and installed Distribution system in New Delhi
Siemens Simatic G120X best dealer in lowest price in Mumbai
Siemens seller at Panvel
Siemens VFD G120X used for Automatic batching system for Cadbury and distributor at Panvel
Siemens used for Automatic batching system for Cadbury and distributor at Pune
Siemens Simatic G120X used for Centrifuge application installed and the best dealer in Kolkata
Siemens G120X used for Soap Cutting application installed Surat
Siemens VFD G120X Standard used for Centrifuge application installed and the best dealer in Surat
Siemens Simatic G120X successfully commissioned thousands of projects in many industries in best price at Nagpur
Siemens Simatic G120X used for Textile machine synchronization in Hyderabad
Siemens Simatic G120X Stockist with best price range in Indore
Siemens G120X Trader with best price range in Mumbai
Siemens seller at Nashik
Siemens Simatic G120X used for Automatic batching system for Cadbury and dealer at Kolkata
Siemens G120X Used to Purified Water Distribution system in Faridabad
Siemens G120X dealers in Nashik
Siemens G120X used for Soap Cutting application installed Kanpur
Siemens G120X used for Pick and Place automation in Panvel
Siemens used for Soap Cutting application installed Surat
Siemens Stockist with best price range in Nagpur
Siemens VFD G120X installed in Surat
Siemens Dealer with best price range in Visakhapatnam
Siemens Simatic VFD G120X distributor in Kanpur
Siemens G120X Standard used for Centrifuge application installed and the best dealer in Nagpur
Siemens Used to Purified Water Distribution system in Hyderabad
Siemens used for Soap Cutting application installed Kolkata
Siemens VFD G120X used for Fully Automatic PLC based Ointment Plant and distributor in Surat
Siemens G120X used for Fully Automatic PLC based Ointment Plant and distributor in Lucknow
Siemens Simatic VFD G120X successfully commissioned thousands of projects in many industries in best price at Visakhapatnam
Siemens Simatic G120X successfully commissioned thousands of projects in many industries in best price Kolkata
Siemens Simatic VFD G120X Trader with best price range in Vadodara
Siemens Simatic G120X Dealer with best price range in Nagpur
Siemens Simatic G120X successfully installed in Chennai
Siemens G120X used for Automatic batching system for Cadbury and distributor at Visakhapatnam
Siemens Simatic G120X huge stockist with lowest price in Kolkata
Siemens VFD G120X vendor with best price range in Visakhapatnam
Siemens VFD G120X successfully commissioned thousands of projects in many industries in best price at Bangalore
Siemens Simatic G120X used for Centrifuge application installed and the best dealer in Indore
Siemens Simatic G120X used for Textile machine synchronization in Panvel
Siemens VFD G120X used for Soap Cutting application installed coimbatore
Siemens VFD G120X best dealer in lowest price in Indore
Siemens G120X distributor in Ahmedabad
Siemens Simatic VFD G120X Stockist with best price range in Mumbai
Siemens Simatic VFD G120X successfully installed in Bangalore
Siemens used for Pick and Place automation in Chennai
Siemens Simatic VFD G120X used for Textile machine synchronization in coimbatore
Siemens installed in Faridabad
Siemens Simatic G120X Dealer with best price range in Kolkata
Siemens used for Fully Automatic PLC based Ointment Plant and distributor in New Delhi
Siemens Simatic G120X used for Soap Cutting application installed Faridabad
Siemens installed in Vadodara
Siemens G120X vendor with best price range in Vadodara
Siemens Simatic G120X Standard used for Centrifuge application installed and the best dealer in Mumbai
Siemens Simatic G120X successfully commissioned thousands of projects in many industries in best price at Nashik
Siemens G120X dealers in Kanpur
Siemens Simatic G120X used for Automatic batching system for Cadbury and distributor at Faridabad
Siemens Simatic G120X Dealer with best price range in Pune
Siemens best stockist Pune
Siemens VFD G120X Trader with best price range in Panvel
Siemens Standard used for Centrifuge application installed and the best dealer in Surat
Siemens Simatic G120X successfully commissioned thousands of projects in many industries in best price Mumbai
Siemens Simatic G120X dealers in New Delhi
Siemens for Fully Automatic PLC based Ointment Plant and distributor in Visakhapatnam
Siemens distributor in Bangalore
Siemens Simatic VFD G120X used for Textile machine synchronization in Nagpur
Siemens G120X best stockist Vadodara
Siemens G120X successfully commissioned at Kanpur
Siemens used for Centrifuge application installed and the best dealer in Surat
Siemens Simatic G120X installed in coimbatore
Siemens Simatic VFD G120X with supplier and installed Distribution system in Panvel
Siemens G120X successfully commissioned thousands of projects in many industries in best price at New Delhi
Siemens used for Soap Cutting application installed Faridabad
Siemens VFD G120X used for Automatic batching system for Cadbury and dealer at Surat
Siemens Simatic G120X huge stockist with lowest price in Vadodara
Siemens VFD G120X Stockist with best price range in Panvel
Siemens VFD G120X used for Automatic batching system for Cadbury and distributor at Indore
Siemens best dealer in lowest price in Ahmedabad
Siemens Used to Purified Water Distribution system in Kanpur
Siemens Simatic VFD G120X Dealer with best price range in Panvel
Siemens Simatic G120X successfully commissioned thousands of projects in many industries in best price at Vadodara
Siemens VFD G120X best dealer in lowest price in Ahmedabad
Siemens Used to Purified Water Distribution system in Faridabad
Siemens Simatic G120X used for Textile machine synchronization in Nagpur
Siemens Simatic VFD G120X Dealer with best price range in Chennai
Siemens Simatic VFD G120X best stockist Visakhapatnam
Siemens VFD G120X distributor in Chennai
Siemens G120X successfully commissioned thousands of projects in many industries in best price Kanpur
Siemens G120X best dealer in lowest price in Nashik
Siemens G120X with suppler and installed and distributor in New Delhi
Siemens Simatic G120X used for Pick and Place automation in Faridabad
Siemens Simatic G120X used for Pick and Place automation in Lucknow
Siemens VFD G120X for Fully Automatic PLC based Ointment Plant and distributor in Faridabad
Siemens used for Automatic batching system for Cadbury and distributor at Ahmedabad
Siemens VFD G120X used for Automatic batching system for Cadbury and distributor at Surat
Siemens G120X vendor with best price range in Pune
Siemens Simatic VFD G120X high quality dealer at Nashik
Siemens Simatic G120X successfully commissioned thousands of projects in many industries in best price at Mumbai
Siemens G120X top 5 dealer at Nashik
Siemens successfully commissioned thousands of projects in many industries in best price at coimbatore
Siemens Simatic VFD G120X used for Automatic batching system for Cadbury and dealer at Hyderabad
Siemens VFD G120X vendor with best price range in Panvel
Siemens G120X used for Soap Cutting application installed Panvel
Siemens VFD G120X successfully commissioned thousands of projects in many industries in best price at Faridabad
Siemens Simatic G120X dealers in Chennai
Siemens Simatic VFD G120X used for Pick and Place automation in New Delhi
Siemens G120X successfully commissioned thousands of projects in many industries in best price at Pune
Siemens Simatic G120X dealers in Hyderabad
Siemens G120X seller at Pune
Siemens Simatic G120X Trader with best price range in Kanpur
Siemens Simatic VFD G120X used for Pick and Place automation in Visakhapatnam
Siemens VFD G120X used for Soap Cutting application installed Panvel
Siemens used for Automatic batching system for Cadbury and dealer at Bangalore
Siemens VFD G120X used for Soap Cutting application installed Indore
Siemens Simatic VFD G120X used for Soap Cutting application installed Chennai
Siemens Simatic VFD G120X installed in Vadodara
Siemens Simatic G120X used for Fully Automatic PLC based Ointment Plant and distributor in Kanpur
Siemens G120X best stockist Panvel
Siemens G120X Trader with best price range in Chennai
Siemens Simatic VFD G120X successfully commissioned thousands of projects in many industries in best price Visakhapatnam
Siemens Simatic VFD G120X distributor in Faridabad
Siemens VFD G120X used for Soap Cutting application installed Indore
Siemens G120X used for Automatic batching system for Cadbury and dealer at Kolkata
Siemens G120X seller at Surat
Siemens G120X Trader with best price range in Hyderabad
Siemens Simatic G120X used for Automatic batching system for Cadbury and dealer at Mumbai
Siemens G120X used for Fully Automatic PLC based Ointment Plant and distributor in Ahmedabad
Siemens Simatic G120X successfully commissioned thousands of projects in many industries in best price at Panvel
Siemens G120X with suppler and installed and distributor in Visakhapatnam
Siemens Simatic G120X distributor in Lucknow
Siemens successfully installed in Chennai
Siemens used for Automatic batching system for Cadbury and dealer at Mumbai
Siemens Dealer with best price range in Mumbai
Siemens Stockist with best price range in Vadodara
Siemens G120X Standard used for Centrifuge application installed and the best dealer in Surat
Siemens VFD G120X high quality dealer at Bangalore
Siemens VFD G120X successfully commissioned thousands of projects in many industries in best price Visakhapatnam
Siemens used for Textile machine synchronization in Kanpur
Siemens Simatic G120X successfully commissioned thousands of projects in many industries in best price Kanpur
Siemens VFD G120X Standard used for Centrifuge application installed and the best dealer in Visakhapatnam
Siemens G120X Used to Purified Water Distribution system in Bangalore
Siemens used for Pick and Place automation in Nashik
Siemens used for Centrifuge application installed and the best dealer in Nagpur
Siemens huge stockist with lowest price in Bangalore
Siemens used for Automatic batching system for Cadbury and dealer at coimbatore
Siemens Simatic VFD G120X successfully commissioned at Bangalore
Siemens G120X successfully commissioned thousands of projects in many industries in best price Mumbai
Siemens Simatic VFD G120X Stockist with best price range in Pune
Siemens Simatic G120X for Fully Automatic PLC based Ointment Plant and distributor in Kanpur
Siemens G120X huge stockist with lowest price in Jaipur
Siemens G120X used for Automatic batching system for Cadbury and dealer at Hyderabad
Siemens Simatic G120X used for Soap Cutting application installed Kanpur
Siemens Simatic VFD G120X high quality dealer at Lucknow
Siemens used for Pick and Place automation in Nagpur
Siemens Simatic G120X for Fully Automatic PLC based Ointment Plant and distributor in New Delhi
Siemens G120X huge stockist with lowest price in Vadodara
Siemens G120X successfully commissioned thousands of projects in many industries in best price New Delhi
Siemens vendor with best price range in Chennai
Siemens Simatic G120X installed in Nashik
Siemens G120X best dealer in lowest price in Bangalore
Siemens Simatic VFD G120X Trader with best price range in New Delhi
Siemens Used to Purified Water Distribution system in Kolkata
Siemens VFD G120X Used to Purified Water Distribution system in Nagpur
Siemens Simatic G120X huge stockist with lowest price in Visakhapatnam
Siemens G120X used for Fully Automatic PLC based Ointment Plant and distributor in Kanpur
Siemens Simatic VFD G120X used for Textile machine synchronization in Nashik
Siemens used for Soap Cutting application installed Nashik
Siemens G120X used for Textile machine synchronization in Panvel
Siemens VFD G120X best dealer in lowest price in Jaipur
Siemens Simatic G120X Dealer with best price range in Vadodara
Siemens G120X installed in Nashik
Siemens VFD G120X with suppler and installed and distributor in Bangalore
Siemens VFD G120X high quality dealer at Chennai
Siemens VFD G120X top 5 dealer at Panvel
Siemens Simatic G120X used for Soap Cutting application installed Kolkata
Siemens used for Textile machine synchronization in Ahmedabad
Siemens used for Textile machine synchronization in Surat
Siemens Simatic VFD G120X used for Automatic batching system for Cadbury and dealer at Kanpur
Siemens G120X Stockist with best price range in Kolkata
Siemens G120X dealers in Kolkata
Siemens Simatic VFD G120X successfully commissioned thousands of projects in many industries in best price New Delhi
Siemens Simatic G120X Trader with best price range in Pune
Siemens with suppler and installed and distributor in Hyderabad
Siemens Simatic G120X Standard used for Centrifuge application installed and the best dealer in Nashik
Siemens VFD G120X used for Automatic batching system for Cadbury and dealer at Pune
Siemens G120X Standard used for Centrifuge application installed and the best dealer in Vadodara
Siemens Dealer with best price range in Pune
Siemens G120X high quality dealer at Indore
Siemens VFD G120X successfully commissioned thousands of projects in many industries in best price Hyderabad
Siemens Simatic G120X huge stockist with lowest price in Indore
Siemens best stockist New Delhi
Siemens G120X Dealer with best price range in Nashik
Siemens VFD G120X dealers in coimbatore
Siemens VFD G120X high quality dealer at Lucknow
Siemens G120X seller at Visakhapatnam
Siemens successfully commissioned thousands of projects in many industries in best price Faridabad
Siemens G120X vendor with best price range in Bangalore
Siemens G120X high quality dealer at Visakhapatnam
Siemens Simatic G120X Trader with best price range in Vadodara
Siemens VFD G120X used for Automatic batching system for Cadbury and dealer at Vadodara
Siemens G120X top 5 dealer at Indore
Siemens Simatic G120X successfully installed in Panvel
Siemens Simatic VFD G120X successfully commissioned at Ahmedabad
Siemens Simatic VFD G120X with supplier and installed Distribution system in Bangalore
Siemens Simatic G120X for Fully Automatic PLC based Ointment Plant and distributor in Indore
Siemens VFD G120X for Fully Automatic PLC based Ointment Plant and distributor in Indore
Siemens VFD G120X successfully commissioned at Visakhapatnam
Siemens VFD G120X successfully commissioned at Indore
Siemens VFD G120X used for Automatic batching system for Cadbury and distributor at New Delhi
Siemens G120X best stockist Bangalore
Siemens Simatic VFD G120X Used to Purified Water Distribution system in Bangalore
Siemens G120X best dealer in lowest price in Jaipur
Siemens VFD G120X used for Soap Cutting application installed Hyderabad
Siemens Stockist with best price range in Panvel
Siemens VFD G120X Trader with best price range in Pune
Siemens VFD G120X for Fully Automatic PLC based Ointment Plant and distributor in Chennai
Siemens VFD G120X huge stockist with lowest price in Ahmedabad
Siemens G120X with suppler and installed and distributor in Nashik
Siemens VFD G120X Dealer with best price range in Jaipur
Siemens VFD G120X installed in Nashik
Siemens G120X successfully installed in Mumbai
Siemens G120X Used to Purified Water Distribution system in Hyderabad
Siemens Simatic G120X best stockist Mumbai
Siemens Simatic VFD G120X Dealer with best price range in Kanpur
Siemens VFD G120X used for Textile machine synchronization in Nagpur
Siemens used for Textile machine synchronization in Indore
Siemens VFD G120X successfully installed in Panvel
Siemens G120X Standard used for Centrifuge application installed and the best dealer in Lucknow
Siemens Simatic VFD G120X used for Textile machine synchronization in Ahmedabad
Siemens VFD G120X used for Automatic batching system for Cadbury and dealer at Indore
Siemens G120X for Fully Automatic PLC based Ointment Plant and distributor in Surat
Siemens Simatic VFD G120X best stockist Ahmedabad
Siemens huge stockist with lowest price in Kanpur
Siemens used for Fully Automatic PLC based Ointment Plant and distributor in Pune
Siemens Simatic VFD G120X dealers in Mumbai
Siemens used for Soap Cutting application installed Lucknow
Siemens used for Fully Automatic PLC based Ointment Plant and distributor in Lucknow
Siemens G120X with suppler and installed and distributor in Lucknow
Siemens successfully commissioned thousands of projects in many industries in best price at Mumbai
Siemens G120X Standard used for Centrifuge application installed and the best dealer in Kolkata
Siemens Simatic VFD G120X vendor with best price range in Faridabad
Siemens used for Fully Automatic PLC based Ointment Plant and distributor in Bangalore
Siemens Simatic VFD G120X used for Pick and Place automation in Ahmedabad
Siemens Simatic G120X successfully installed in Mumbai
Siemens G120X Used to Purified Water Distribution system in Jaipur
Siemens successfully installed in Jaipur
Siemens best dealer in lowest price in Nagpur
Siemens G120X Trader with best price range in Indore
Siemens Simatic VFD G120X successfully commissioned thousands of projects in many industries in best price Vadodara
Siemens G120X high quality dealer at Lucknow
Siemens Simatic VFD G120X vendor with best price range in Kolkata
Siemens Simatic VFD G120X with suppler and installed and distributor in Panvel
Siemens G120X used for Textile machine synchronization in Surat
Siemens VFD G120X successfully commissioned thousands of projects in many industries in best price at Kolkata
Siemens G120X for Fully Automatic PLC based Ointment Plant and distributor in coimbatore
Siemens VFD G120X Trader with best price range in Ahmedabad
Siemens used for Pick and Place automation in Surat
Siemens G120X used for Soap Cutting application installed Pune
Siemens Simatic VFD G120X with suppler and installed and distributor in Kanpur
Siemens VFD G120X Dealer with best price range in Nagpur
Siemens Simatic VFD G120X used for Soap Cutting application installed coimbatore
Siemens Simatic VFD G120X huge stockist with lowest price in Panvel
Siemens Simatic VFD G120X successfully commissioned at Faridabad
Siemens Simatic G120X used for Soap Cutting application installed Pune
Siemens VFD G120X Used to Purified Water Distribution system in Chennai
Siemens G120X Trader with best price range in Panvel
Siemens used for Soap Cutting application installed Chennai
Siemens Simatic VFD G120X used for Soap Cutting application installed Pune
Siemens Simatic VFD G120X used for Soap Cutting application installed Bangalore
Siemens VFD G120X dealers in Faridabad
Siemens successfully installed in Mumbai
Siemens VFD G120X Stockist with best price range in Ahmedabad
Siemens Simatic VFD G120X installed in Kolkata
Siemens Simatic VFD G120X used for Automatic batching system for Cadbury and distributor at Nagpur
Siemens Simatic VFD G120X Used to Purified Water Distribution system in Mumbai
Siemens Simatic VFD G120X successfully commissioned at Kolkata
Siemens Simatic G120X installed in Bangalore
Siemens VFD G120X successfully installed in Pune
Siemens Simatic G120X Used to Purified Water Distribution system in Pune
Siemens Simatic VFD G120X successfully commissioned thousands of projects in many industries in best price at Lucknow
Siemens successfully installed in Hyderabad
Siemens Simatic VFD G120X Dealer with best price range in Visakhapatnam
Siemens Simatic VFD G120X seller at Vadodara
Siemens with supplier and installed Distribution system in Chennai
Siemens Simatic G120X for Fully Automatic PLC based Ointment Plant and distributor in Visakhapatnam
Siemens Simatic G120X successfully commissioned thousands of projects in many industries in best price Pune
Siemens G120X used for Automatic batching system for Cadbury and dealer at Vadodara
Siemens G120X best stockist Lucknow
Siemens G120X huge stockist with lowest price in Visakhapatnam
Siemens G120X Stockist with best price range in Vadodara
Siemens G120X successfully installed in Nagpur
Siemens VFD G120X used for Centrifuge application installed and the best dealer in Vadodara
Siemens Standard used for Centrifuge application installed and the best dealer in Vadodara
Siemens used for Soap Cutting application installed Pune
Siemens VFD G120X top 5 dealer at Ahmedabad
Siemens Simatic G120X used for Pick and Place automation in New Delhi
Siemens Simatic VFD G120X top 5 dealer at coimbatore
Siemens Simatic VFD G120X used for Automatic batching system for Cadbury and dealer at Nagpur
Siemens Simatic VFD G120X used for Automatic batching system for Cadbury and dealer at Kolkata
Siemens best dealer in lowest price in Vadodara
Siemens VFD G120X for Fully Automatic PLC based Ointment Plant and distributor in Jaipur
Siemens Simatic VFD G120X for Fully Automatic PLC based Ointment Plant and distributor in Faridabad
Siemens vendor with best price range in Nagpur
Siemens G120X for Fully Automatic PLC based Ointment Plant and distributor in Bangalore
Siemens G120X dealers in Panvel
Siemens successfully commissioned thousands of projects in many industries in best price at Pune
Siemens Simatic G120X successfully commissioned at Jaipur
Siemens VFD G120X Dealer with best price range in Lucknow
Siemens used for Soap Cutting application installed Lucknow
Siemens Simatic G120X for Fully Automatic PLC based Ointment Plant and distributor in Nashik
Siemens G120X used for Automatic batching system for Cadbury and dealer at New Delhi
Siemens Simatic VFD G120X installed in coimbatore
Siemens VFD G120X used for Automatic batching system for Cadbury and dealer at Kanpur
Siemens used for Pick and Place automation in Hyderabad
Siemens G120X distributor in Surat
Siemens G120X dealers in Pune
Siemens Simatic G120X used for Soap Cutting application installed Pune
Siemens huge stockist with lowest price in Jaipur
Siemens Simatic VFD G120X successfully installed in Jaipur
Siemens Simatic G120X vendor with best price range in Nagpur
Siemens VFD G120X dealers in Ahmedabad
Siemens Simatic G120X used for Automatic batching system for Cadbury and dealer at Jaipur
Siemens Simatic VFD G120X used for Soap Cutting application installed Hyderabad
Siemens Simatic G120X dealers in Kanpur
Siemens Simatic G120X used for Automatic batching system for Cadbury and dealer at Lucknow
Siemens G120X used for Fully Automatic PLC based Ointment Plant and distributor in Kolkata
Siemens used for Soap Cutting application installed Surat
Siemens Simatic VFD G120X used for Centrifuge application installed and the best dealer in Kanpur
Siemens Simatic VFD G120X used for Automatic batching system for Cadbury and distributor at Ahmedabad
Siemens Simatic G120X used for Automatic batching system for Cadbury and dealer at Chennai
Siemens G120X with supplier and installed Distribution system in Nashik
Siemens Simatic G120X successfully installed in Lucknow
Siemens VFD G120X vendor with best price range in coimbatore
Siemens Simatic VFD G120X top 5 dealer at Lucknow
Siemens Simatic VFD G120X huge stockist with lowest price in coimbatore
Siemens Simatic VFD G120X with suppler and installed and distributor in Pune
Siemens Simatic G120X vendor with best price range in Panvel
Siemens Simatic VFD G120X for Fully Automatic PLC based Ointment Plant and distributor in Nagpur
Siemens with supplier and installed Distribution system in Nagpur
Siemens Simatic G120X Used to Purified Water Distribution system in Kolkata
Siemens G120X with suppler and installed and distributor in Surat
Siemens Simatic VFD G120X successfully installed in New Delhi
Siemens G120X Used to Purified Water Distribution system in Mumbai
Siemens Simatic G120X successfully installed in Surat
Siemens Simatic VFD G120X used for Textile machine synchronization in Chennai
Siemens G120X installed in Vadodara
Siemens VFD G120X dealers in Pune
Siemens VFD G120X Dealer with best price range in Kolkata
Siemens G120X used for Centrifuge application installed and the best dealer in Faridabad
Siemens Simatic VFD G120X with suppler and installed and distributor in Jaipur
Siemens Simatic G120X used for Automatic batching system for Cadbury and dealer at Hyderabad
Siemens VFD G120X used for Fully Automatic PLC based Ointment Plant and distributor in Lucknow
Siemens Simatic G120X successfully installed in coimbatore
Siemens G120X used for Automatic batching system for Cadbury and dealer at Kolkata
Siemens Trader with best price range in Kanpur
Siemens Simatic VFD G120X with supplier and installed Distribution system in Kolkata
Siemens Simatic G120X used for Fully Automatic PLC based Ointment Plant and distributor in New Delhi
Siemens top 5 dealer at Indore
Siemens Simatic VFD G120X top 5 dealer at Nashik
Siemens VFD G120X best stockist Panvel
Siemens Simatic VFD G120X best dealer in lowest price in Lucknow
Siemens Simatic G120X used for Soap Cutting application installed Kanpur
Siemens Simatic VFD G120X vendor with best price range in Panvel
Siemens G120X used for Fully Automatic PLC based Ointment Plant and distributor in New Delhi
Siemens Simatic G120X dealers in Visakhapatnam
Siemens Simatic VFD G120X vendor with best price range in Hyderabad
Siemens Simatic G120X used for Automatic batching system for Cadbury and dealer at Hyderabad
Siemens VFD G120X with suppler and installed and distributor in Indore
Siemens G120X used for Automatic batching system for Cadbury and dealer at Panvel
Siemens VFD G120X Trader with best price range in New Delhi
Siemens Simatic G120X huge stockist with lowest price in Jaipur
Siemens Simatic G120X distributor in New Delhi
Siemens VFD G120X successfully commissioned thousands of projects in many industries in best price at coimbatore
Siemens Simatic G120X successfully commissioned at Ahmedabad
Siemens Dealer with best price range in Kolkata
Siemens dealers in Faridabad
Siemens Simatic VFD G120X Dealer with best price range in Ahmedabad
Siemens VFD G120X used for Textile machine synchronization in Kolkata
Siemens distributor in Nagpur
Siemens Simatic G120X successfully commissioned thousands of projects in many industries in best price coimbatore
Siemens Simatic G120X huge stockist with lowest price in New Delhi
Siemens successfully commissioned at Kanpur
Siemens Simatic VFD G120X Dealer with best price range in New Delhi
Siemens Simatic G120X best dealer in lowest price in Jaipur
Siemens used for Centrifuge application installed and the best dealer in Kolkata
Siemens Simatic G120X best stockist Bangalore
Siemens VFD G120X Used to Purified Water Distribution system in Panvel
Siemens Simatic G120X successfully commissioned at Surat
Siemens Simatic G120X Dealer with best price range in Visakhapatnam
Siemens Simatic G120X Standard used for Centrifuge application installed and the best dealer in Nagpur
Siemens distributor in coimbatore
Siemens Simatic G120X best stockist Surat
Siemens dealers in Kanpur
Siemens with supplier and installed Distribution system in Vadodara
Siemens G120X installed in Mumbai
Siemens Simatic VFD G120X used for Automatic batching system for Cadbury and dealer at Indore
Siemens G120X used for Automatic batching system for Cadbury and distributor at Mumbai
Siemens VFD G120X high quality dealer at Vadodara
Siemens Simatic G120X Trader with best price range in Jaipur
Siemens vendor with best price range in Vadodara
Siemens Simatic VFD G120X with supplier and installed Distribution system in Ahmedabad
Siemens Simatic G120X Standard used for Centrifuge application installed and the best dealer in Faridabad
Siemens Simatic VFD G120X successfully commissioned thousands of projects in many industries in best price at Mumbai
Siemens Simatic G120X used for Fully Automatic PLC based Ointment Plant and distributor in Nagpur
Siemens Simatic VFD G120X for Fully Automatic PLC based Ointment Plant and distributor in Jaipur
Siemens Simatic G120X used for Centrifuge application installed and the best dealer in Chennai
Siemens Simatic VFD G120X best dealer in lowest price in Faridabad
Siemens used for Centrifuge application installed and the best dealer in Hyderabad
Siemens G120X used for Centrifuge application installed and the best dealer in New Delhi
Siemens Simatic G120X top 5 dealer at Faridabad
Siemens G120X seller at New Delhi
Siemens G120X used for Soap Cutting application installed Chennai
Siemens Simatic G120X used for Soap Cutting application installed Lucknow
Siemens G120X Dealer with best price range in Nagpur
Siemens VFD G120X best dealer in lowest price in Chennai
Siemens used for Automatic batching system for Cadbury and dealer at Faridabad
Siemens VFD G120X Used to Purified Water Distribution system in Mumbai
Siemens used for Automatic batching system for Cadbury and distributor at Nagpur
Siemens VFD G120X high quality dealer at Kanpur
Siemens Simatic VFD G120X successfully installed in Nagpur
Siemens Simatic G120X best dealer in lowest price in Kolkata
Siemens G120X used for Automatic batching system for Cadbury and distributor at Surat
Siemens Simatic G120X used for Automatic batching system for Cadbury and dealer at Indore
Siemens Simatic G120X used for Soap Cutting application installed Hyderabad
Siemens Dealer with best price range in Indore
Siemens VFD G120X used for Fully Automatic PLC based Ointment Plant and distributor in Bangalore
Siemens VFD G120X used for Centrifuge application installed and the best dealer in Indore
Siemens VFD G120X successfully commissioned thousands of projects in many industries in best price at Panvel
Siemens used for Textile machine synchronization in Faridabad
Siemens G120X used for Fully Automatic PLC based Ointment Plant and distributor in Chennai
Siemens Simatic G120X dealers in Kolkata
Siemens VFD G120X for Fully Automatic PLC based Ointment Plant and distributor in Ahmedabad
Siemens Stockist with best price range in Kanpur
Siemens VFD G120X used for Soap Cutting application installed Nagpur
Siemens Simatic VFD G120X used for Centrifuge application installed and the best dealer in Pune
Siemens G120X successfully commissioned thousands of projects in many industries in best price at Panvel
Siemens Simatic G120X used for Automatic batching system for Cadbury and dealer at Vadodara
Siemens used for Soap Cutting application installed coimbatore
Siemens Used to Purified Water Distribution system in Visakhapatnam
Siemens Simatic G120X high quality dealer at Jaipur
Siemens Simatic VFD G120X successfully installed in Kanpur
Siemens G120X used for Soap Cutting application installed Faridabad
Siemens Simatic G120X for Fully Automatic PLC based Ointment Plant and distributor in coimbatore
Siemens G120X used for Soap Cutting application installed Visakhapatnam
Siemens VFD G120X used for Soap Cutting application installed Kanpur
Siemens Simatic VFD G120X installed in Surat
Siemens Simatic G120X used for Automatic batching system for Cadbury and distributor at Surat
Siemens Simatic VFD G120X seller at New Delhi
Siemens VFD G120X used for Automatic batching system for Cadbury and distributor at Ahmedabad
Siemens Simatic G120X installed in Kolkata
Siemens G120X used for Automatic batching system for Cadbury and distributor at New Delhi
Siemens Simatic VFD G120X Stockist with best price range in Hyderabad
Siemens Trader with best price range in coimbatore
Siemens Stockist with best price range in Ahmedabad
Siemens used for Pick and Place automation in Pune
Siemens with suppler and installed and distributor in Surat
Siemens distributor in Surat
Siemens Simatic VFD G120X used for Automatic batching system for Cadbury and distributor at Surat
Siemens for Fully Automatic PLC based Ointment Plant and distributor in Surat
Siemens Simatic VFD G120X used for Automatic batching system for Cadbury and distributor at Visakhapatnam
Siemens Simatic G120X for Fully Automatic PLC based Ointment Plant and distributor in Faridabad
Siemens VFD G120X successfully commissioned at Kanpur
Siemens Simatic VFD G120X used for Centrifuge application installed and the best dealer in Chennai
Siemens Simatic G120X huge stockist with lowest price in coimbatore
Siemens VFD G120X Standard used for Centrifuge application installed and the best dealer in Kanpur
Siemens VFD G120X used for Automatic batching system for Cadbury and dealer at Panvel
Siemens VFD G120X used for Centrifuge application installed and the best dealer in Kanpur
Siemens Simatic G120X with supplier and installed Distribution system in Lucknow
Siemens Standard used for Centrifuge application installed and the best dealer in Jaipur
Siemens Simatic G120X best stockist Kolkata
Siemens Simatic G120X vendor with best price range in Vadodara
Siemens VFD G120X used for Soap Cutting application installed Visakhapatnam
Siemens Simatic G120X used for Centrifuge application installed and the best dealer in Mumbai
Siemens Simatic G120X used for Soap Cutting application installed Chennai
Siemens G120X huge stockist with lowest price in Kolkata
Siemens successfully installed in Kanpur
Siemens G120X with supplier and installed Distribution system in Indore
Siemens VFD G120X used for Automatic batching system for Cadbury and dealer at Nagpur
Siemens G120X installed in Kolkata
Siemens Simatic G120X successfully commissioned thousands of projects in many industries in best price at Kolkata
Siemens Simatic VFD G120X used for Automatic batching system for Cadbury and distributor at Kanpur
Siemens successfully commissioned thousands of projects in many industries in best price at Lucknow
Siemens G120X successfully commissioned thousands of projects in many industries in best price at Mumbai
Siemens Simatic G120X used for Fully Automatic PLC based Ointment Plant and distributor in Surat
Siemens Simatic VFD G120X high quality dealer at Mumbai
Siemens Stockist with best price range in Pune
Siemens used for Automatic batching system for Cadbury and dealer at Mumbai
Siemens G120X vendor with best price range in Mumbai
Siemens Simatic G120X high quality dealer at Mumbai
Siemens G120X dealers in Mumbai
Siemens G120X Dealer with best price range in Hyderabad
Siemens Simatic VFD G120X Used to Purified Water Distribution system in New Delhi
Siemens G120X best stockist Jaipur
Siemens Simatic G120X with suppler and installed and distributor in Hyderabad
Siemens Simatic G120X Standard used for Centrifuge application installed and the best dealer in Pune
Siemens G120X successfully installed in Kanpur
Siemens used for Soap Cutting application installed New Delhi
Siemens VFD G120X used for Textile machine synchronization in Hyderabad
Siemens Simatic G120X used for Soap Cutting application installed Visakhapatnam
Siemens Simatic VFD G120X used for Automatic batching system for Cadbury and distributor at Faridabad
Siemens Simatic G120X dealers in Lucknow
Siemens used for Soap Cutting application installed Indore
Siemens G120X distributor in New Delhi
Siemens successfully installed in Indore
Siemens Simatic VFD G120X distributor in Bangalore
Siemens used for Automatic batching system for Cadbury and distributor at Mumbai
Siemens VFD G120X distributor in Indore
Siemens Simatic VFD G120X used for Soap Cutting application installed Panvel
Siemens Simatic VFD G120X best dealer in lowest price in Nagpur
Siemens Simatic VFD G120X used for Automatic batching system for Cadbury and dealer at Hyderabad
Siemens best stockist Nashik
Siemens G120X used for Soap Cutting application installed Indore
Siemens high quality dealer at Bangalore
Siemens Simatic G120X with suppler and installed and distributor in Bangalore
Siemens with suppler and installed and distributor in Bangalore
Siemens VFD G120X seller at Ahmedabad
Siemens G120X installed in New Delhi
Siemens Simatic G120X successfully installed in Bangalore
Siemens Simatic VFD G120X Used to Purified Water Distribution system in Kanpur
Siemens Simatic VFD G120X used for Automatic batching system for Cadbury and dealer at Jaipur
Siemens G120X used for Automatic batching system for Cadbury and dealer at Surat
Siemens VFD G120X used for Centrifuge application installed and the best dealer in Kolkata
Siemens VFD G120X best stockist Indore
Siemens with suppler and installed and distributor in Kanpur
Siemens seller at Indore
Siemens used for Centrifuge application installed and the best dealer in Kanpur
Siemens used for Pick and Place automation in Jaipur
Siemens G120X Standard used for Centrifuge application installed and the best dealer in Pune
Siemens VFD G120X top 5 dealer at Surat
Siemens Dealer with best price range in Ahmedabad
Siemens Simatic G120X successfully commissioned thousands of projects in many industries in best price Faridabad
Siemens Simatic VFD G120X for Fully Automatic PLC based Ointment Plant and distributor in coimbatore
Siemens Simatic G120X Dealer with best price range in Nashik
Siemens VFD G120X high quality dealer at Panvel
Siemens VFD G120X Stockist with best price range in Kolkata
Siemens G120X dealers in New Delhi
Siemens Simatic VFD G120X used for Fully Automatic PLC based Ointment Plant and distributor in Visakhapatnam
Siemens Simatic VFD G120X Dealer with best price range in Nashik
Siemens Trader with best price range in Nashik
Siemens G120X used for Soap Cutting application installed New Delhi
Siemens G120X high quality dealer at Pune
Siemens G120X used for Soap Cutting application installed Nashik
Siemens Simatic VFD G120X used for Automatic batching system for Cadbury and dealer at Kanpur
Siemens G120X used for Soap Cutting application installed Kolkata
Siemens VFD G120X used for Soap Cutting application installed Chennai
Siemens Simatic VFD G120X Used to Purified Water Distribution system in Pune
Siemens Simatic VFD G120X Used to Purified Water Distribution system in Jaipur
Siemens Simatic VFD G120X used for Centrifuge application installed and the best dealer in New Delhi
Siemens VFD G120X used for Automatic batching system for Cadbury and distributor at Visakhapatnam
Siemens Simatic G120X seller at Jaipur
Siemens Simatic G120X used for Textile machine synchronization in Pune
Siemens VFD G120X used for Textile machine synchronization in Vadodara
Siemens Simatic G120X used for Automatic batching system for Cadbury and distributor at Visakhapatnam
Siemens G120X Trader with best price range in Faridabad
Siemens VFD G120X used for Fully Automatic PLC based Ointment Plant and distributor in Visakhapatnam
Siemens Simatic VFD G120X used for Automatic batching system for Cadbury and dealer at Jaipur
Siemens Simatic G120X best stockist Visakhapatnam
Siemens Simatic G120X Stockist with best price range in Chennai
Siemens G120X distributor in Jaipur
Siemens G120X Dealer with best price range in Mumbai
Siemens Simatic VFD G120X installed in Jaipur
Siemens Simatic VFD G120X used for Textile machine synchronization in Visakhapatnam
Siemens VFD G120X best dealer in lowest price in Bangalore
Siemens Simatic G120X distributor in Panvel
Siemens G120X used for Automatic batching system for Cadbury and dealer at Visakhapatnam
Siemens G120X Used to Purified Water Distribution system in Kolkata
Siemens G120X used for Textile machine synchronization in Kanpur
Siemens VFD G120X vendor with best price range in Faridabad
Siemens used for Soap Cutting application installed Bangalore
Siemens VFD G120X used for Automatic batching system for Cadbury and dealer at Lucknow
Siemens G120X dealers in Indore
Siemens Simatic VFD G120X seller at Kanpur
Siemens G120X best dealer in lowest price in Pune
Siemens Simatic G120X vendor with best price range in Mumbai
Siemens G120X dealers in Hyderabad
Siemens for Fully Automatic PLC based Ointment Plant and distributor in Bangalore
Siemens Simatic VFD G120X used for Automatic batching system for Cadbury and distributor at Bangalore
Siemens VFD G120X Stockist with best price range in Jaipur
Siemens VFD G120X used for Automatic batching system for Cadbury and dealer at Indore
Siemens used for Centrifuge application installed and the best dealer in Pune
Siemens used for Automatic batching system for Cadbury and dealer at New Delhi
Siemens VFD G120X Standard used for Centrifuge application installed and the best dealer in Kolkata
Siemens Simatic VFD G120X successfully commissioned thousands of projects in many industries in best price at coimbatore
Siemens Simatic G120X vendor with best price range in Lucknow
Siemens Simatic G120X distributor in Bangalore
Siemens G120X vendor with best price range in Surat
Siemens Simatic VFD G120X used for Fully Automatic PLC based Ointment Plant and distributor in Nashik
Siemens Simatic G120X Dealer with best price range in Surat
Siemens G120X Trader with best price range in coimbatore
Siemens Trader with best price range in Indore
Siemens G120X huge stockist with lowest price in Faridabad
Siemens Simatic VFD G120X successfully commissioned at Chennai
Siemens VFD G120X used for Centrifuge application installed and the best dealer in Faridabad
Siemens for Fully Automatic PLC based Ointment Plant and distributor in Jaipur
Siemens Simatic G120X best stockist Indore
Siemens Simatic VFD G120X Used to Purified Water Distribution system in Surat
Siemens Used to Purified Water Distribution system in Bangalore
Siemens VFD G120X seller at Bangalore
Siemens successfully commissioned thousands of projects in many industries in best price Jaipur
Siemens Simatic VFD G120X best dealer in lowest price in Ahmedabad
Siemens vendor with best price range in Ahmedabad
Siemens G120X used for Automatic batching system for Cadbury and dealer at Jaipur
Siemens used for Textile machine synchronization in coimbatore
Siemens VFD G120X seller at Jaipur
Siemens VFD G120X used for Centrifuge application installed and the best dealer in Visakhapatnam
Siemens Simatic VFD G120X seller at Nagpur
Siemens Simatic G120X used for Automatic batching system for Cadbury and dealer at New Delhi
Siemens best stockist Kanpur
Siemens Used to Purified Water Distribution system in Chennai
Siemens successfully commissioned thousands of projects in many industries in best price at Nagpur
Siemens Simatic G120X Trader with best price range in Hyderabad
Siemens Simatic VFD G120X top 5 dealer at New Delhi
Siemens Simatic VFD G120X used for Soap Cutting application installed Ahmedabad
Siemens Simatic VFD G120X Used to Purified Water Distribution system in Hyderabad
Siemens Simatic VFD G120X used for Textile machine synchronization in Vadodara
Siemens Simatic VFD G120X high quality dealer at Indore
Siemens vendor with best price range in Visakhapatnam
Siemens Simatic VFD G120X Dealer with best price range in Lucknow
Siemens VFD G120X used for Pick and Place automation in Kanpur
Siemens Simatic VFD G120X successfully commissioned thousands of projects in many industries in best price Lucknow
Siemens G120X seller at Panvel
Siemens used for Automatic batching system for Cadbury and dealer at Surat
Siemens Simatic VFD G120X successfully commissioned thousands of projects in many industries in best price Chennai
Siemens Simatic VFD G120X installed in Lucknow
Siemens VFD G120X used for Fully Automatic PLC based Ointment Plant and distributor in Kanpur
Siemens G120X with supplier and installed Distribution system in Kolkata
Siemens G120X successfully commissioned thousands of projects in many industries in best price Kolkata
Siemens Simatic VFD G120X with suppler and installed and distributor in Surat
Siemens Simatic VFD G120X successfully commissioned at Pune
Siemens G120X successfully installed in New Delhi
Siemens VFD G120X Stockist with best price range in Kanpur
Siemens Simatic VFD G120X Stockist with best price range in Vadodara
Siemens successfully installed in Lucknow
Siemens G120X Dealer with best price range in Kolkata
Siemens VFD G120X used for Pick and Place automation in Bangalore
Siemens Simatic VFD G120X used for Centrifuge application installed and the best dealer in Ahmedabad
Siemens G120X used for Soap Cutting application installed coimbatore
Siemens G120X Stockist with best price range in Jaipur
Siemens Simatic VFD G120X distributor in Chennai
Siemens used for Pick and Place automation in coimbatore
Siemens G120X for Fully Automatic PLC based Ointment Plant and distributor in Mumbai
Siemens VFD G120X used for Centrifuge application installed and the best dealer in Lucknow
Siemens Simatic VFD G120X vendor with best price range in Lucknow
Siemens used for Soap Cutting application installed Visakhapatnam
Siemens used for Centrifuge application installed and the best dealer in Nashik
Siemens Simatic VFD G120X dealers in Surat
Siemens Simatic G120X successfully commissioned at Visakhapatnam
Siemens Simatic G120X high quality dealer at Surat
Siemens VFD G120X with supplier and installed Distribution system in Hyderabad
Siemens used for Soap Cutting application installed Visakhapatnam
Siemens Simatic G120X high quality dealer at Hyderabad
Siemens G120X used for Fully Automatic PLC based Ointment Plant and distributor in Panvel
Siemens Simatic G120X used for Automatic batching system for Cadbury and distributor at Mumbai
Siemens VFD G120X used for Automatic batching system for Cadbury and dealer at Surat
Siemens VFD G120X installed in Hyderabad
Siemens G120X successfully commissioned thousands of projects in many industries in best price Chennai
Siemens installed in Hyderabad
Siemens G120X vendor with best price range in Panvel
Siemens vendor with best price range in Panvel
Siemens Simatic VFD G120X used for Soap Cutting application installed Visakhapatnam
Siemens G120X best dealer in lowest price in Faridabad
Siemens for Fully Automatic PLC based Ointment Plant and distributor in Vadodara
Siemens Simatic G120X used for Fully Automatic PLC based Ointment Plant and distributor in Nashik
Siemens G120X best stockist Ahmedabad
Siemens VFD G120X Dealer with best price range in Ahmedabad
Siemens Simatic G120X installed in Nagpur
Siemens Simatic G120X top 5 dealer at Ahmedabad
Siemens best dealer in lowest price in Surat
Siemens used for Fully Automatic PLC based Ointment Plant and distributor in Nagpur
Siemens G120X high quality dealer at Faridabad
Siemens VFD G120X huge stockist with lowest price in Mumbai
Siemens Simatic G120X high quality dealer at Panvel
Siemens G120X successfully commissioned thousands of projects in many industries in best price at Kanpur
Siemens used for Automatic batching system for Cadbury and dealer at Indore
Siemens Simatic G120X used for Textile machine synchronization in Mumbai
Siemens VFD G120X Dealer with best price range in New Delhi
Siemens Standard used for Centrifuge application installed and the best dealer in New Delhi
Siemens best stockist Kolkata
Siemens VFD G120X vendor with best price range in Indore
Siemens Stockist with best price range in Chennai
Siemens VFD G120X Dealer with best price range in Hyderabad
Siemens VFD G120X top 5 dealer at Jaipur
Siemens Simatic G120X with supplier and installed Distribution system in Faridabad
Siemens Simatic VFD G120X successfully commissioned thousands of projects in many industries in best price Kanpur
Siemens G120X used for Pick and Place automation in Pune
Siemens vendor with best price range in Faridabad
Siemens Simatic G120X huge stockist with lowest price in Ahmedabad
Siemens VFD G120X with supplier and installed Distribution system in Bangalore
Siemens Simatic VFD G120X dealers in Nagpur
Siemens Simatic G120X high quality dealer at Lucknow
Siemens VFD G120X Trader with best price range in Bangalore
Siemens Used to Purified Water Distribution system in Vadodara
Siemens used for Textile machine synchronization in Mumbai
Siemens Simatic VFD G120X Stockist with best price range in Chennai
Siemens VFD G120X top 5 dealer at Visakhapatnam
Siemens G120X used for Textile machine synchronization in Bangalore
Siemens VFD G120X high quality dealer at New Delhi
Siemens Standard used for Centrifuge application installed and the best dealer in Lucknow
Siemens G120X Stockist with best price range in Kanpur
Siemens VFD G120X dealers in Surat
Siemens Simatic VFD G120X used for Automatic batching system for Cadbury and distributor at Lucknow
Siemens G120X with suppler and installed and distributor in Kanpur
Siemens Trader with best price range in Kolkata
Siemens Simatic G120X successfully commissioned at Faridabad
Siemens Simatic VFD G120X used for Automatic batching system for Cadbury and dealer at Mumbai
Siemens Simatic VFD G120X used for Automatic batching system for Cadbury and distributor at Mumbai
Siemens Simatic G120X with supplier and installed Distribution system in Indore
Siemens Simatic VFD G120X dealers in Lucknow
Siemens G120X Trader with best price range in Surat
Siemens VFD G120X used for Fully Automatic PLC based Ointment Plant and distributor in Nashik
Siemens Simatic VFD G120X successfully installed in Lucknow
Siemens VFD G120X used for Automatic batching system for Cadbury and dealer at Nashik
Siemens G120X Standard used for Centrifuge application installed and the best dealer in coimbatore
Siemens VFD G120X used for Soap Cutting application installed Visakhapatnam
Siemens VFD G120X used for Automatic batching system for Cadbury and dealer at New Delhi
Siemens Simatic G120X installed in Lucknow
Siemens used for Automatic batching system for Cadbury and dealer at Jaipur
Siemens G120X used for Pick and Place automation in Mumbai
Siemens best stockist Panvel
Siemens vendor with best price range in Surat
Siemens Simatic VFD G120X used for Automatic batching system for Cadbury and dealer at Ahmedabad
Siemens VFD G120X best dealer in lowest price in Visakhapatnam
Siemens VFD G120X high quality dealer at Visakhapatnam
Siemens G120X used for Textile machine synchronization in New Delhi
Siemens Standard used for Centrifuge application installed and the best dealer in Panvel
Siemens Simatic VFD G120X successfully commissioned thousands of projects in many industries in best price at Nagpur
Siemens VFD G120X distributor in Kanpur
Siemens high quality dealer at Jaipur
Siemens Simatic G120X with suppler and installed and distributor in coimbatore
Siemens G120X top 5 dealer at Bangalore
Siemens G120X used for Pick and Place automation in Indore
Siemens Simatic VFD G120X used for Automatic batching system for Cadbury and dealer at Nagpur
Siemens G120X with suppler and installed and distributor in Kolkata
Siemens Simatic G120X used for Automatic batching system for Cadbury and distributor at Chennai
Siemens Simatic G120X used for Soap Cutting application installed Jaipur
Siemens Simatic VFD G120X seller at Kolkata
Siemens Simatic G120X installed in Hyderabad
Siemens Simatic G120X Standard used for Centrifuge application installed and the best dealer in Kanpur
Siemens G120X distributor in Hyderabad
Siemens VFD G120X top 5 dealer at Kolkata
Siemens G120X best stockist Faridabad
Siemens Simatic VFD G120X vendor with best price range in Kanpur
Siemens huge stockist with lowest price in Visakhapatnam
Siemens G120X installed in Pune
Siemens G120X used for Automatic batching system for Cadbury and dealer at Kanpur
Siemens Simatic G120X used for Automatic batching system for Cadbury and dealer at Nashik
Siemens Simatic VFD G120X high quality dealer at Pune
Siemens Simatic VFD G120X Stockist with best price range in Faridabad
Siemens G120X used for Soap Cutting application installed Panvel
Siemens VFD G120X high quality dealer at Faridabad
Siemens Simatic VFD G120X vendor with best price range in coimbatore
Siemens VFD G120X Used to Purified Water Distribution system in coimbatore
Siemens Simatic VFD G120X best stockist Nashik
Siemens best dealer in lowest price in Bangalore
Siemens used for Pick and Place automation in New Delhi
Siemens VFD G120X used for Soap Cutting application installed Chennai
Siemens G120X successfully commissioned thousands of projects in many industries in best price at Visakhapatnam
Siemens VFD G120X best stockist Nagpur
Siemens Simatic G120X Stockist with best price range in Bangalore
Siemens Simatic G120X Standard used for Centrifuge application installed and the best dealer in Ahmedabad
Siemens Stockist with best price range in Faridabad
Siemens VFD G120X used for Textile machine synchronization in Chennai
Siemens Simatic VFD G120X successfully commissioned thousands of projects in many industries in best price at Indore
Siemens Simatic VFD G120X best dealer in lowest price in New Delhi
Siemens Simatic VFD G120X dealers in Bangalore
Siemens VFD G120X with suppler and installed and distributor in Kanpur
Siemens Simatic VFD G120X top 5 dealer at Faridabad
Siemens Standard used for Centrifuge application installed and the best dealer in Ahmedabad
Siemens G120X used for Pick and Place automation in Jaipur
Siemens seller at Kolkata
Siemens Simatic G120X used for Soap Cutting application installed Hyderabad
Siemens VFD G120X successfully commissioned thousands of projects in many industries in best price Faridabad
Siemens G120X Trader with best price range in Jaipur
Siemens VFD G120X used for Automatic batching system for Cadbury and distributor at coimbatore
Siemens VFD G120X used for Soap Cutting application installed New Delhi
Siemens distributor in Ahmedabad
Siemens Simatic VFD G120X top 5 dealer at Surat
Siemens VFD G120X used for Automatic batching system for Cadbury and distributor at Hyderabad
Siemens Simatic G120X for Fully Automatic PLC based Ointment Plant and distributor in Hyderabad
Siemens Simatic G120X successfully commissioned thousands of projects in many industries in best price at Ahmedabad
Siemens Simatic VFD G120X used for Automatic batching system for Cadbury and dealer at Visakhapatnam
Siemens Simatic VFD G120X used for Pick and Place automation in Vadodara
Siemens VFD G120X successfully installed in Lucknow
Siemens G120X used for Textile machine synchronization in Ahmedabad
Siemens G120X used for Automatic batching system for Cadbury and dealer at Surat
Siemens used for Automatic batching system for Cadbury and distributor at Vadodara
Siemens Simatic G120X best dealer in lowest price in Nashik
Siemens G120X distributor in Bangalore
Siemens G120X successfully commissioned thousands of projects in many industries in best price at Faridabad
Siemens Simatic G120X used for Centrifuge application installed and the best dealer in Panvel
Siemens successfully installed in Bangalore
Siemens G120X used for Automatic batching system for Cadbury and dealer at coimbatore
Siemens dealers in coimbatore
Siemens Simatic VFD G120X Used to Purified Water Distribution system in Nashik
Siemens Simatic VFD G120X distributor in Panvel
Siemens VFD G120X with suppler and installed and distributor in New Delhi
Siemens used for Soap Cutting application installed Mumbai
Siemens Simatic VFD G120X best dealer in lowest price in Nashik
Siemens Trader with best price range in Pune
Siemens Simatic VFD G120X with supplier and installed Distribution system in Faridabad
Siemens Simatic G120X Trader with best price range in Nashik
Siemens G120X distributor in Nagpur
Siemens Simatic G120X Standard used for Centrifuge application installed and the best dealer in New Delhi
Siemens Simatic G120X top 5 dealer at Bangalore
Siemens VFD G120X used for Automatic batching system for Cadbury and distributor at Vadodara
Siemens Simatic VFD G120X used for Fully Automatic PLC based Ointment Plant and distributor in Ahmedabad
Siemens distributor in Kanpur
Siemens Simatic G120X successfully commissioned thousands of projects in many industries in best price Vadodara
Siemens G120X used for Automatic batching system for Cadbury and dealer at New Delhi
Siemens Simatic VFD G120X successfully commissioned thousands of projects in many industries in best price at Ahmedabad
Siemens Simatic G120X best dealer in lowest price in coimbatore
Siemens VFD G120X used for Soap Cutting application installed coimbatore
Siemens used for Automatic batching system for Cadbury and dealer at Surat
Siemens Simatic VFD G120X successfully commissioned thousands of projects in many industries in best price Faridabad
Siemens G120X successfully commissioned thousands of projects in many industries in best price Visakhapatnam
Siemens G120X Dealer with best price range in Chennai
Siemens Simatic G120X used for Fully Automatic PLC based Ointment Plant and distributor in Mumbai
Siemens G120X successfully commissioned at Visakhapatnam
Siemens Simatic G120X huge stockist with lowest price in Kanpur
Siemens used for Centrifuge application installed and the best dealer in Jaipur
Siemens VFD G120X dealers in Chennai
Siemens Simatic G120X used for Textile machine synchronization in Surat
Siemens high quality dealer at New Delhi
Siemens VFD G120X Stockist with best price range in Mumbai
Siemens Standard used for Centrifuge application installed and the best dealer in Indore
Siemens VFD G120X Stockist with best price range in New Delhi
Siemens Simatic VFD G120X top 5 dealer at Bangalore
Siemens Simatic G120X used for Soap Cutting application installed coimbatore
Siemens Simatic G120X Used to Purified Water Distribution system in Indore
Siemens VFD G120X successfully commissioned at coimbatore
Siemens G120X used for Automatic batching system for Cadbury and distributor at Jaipur
Siemens vendor with best price range in Nashik
Siemens vendor with best price range in Pune
Siemens Simatic VFD G120X Standard used for Centrifuge application installed and the best dealer in Chennai
Siemens Simatic VFD G120X distributor in Visakhapatnam
Siemens Simatic G120X Trader with best price range in Lucknow
Siemens best stockist coimbatore
Siemens seller at Surat
Siemens VFD G120X best stockist Ahmedabad
Siemens top 5 dealer at Lucknow
Siemens successfully commissioned at Chennai
Siemens G120X used for Centrifuge application installed and the best dealer in Surat
Siemens Simatic VFD G120X installed in Nashik
Siemens used for Automatic batching system for Cadbury and dealer at Vadodara
Siemens used for Soap Cutting application installed Nagpur
Siemens Simatic VFD G120X Used to Purified Water Distribution system in Vadodara
Siemens Simatic G120X distributor in Kanpur
Siemens G120X Trader with best price range in Visakhapatnam
Siemens Simatic G120X Standard used for Centrifuge application installed and the best dealer in Jaipur
Siemens Simatic G120X for Fully Automatic PLC based Ointment Plant and distributor in Panvel
Siemens successfully installed in Nashik
Siemens VFD G120X Standard used for Centrifuge application installed and the best dealer in Jaipur
Siemens G120X for Fully Automatic PLC based Ointment Plant and distributor in Kolkata
Siemens G120X used for Fully Automatic PLC based Ointment Plant and distributor in Visakhapatnam
Siemens Simatic G120X Used to Purified Water Distribution system in Nashik
Siemens G120X vendor with best price range in Nashik
Siemens Simatic G120X used for Pick and Place automation in Nashik
Siemens Simatic VFD G120X seller at Jaipur
Siemens Simatic G120X used for Centrifuge application installed and the best dealer in Nashik
Siemens Simatic G120X seller at Ahmedabad
Siemens best stockist Visakhapatnam
Siemens installed in Indore
Siemens Simatic G120X distributor in Visakhapatnam
Siemens installed in Mumbai
Siemens Simatic G120X Dealer with best price range in Mumbai
Siemens Simatic G120X Stockist with best price range in Panvel
Siemens VFD G120X Used to Purified Water Distribution system in Bangalore
Siemens G120X Dealer with best price range in coimbatore
Siemens Simatic VFD G120X used for Soap Cutting application installed Faridabad
Siemens VFD G120X with supplier and installed Distribution system in Pune
Siemens Simatic VFD G120X used for Soap Cutting application installed Nashik
Siemens Simatic VFD G120X used for Pick and Place automation in Surat
Siemens Simatic G120X successfully commissioned thousands of projects in many industries in best price at Bangalore
Siemens successfully commissioned at New Delhi
Siemens VFD G120X used for Automatic batching system for Cadbury and distributor at Bangalore
Siemens VFD G120X Dealer with best price range in Vadodara
Siemens VFD G120X used for Fully Automatic PLC based Ointment Plant and distributor in Mumbai
Siemens Simatic VFD G120X dealers in Pune
Siemens Simatic G120X successfully commissioned thousands of projects in many industries in best price at Lucknow
Siemens VFD G120X used for Soap Cutting application installed Vadodara
Siemens dealers in Lucknow
Siemens VFD G120X high quality dealer at Hyderabad
Siemens G120X huge stockist with lowest price in Nagpur
Siemens VFD G120X best dealer in lowest price in Kolkata
Siemens used for Fully Automatic PLC based Ointment Plant and distributor in Panvel
Siemens Simatic VFD G120X huge stockist with lowest price in Jaipur
Siemens Simatic G120X with supplier and installed Distribution system in Pune
Siemens Simatic G120X with suppler and installed and distributor in Visakhapatnam
Siemens Simatic G120X used for Textile machine synchronization in Indore
Siemens G120X Dealer with best price range in Kanpur
Siemens G120X Used to Purified Water Distribution system in Lucknow
Siemens Simatic G120X used for Automatic batching system for Cadbury and dealer at Bangalore
Siemens Simatic G120X used for Centrifuge application installed and the best dealer in Hyderabad
Siemens Simatic VFD G120X used for Fully Automatic PLC based Ointment Plant and distributor in Panvel
Siemens Simatic G120X vendor with best price range in coimbatore
Siemens Simatic G120X used for Automatic batching system for Cadbury and distributor at Pune
Siemens VFD G120X Stockist with best price range in Nagpur
Siemens VFD G120X used for Textile machine synchronization in Faridabad
Siemens VFD G120X Stockist with best price range in Chennai
Siemens VFD G120X Standard used for Centrifuge application installed and the best dealer in Mumbai
Siemens Simatic G120X successfully commissioned thousands of projects in many industries in best price Jaipur
Siemens Simatic VFD G120X successfully installed in Ahmedabad
Siemens VFD G120X huge stockist with lowest price in Hyderabad
Siemens used for Pick and Place automation in Lucknow
Siemens VFD G120X Dealer with best price range in Kanpur
Siemens Simatic VFD G120X used for Fully Automatic PLC based Ointment Plant and distributor in Jaipur
Siemens VFD G120X installed in Kolkata
Siemens VFD G120X used for Automatic batching system for Cadbury and dealer at Ahmedabad
Siemens Used to Purified Water Distribution system in Indore
Siemens huge stockist with lowest price in Panvel
Siemens high quality dealer at Pune
Siemens G120X best stockist Nashik
Siemens Simatic VFD G120X used for Pick and Place automation in Kolkata
Siemens Simatic VFD G120X used for Automatic batching system for Cadbury and dealer at Pune
Siemens VFD G120X huge stockist with lowest price in Chennai
Siemens VFD G120X used for Soap Cutting application installed Panvel
Siemens distributor in Kolkata
Siemens Simatic VFD G120X top 5 dealer at Kanpur
Siemens VFD G120X dealers in Nashik
Siemens Simatic G120X vendor with best price range in Jaipur
Siemens Simatic VFD G120X used for Automatic batching system for Cadbury and dealer at New Delhi
Siemens Simatic G120X used for Textile machine synchronization in coimbatore
Siemens G120X used for Textile machine synchronization in Jaipur
Siemens Stockist with best price range in Jaipur
Siemens Simatic G120X with suppler and installed and distributor in Faridabad
Siemens Simatic VFD G120X with supplier and installed Distribution system in Chennai
Siemens best dealer in lowest price in Nashik
Siemens Simatic G120X used for Soap Cutting application installed Panvel
Siemens successfully commissioned at Bangalore
Siemens VFD G120X dealers in Vadodara
Siemens G120X used for Automatic batching system for Cadbury and distributor at Pune
Siemens G120X successfully installed in Vadodara
Siemens Simatic VFD G120X used for Fully Automatic PLC based Ointment Plant and distributor in Surat
Siemens Simatic VFD G120X Standard used for Centrifuge application installed and the best dealer in Visakhapatnam
Siemens Simatic G120X Stockist with best price range in Nagpur
Siemens G120X used for Automatic batching system for Cadbury and dealer at Nagpur
Siemens VFD G120X Used to Purified Water Distribution system in Visakhapatnam
Siemens Simatic VFD G120X Trader with best price range in Visakhapatnam
Siemens VFD G120X used for Automatic batching system for Cadbury and dealer at Faridabad
Siemens Dealer with best price range in Nagpur
Siemens Simatic G120X successfully commissioned thousands of projects in many industries in best price Indore
Siemens VFD G120X used for Fully Automatic PLC based Ointment Plant and distributor in Ahmedabad
Siemens Simatic G120X installed in Vadodara
Siemens Simatic VFD G120X used for Automatic batching system for Cadbury and dealer at Lucknow
Siemens Simatic VFD G120X vendor with best price range in Visakhapatnam
Siemens G120X successfully commissioned at Faridabad
Siemens distributor in Hyderabad
Siemens Simatic G120X distributor in Chennai
Siemens VFD G120X Dealer with best price range in Mumbai
Siemens Simatic VFD G120X used for Pick and Place automation in Chennai
Siemens VFD G120X with supplier and installed Distribution system in Nashik
Siemens VFD G120X for Fully Automatic PLC based Ointment Plant and distributor in Lucknow
Siemens Simatic G120X with supplier and installed Distribution system in Mumbai
Siemens G120X used for Automatic batching system for Cadbury and dealer at Pune
Siemens G120X with supplier and installed Distribution system in Surat
Siemens used for Soap Cutting application installed coimbatore
Siemens G120X Used to Purified Water Distribution system in Panvel
Siemens G120X best stockist coimbatore
Siemens Simatic G120X used for Soap Cutting application installed New Delhi
Siemens used for Automatic batching system for Cadbury and dealer at Visakhapatnam
Siemens installed in Jaipur
Siemens VFD G120X with suppler and installed and distributor in Ahmedabad
Siemens G120X installed in Jaipur
Siemens installed in Kanpur
Siemens used for Automatic batching system for Cadbury and dealer at New Delhi
Siemens G120X used for Fully Automatic PLC based Ointment Plant and distributor in Hyderabad
Siemens Simatic VFD G120X Trader with best price range in Faridabad
Siemens G120X successfully commissioned thousands of projects in many industries in best price Pune
Siemens G120X with supplier and installed Distribution system in Panvel
Siemens Simatic G120X vendor with best price range in Surat
Siemens Standard used for Centrifuge application installed and the best dealer in Kolkata
Siemens huge stockist with lowest price in Hyderabad
Siemens Stockist with best price range in New Delhi
Siemens Simatic VFD G120X Standard used for Centrifuge application installed and the best dealer in Kolkata
Siemens VFD G120X with supplier and installed Distribution system in Nagpur
Siemens G120X successfully commissioned thousands of projects in many industries in best price Bangalore
Siemens G120X Used to Purified Water Distribution system in Kanpur
Siemens Simatic VFD G120X for Fully Automatic PLC based Ointment Plant and distributor in Mumbai
Siemens Simatic VFD G120X used for Pick and Place automation in Bangalore
Siemens Simatic G120X Standard used for Centrifuge application installed and the best dealer in Surat
Siemens VFD G120X used for Automatic batching system for Cadbury and dealer at Jaipur
Siemens G120X high quality dealer at Jaipur
Siemens G120X successfully installed in Surat
Siemens VFD G120X huge stockist with lowest price in New Delhi
Siemens used for Fully Automatic PLC based Ointment Plant and distributor in Kolkata
Siemens VFD G120X successfully commissioned at Panvel
Siemens Simatic G120X seller at New Delhi
Siemens G120X successfully commissioned at Nashik
Siemens G120X used for Soap Cutting application installed Pune
Siemens VFD G120X used for Fully Automatic PLC based Ointment Plant and distributor in Hyderabad
Siemens G120X for Fully Automatic PLC based Ointment Plant and distributor in Panvel
Siemens VFD G120X top 5 dealer at Chennai
Siemens Simatic VFD G120X used for Fully Automatic PLC based Ointment Plant and distributor in Lucknow
Siemens G120X high quality dealer at Bangalore
Siemens Simatic VFD G120X Trader with best price range in Indore
Siemens Simatic VFD G120X used for Soap Cutting application installed Indore
Siemens Simatic VFD G120X vendor with best price range in Pune
Siemens used for Fully Automatic PLC based Ointment Plant and distributor in Surat
Siemens Simatic G120X used for Textile machine synchronization in Nashik
Siemens G120X used for Automatic batching system for Cadbury and dealer at Faridabad
Siemens VFD G120X huge stockist with lowest price in Visakhapatnam
Siemens Simatic VFD G120X Standard used for Centrifuge application installed and the best dealer in Panvel
Siemens Simatic VFD G120X with suppler and installed and distributor in Bangalore
Siemens VFD G120X seller at Lucknow
Siemens VFD G120X used for Automatic batching system for Cadbury and dealer at Bangalore
Siemens VFD G120X Trader with best price range in Vadodara
Siemens seller at Lucknow
Siemens best stockist Faridabad
Siemens seller at coimbatore
Siemens G120X successfully installed in Ahmedabad
Siemens VFD G120X with supplier and installed Distribution system in Faridabad
Siemens Simatic VFD G120X for Fully Automatic PLC based Ointment Plant and distributor in Chennai
Siemens high quality dealer at Mumbai
Siemens used for Fully Automatic PLC based Ointment Plant and distributor in Faridabad
Siemens Simatic VFD G120X high quality dealer at Vadodara
Siemens successfully commissioned thousands of projects in many industries in best price at Panvel
Siemens G120X Standard used for Centrifuge application installed and the best dealer in Faridabad
Siemens Simatic G120X used for Soap Cutting application installed Indore
Siemens VFD G120X Used to Purified Water Distribution system in Indore
Siemens seller at Bangalore
Siemens Simatic VFD G120X Stockist with best price range in Kanpur
Siemens successfully commissioned at Indore
Siemens Simatic VFD G120X successfully installed in Surat
Siemens VFD G120X used for Automatic batching system for Cadbury and dealer at Bangalore
Siemens Simatic G120X with supplier and installed Distribution system in Surat
Siemens VFD G120X successfully commissioned thousands of projects in many industries in best price at Nashik
Siemens Simatic G120X used for Fully Automatic PLC based Ointment Plant and distributor in Jaipur
Siemens Simatic VFD G120X seller at Indore
Siemens dealers in Mumbai
Siemens VFD G120X distributor in Visakhapatnam
Siemens Simatic VFD G120X used for Automatic batching system for Cadbury and dealer at Indore
Siemens G120X installed in Bangalore
Siemens used for Soap Cutting application installed Kanpur
Siemens Simatic VFD G120X used for Soap Cutting application installed Indore
Siemens G120X dealers in coimbatore
Siemens Simatic G120X with suppler and installed and distributor in Indore
Siemens VFD G120X Used to Purified Water Distribution system in Hyderabad
Siemens Simatic VFD G120X Used to Purified Water Distribution system in Nagpur
Siemens G120X top 5 dealer at New Delhi
Siemens high quality dealer at coimbatore
Siemens VFD G120X distributor in New Delhi
Siemens VFD G120X used for Centrifuge application installed and the best dealer in Jaipur
Siemens Simatic VFD G120X installed in Mumbai
Siemens VFD G120X used for Centrifuge application installed and the best dealer in Ahmedabad
Siemens VFD G120X Used to Purified Water Distribution system in Pune
Siemens Simatic G120X successfully installed in Kolkata
Siemens seller at Vadodara
Siemens Simatic VFD G120X Stockist with best price range in Bangalore
Siemens VFD G120X used for Centrifuge application installed and the best dealer in Mumbai
Siemens Simatic VFD G120X Used to Purified Water Distribution system in Chennai
Siemens G120X high quality dealer at Nagpur
Siemens Trader with best price range in Vadodara
Siemens best dealer in lowest price in Visakhapatnam
Siemens Stockist with best price range in Nashik
Siemens VFD G120X successfully commissioned thousands of projects in many industries in best price Mumbai
Siemens Standard used for Centrifuge application installed and the best dealer in Pune
Siemens G120X successfully installed in Faridabad
Siemens VFD G120X with supplier and installed Distribution system in Surat
Siemens for Fully Automatic PLC based Ointment Plant and distributor in coimbatore
Siemens used for Automatic batching system for Cadbury and dealer at Indore
Siemens VFD G120X for Fully Automatic PLC based Ointment Plant and distributor in Visakhapatnam
Siemens VFD G120X used for Textile machine synchronization in Mumbai
Siemens successfully installed in Pune
Siemens successfully installed in Kolkata
Siemens G120X used for Fully Automatic PLC based Ointment Plant and distributor in coimbatore
Siemens VFD G120X used for Pick and Place automation in Hyderabad
Siemens Simatic VFD G120X high quality dealer at Bangalore
Siemens VFD G120X used for Fully Automatic PLC based Ointment Plant and distributor in Faridabad
Siemens Simatic VFD G120X installed in Indore
Siemens G120X successfully commissioned thousands of projects in many industries in best price Jaipur
Siemens G120X used for Centrifuge application installed and the best dealer in Mumbai
Siemens Simatic G120X huge stockist with lowest price in Surat
Siemens Simatic G120X used for Fully Automatic PLC based Ointment Plant and distributor in Indore
Siemens VFD G120X huge stockist with lowest price in Bangalore
Siemens used for Fully Automatic PLC based Ointment Plant and distributor in Jaipur
Siemens Simatic G120X with suppler and installed and distributor in Jaipur
Siemens G120X vendor with best price range in coimbatore
Siemens VFD G120X Standard used for Centrifuge application installed and the best dealer in Nashik
Siemens Stockist with best price range in Indore
Siemens VFD G120X used for Soap Cutting application installed Faridabad
Siemens Simatic G120X successfully installed in Indore
Siemens used for Automatic batching system for Cadbury and dealer at Lucknow
Siemens Simatic VFD G120X Trader with best price range in Pune
Siemens Simatic G120X for Fully Automatic PLC based Ointment Plant and distributor in Lucknow
Siemens VFD G120X used for Automatic batching system for Cadbury and dealer at New Delhi
Siemens VFD G120X Dealer with best price range in Bangalore
Siemens G120X used for Soap Cutting application installed Chennai
Siemens used for Automatic batching system for Cadbury and dealer at Pune
Siemens G120X Trader with best price range in Nashik
Siemens high quality dealer at Indore
Siemens Simatic G120X Trader with best price range in New Delhi
Siemens Simatic G120X best dealer in lowest price in Kanpur
Siemens Simatic G120X used for Textile machine synchronization in Bangalore
Siemens Stockist with best price range in Bangalore
Siemens VFD G120X huge stockist with lowest price in Pune
Siemens G120X for Fully Automatic PLC based Ointment Plant and distributor in Kanpur
Siemens Simatic G120X used for Soap Cutting application installed coimbatore
Siemens used for Automatic batching system for Cadbury and distributor at Nashik
Siemens VFD G120X used for Centrifuge application installed and the best dealer in Pune
Siemens G120X with suppler and installed and distributor in Pune
Siemens G120X with supplier and installed Distribution system in Hyderabad
Siemens VFD G120X used for Soap Cutting application installed Kanpur
Siemens VFD G120X top 5 dealer at Lucknow
Siemens G120X huge stockist with lowest price in Pune
Siemens Simatic G120X top 5 dealer at coimbatore
Siemens Simatic G120X with supplier and installed Distribution system in Nagpur
Siemens G120X huge stockist with lowest price in Surat
Siemens successfully commissioned at Hyderabad
Siemens Simatic VFD G120X Used to Purified Water Distribution system in Ahmedabad
Siemens Simatic G120X used for Automatic batching system for Cadbury and distributor at Nagpur
Siemens Simatic VFD G120X with supplier and installed Distribution system in Nagpur
Siemens Simatic VFD G120X vendor with best price range in Chennai
Siemens VFD G120X used for Automatic batching system for Cadbury and dealer at Nagpur
Siemens Simatic G120X successfully commissioned at Nagpur
Siemens Simatic G120X used for Soap Cutting application installed Surat
Siemens top 5 dealer at Visakhapatnam
Siemens used for Centrifuge application installed and the best dealer in Lucknow
Siemens Trader with best price range in Hyderabad
Siemens Simatic G120X seller at Kanpur
Siemens VFD G120X Trader with best price range in Mumbai
Siemens Simatic G120X successfully commissioned at Panvel
Siemens G120X used for Textile machine synchronization in Nashik
Siemens G120X distributor in coimbatore
Siemens Simatic VFD G120X used for Automatic batching system for Cadbury and dealer at Pune
Siemens seller at Kanpur
Siemens VFD G120X used for Automatic batching system for Cadbury and dealer at Nashik
Siemens Simatic G120X distributor in Faridabad
Siemens VFD G120X with suppler and installed and distributor in Chennai
Siemens VFD G120X vendor with best price range in Vadodara
Siemens Simatic G120X successfully commissioned thousands of projects in many industries in best price at Jaipur
Siemens Simatic VFD G120X Standard used for Centrifuge application installed and the best dealer in Faridabad
Siemens G120X Standard used for Centrifuge application installed and the best dealer in Panvel
Siemens G120X successfully commissioned thousands of projects in many industries in best price Panvel
Siemens VFD G120X used for Pick and Place automation in Jaipur
Siemens Simatic G120X vendor with best price range in Kanpur
Siemens G120X used for Pick and Place automation in Kanpur
Siemens Simatic G120X vendor with best price range in Bangalore
Siemens Simatic G120X vendor with best price range in Visakhapatnam
Siemens VFD G120X best dealer in lowest price in Vadodara
Siemens G120X dealers in Ahmedabad
Siemens Simatic G120X used for Soap Cutting application installed Vadodara
Siemens Simatic G120X top 5 dealer at Kanpur
Siemens used for Centrifuge application installed and the best dealer in Vadodara
Siemens VFD G120X successfully commissioned thousands of projects in many industries in best price at Mumbai
Siemens vendor with best price range in Lucknow
Siemens G120X vendor with best price range in Lucknow
Siemens Simatic VFD G120X installed in Pune
Siemens G120X vendor with best price range in Hyderabad
Siemens Simatic G120X used for Automatic batching system for Cadbury and dealer at Visakhapatnam
Siemens Simatic G120X top 5 dealer at New Delhi
Siemens Simatic VFD G120X for Fully Automatic PLC based Ointment Plant and distributor in Indore
Siemens used for Automatic batching system for Cadbury and distributor at Faridabad
Siemens VFD G120X best dealer in lowest price in Surat
Siemens Simatic G120X best dealer in lowest price in Ahmedabad
Siemens Simatic G120X Used to Purified Water Distribution system in Nagpur
Siemens Simatic VFD G120X huge stockist with lowest price in Pune
Siemens Simatic G120X with suppler and installed and distributor in Vadodara
Siemens VFD G120X with supplier and installed Distribution system in Kolkata
Siemens Simatic VFD G120X used for Soap Cutting application installed Kanpur
Siemens Simatic G120X used for Automatic batching system for Cadbury and dealer at Kanpur
Siemens G120X used for Textile machine synchronization in Mumbai
Siemens Simatic VFD G120X used for Centrifuge application installed and the best dealer in Nashik
Siemens Simatic VFD G120X successfully commissioned thousands of projects in many industries in best price at Bangalore
Siemens Simatic G120X Standard used for Centrifuge application installed and the best dealer in Lucknow
Siemens VFD G120X successfully commissioned thousands of projects in many industries in best price at Ahmedabad
Siemens Simatic VFD G120X dealers in Vadodara
Siemens for Fully Automatic PLC based Ointment Plant and distributor in Panvel
Siemens Simatic VFD G120X dealers in Hyderabad
Siemens Simatic G120X used for Pick and Place automation in Pune
Siemens G120X for Fully Automatic PLC based Ointment Plant and distributor in Lucknow
Siemens used for Soap Cutting application installed Hyderabad
Siemens VFD G120X used for Fully Automatic PLC based Ointment Plant and distributor in New Delhi
Siemens G120X successfully commissioned thousands of projects in many industries in best price at Bangalore
Siemens Used to Purified Water Distribution system in Nashik
Siemens Simatic VFD G120X Stockist with best price range in coimbatore
Siemens Stockist with best price range in Visakhapatnam
Siemens VFD G120X dealers in Indore
Siemens Simatic VFD G120X used for Fully Automatic PLC based Ointment Plant and distributor in Bangalore
Siemens Simatic G120X successfully commissioned thousands of projects in many industries in best price at Pune
Siemens successfully installed in Panvel
Siemens G120X for Fully Automatic PLC based Ointment Plant and distributor in Chennai
Siemens G120X used for Automatic batching system for Cadbury and dealer at Kanpur
Siemens VFD G120X Used to Purified Water Distribution system in Faridabad
Siemens Simatic VFD G120X Trader with best price range in Bangalore
Siemens successfully commissioned at coimbatore
Siemens dealers in Nagpur
Siemens G120X with suppler and installed and distributor in Indore
Siemens Simatic G120X distributor in coimbatore
Siemens Simatic VFD G120X best stockist Lucknow
Siemens VFD G120X successfully commissioned thousands of projects in many industries in best price Jaipur
Siemens distributor in Mumbai
Siemens dealers in Vadodara
Siemens Simatic G120X top 5 dealer at Nagpur
Siemens Simatic VFD G120X used for Automatic batching system for Cadbury and dealer at Kolkata
Siemens used for Soap Cutting application installed Bangalore
Siemens G120X with supplier and installed Distribution system in Kanpur
Siemens Simatic VFD G120X successfully commissioned thousands of projects in many industries in best price Kolkata
Siemens G120X Stockist with best price range in Faridabad
Siemens Simatic G120X with supplier and installed Distribution system in Ahmedabad
Siemens Simatic G120X for Fully Automatic PLC based Ointment Plant and distributor in Chennai
Siemens Simatic G120X successfully commissioned thousands of projects in many industries in best price at Visakhapatnam
Siemens Simatic G120X used for Fully Automatic PLC based Ointment Plant and distributor in Bangalore
Siemens Simatic VFD G120X Used to Purified Water Distribution system in Panvel
Siemens VFD G120X distributor in Panvel
Siemens Simatic G120X successfully commissioned thousands of projects in many industries in best price Panvel
Siemens Simatic VFD G120X successfully commissioned thousands of projects in many industries in best price at Kanpur
Siemens best dealer in lowest price in Panvel
Siemens Simatic G120X used for Fully Automatic PLC based Ointment Plant and distributor in Ahmedabad
Siemens high quality dealer at Kolkata
Siemens G120X used for Soap Cutting application installed Kolkata
Siemens Simatic VFD G120X Standard used for Centrifuge application installed and the best dealer in Pune
Siemens Simatic G120X for Fully Automatic PLC based Ointment Plant and distributor in Nagpur
Siemens Simatic VFD G120X used for Soap Cutting application installed Pune
Siemens Simatic VFD G120X Stockist with best price range in Visakhapatnam
Siemens VFD G120X high quality dealer at Mumbai
Siemens used for Automatic batching system for Cadbury and dealer at Lucknow
Siemens VFD G120X used for Textile machine synchronization in coimbatore
Siemens successfully commissioned at Faridabad
Siemens Dealer with best price range in Bangalore
Siemens Simatic VFD G120X successfully commissioned thousands of projects in many industries in best price Indore
Siemens G120X used for Fully Automatic PLC based Ointment Plant and distributor in Nagpur
Siemens G120X Standard used for Centrifuge application installed and the best dealer in New Delhi
Siemens Simatic VFD G120X successfully commissioned thousands of projects in many industries in best price Nagpur
Siemens VFD G120X dealers in Bangalore
Siemens used for Centrifuge application installed and the best dealer in New Delhi
Siemens Dealer with best price range in Kanpur
Siemens G120X successfully installed in Jaipur
Siemens G120X used for Soap Cutting application installed Indore
Siemens G120X used for Automatic batching system for Cadbury and distributor at Nashik
Siemens Simatic VFD G120X used for Textile machine synchronization in Jaipur
Siemens Dealer with best price range in New Delhi
Siemens G120X used for Pick and Place automation in Lucknow
Siemens Simatic VFD G120X used for Pick and Place automation in Kanpur
Siemens VFD G120X Trader with best price range in Jaipur
Siemens VFD G120X successfully installed in New Delhi
Siemens VFD G120X huge stockist with lowest price in Indore
Siemens G120X high quality dealer at Hyderabad
Siemens successfully commissioned at Surat
Siemens G120X best stockist Surat
Siemens G120X best dealer in lowest price in Indore
Siemens VFD G120X Standard used for Centrifuge application installed and the best dealer in Chennai
Siemens successfully commissioned thousands of projects in many industries in best price Nagpur
Siemens VFD G120X best dealer in lowest price in New Delhi
Siemens Trader with best price range in Ahmedabad
Siemens VFD G120X used for Automatic batching system for Cadbury and dealer at coimbatore
Siemens G120X with suppler and installed and distributor in Jaipur
Siemens VFD G120X successfully installed in Ahmedabad
Siemens Simatic VFD G120X used for Automatic batching system for Cadbury and dealer at Faridabad
Siemens Simatic VFD G120X with supplier and installed Distribution system in coimbatore
Siemens G120X used for Soap Cutting application installed Nashik
Siemens VFD G120X top 5 dealer at Nagpur
Siemens G120X successfully commissioned thousands of projects in many industries in best price at Surat
Siemens VFD G120X used for Soap Cutting application installed Kolkata
Siemens Simatic G120X Dealer with best price range in Chennai
Siemens Simatic G120X seller at Mumbai
Siemens G120X used for Automatic batching system for Cadbury and dealer at Nashik
Siemens VFD G120X used for Centrifuge application installed and the best dealer in Hyderabad
Siemens G120X used for Fully Automatic PLC based Ointment Plant and distributor in Mumbai
Siemens G120X used for Automatic batching system for Cadbury and dealer at Chennai
Siemens huge stockist with lowest price in Lucknow
Siemens VFD G120X top 5 dealer at New Delhi
Siemens G120X used for Pick and Place automation in Ahmedabad
Siemens Simatic VFD G120X used for Automatic batching system for Cadbury and dealer at Surat
Siemens installed in Visakhapatnam
Siemens Simatic VFD G120X successfully commissioned at Hyderabad
Siemens Simatic VFD G120X best stockist Kanpur
Siemens VFD G120X Standard used for Centrifuge application installed and the best dealer in Faridabad
Siemens Simatic G120X huge stockist with lowest price in Nashik
Siemens used for Automatic batching system for Cadbury and distributor at Kanpur
Siemens Simatic VFD G120X top 5 dealer at Hyderabad
Siemens G120X Standard used for Centrifuge application installed and the best dealer in Visakhapatnam
Siemens Simatic VFD G120X best dealer in lowest price in Bangalore
Siemens Simatic VFD G120X Stockist with best price range in Kolkata
Siemens Simatic G120X used for Automatic batching system for Cadbury and distributor at Kolkata
Siemens Simatic VFD G120X used for Pick and Place automation in Faridabad
Siemens Simatic VFD G120X Stockist with best price range in Lucknow
Siemens Simatic G120X high quality dealer at Visakhapatnam
Siemens G120X used for Fully Automatic PLC based Ointment Plant and distributor in Pune
Siemens G120X top 5 dealer at Hyderabad
Siemens Simatic VFD G120X Used to Purified Water Distribution system in Kolkata
Siemens seller at Pune
Siemens vendor with best price range in Hyderabad
Siemens Simatic VFD G120X installed in Chennai
Siemens Simatic VFD G120X vendor with best price range in Nashik
Siemens with supplier and installed Distribution system in Nashik
Siemens Trader with best price range in Chennai
Siemens Simatic G120X used for Fully Automatic PLC based Ointment Plant and distributor in Hyderabad
Siemens G120X best dealer in lowest price in coimbatore
Siemens Simatic G120X successfully commissioned at Pune
Siemens top 5 dealer at Vadodara
Siemens Simatic VFD G120X successfully commissioned thousands of projects in many industries in best price Bangalore
Siemens Simatic VFD G120X Used to Purified Water Distribution system in Lucknow
Siemens successfully commissioned thousands of projects in many industries in best price New Delhi
Siemens Simatic VFD G120X best stockist Jaipur
Siemens best stockist Jaipur
Siemens VFD G120X best stockist Vadodara
Siemens G120X distributor in Panvel
Siemens VFD G120X with suppler and installed and distributor in Hyderabad
Siemens Simatic VFD G120X used for Centrifuge application installed and the best dealer in Faridabad
Siemens Simatic G120X distributor in Surat
Siemens used for Fully Automatic PLC based Ointment Plant and distributor in Mumbai
Siemens G120X high quality dealer at Mumbai
Siemens Simatic G120X vendor with best price range in Ahmedabad
Siemens VFD G120X Stockist with best price range in Lucknow
Siemens G120X successfully commissioned at Pune
Siemens VFD G120X installed in Ahmedabad
Siemens VFD G120X with suppler and installed and distributor in Mumbai
Siemens G120X used for Soap Cutting application installed New Delhi
Siemens Simatic G120X best dealer in lowest price in Pune
Siemens Simatic VFD G120X successfully commissioned thousands of projects in many industries in best price Pune
Siemens VFD G120X vendor with best price range in Bangalore
Siemens successfully commissioned thousands of projects in many industries in best price Pune
Siemens Simatic G120X successfully installed in Hyderabad
Siemens Dealer with best price range in Faridabad
Siemens Simatic G120X used for Centrifuge application installed and the best dealer in coimbatore
Siemens seller at Visakhapatnam
Siemens Dealer with best price range in coimbatore
Siemens G120X best dealer in lowest price in Visakhapatnam
Siemens VFD G120X successfully commissioned thousands of projects in many industries in best price Lucknow
Siemens VFD G120X with supplier and installed Distribution system in Lucknow
Siemens Simatic G120X vendor with best price range in Kolkata
Siemens Simatic VFD G120X successfully commissioned at Vadodara
Siemens G120X used for Centrifuge application installed and the best dealer in Chennai
Siemens Simatic VFD G120X best stockist Bangalore
Siemens Simatic G120X used for Soap Cutting application installed Bangalore
Siemens Simatic G120X with suppler and installed and distributor in Panvel
Siemens Simatic G120X successfully commissioned at Lucknow
Siemens Simatic G120X huge stockist with lowest price in Bangalore
Siemens with supplier and installed Distribution system in Bangalore
Siemens VFD G120X huge stockist with lowest price in Vadodara
Siemens Simatic VFD G120X vendor with best price range in Indore
Siemens Simatic VFD G120X huge stockist with lowest price in Nashik
Siemens dealers in Bangalore
Siemens G120X with suppler and installed and distributor in Chennai
Siemens used for Automatic batching system for Cadbury and dealer at Kanpur
Siemens VFD G120X used for Soap Cutting application installed Surat
Siemens VFD G120X Stockist with best price range in Indore
Siemens G120X best stockist Visakhapatnam
Siemens Simatic VFD G120X used for Automatic batching system for Cadbury and dealer at Bangalore
Siemens Simatic G120X dealers in Pune
Siemens high quality dealer at Nagpur
Siemens G120X used for Soap Cutting application installed Surat
Siemens VFD G120X best stockist Kanpur
Siemens VFD G120X used for Automatic batching system for Cadbury and distributor at Nagpur
Siemens VFD G120X vendor with best price range in Kolkata
Siemens VFD G120X Stockist with best price range in coimbatore
Siemens Simatic VFD G120X Trader with best price range in Panvel
Siemens VFD G120X used for Pick and Place automation in Nashik
Siemens huge stockist with lowest price in Pune
Siemens Simatic VFD G120X top 5 dealer at Nagpur
Siemens vendor with best price range in Indore
Siemens G120X with supplier and installed Distribution system in Vadodara
Siemens VFD G120X dealers in Kolkata
Siemens Simatic G120X Trader with best price range in Panvel
Siemens Simatic G120X huge stockist with lowest price in Chennai
Siemens Simatic VFD G120X with suppler and installed and distributor in Vadodara
Siemens VFD G120X huge stockist with lowest price in Kanpur
Siemens Simatic G120X high quality dealer at Nagpur
Siemens G120X successfully commissioned thousands of projects in many industries in best price at Vadodara
Siemens Simatic VFD G120X successfully commissioned thousands of projects in many industries in best price at Pune
Siemens VFD G120X for Fully Automatic PLC based Ointment Plant and distributor in Surat
Siemens G120X successfully commissioned at Kolkata
Siemens Standard used for Centrifuge application installed and the best dealer in Faridabad
Siemens Simatic VFD G120X top 5 dealer at Ahmedabad
Siemens VFD G120X used for Automatic batching system for Cadbury and dealer at Visakhapatnam
Siemens Simatic G120X dealers in Bangalore
Siemens Simatic G120X successfully commissioned thousands of projects in many industries in best price at coimbatore
Siemens G120X Used to Purified Water Distribution system in Indore
Siemens VFD G120X used for Pick and Place automation in Faridabad
Siemens Simatic VFD G120X Used to Purified Water Distribution system in coimbatore
Siemens Dealer with best price range in Lucknow
Siemens Simatic G120X used for Automatic batching system for Cadbury and dealer at New Delhi
Siemens VFD G120X top 5 dealer at Kanpur
Siemens Simatic G120X huge stockist with lowest price in Nagpur
Siemens G120X Trader with best price range in New Delhi
Siemens G120X used for Fully Automatic PLC based Ointment Plant and distributor in Vadodara
Siemens distributor in Faridabad
Siemens Simatic VFD G120X used for Soap Cutting application installed Surat
Siemens Simatic G120X with suppler and installed and distributor in Kanpur
Siemens Simatic VFD G120X used for Pick and Place automation in coimbatore
Siemens Simatic VFD G120X used for Soap Cutting application installed Ahmedabad
Siemens Simatic G120X used for Automatic batching system for Cadbury and dealer at coimbatore
Siemens installed in Kolkata
Siemens Simatic G120X used for Soap Cutting application installed Mumbai
Siemens Simatic VFD G120X used for Automatic batching system for Cadbury and distributor at Panvel
Siemens used for Fully Automatic PLC based Ointment Plant and distributor in coimbatore
Siemens Simatic VFD G120X used for Fully Automatic PLC based Ointment Plant and distributor in Nagpur
Siemens Simatic VFD G120X dealers in Visakhapatnam
Siemens Simatic G120X successfully commissioned thousands of projects in many industries in best price Bangalore
Siemens G120X used for Automatic batching system for Cadbury and dealer at Lucknow
Siemens VFD G120X seller at Chennai
Siemens huge stockist with lowest price in Surat
Siemens used for Soap Cutting application installed Faridabad
Siemens Simatic VFD G120X successfully commissioned at Panvel
Siemens VFD G120X high quality dealer at Jaipur
Siemens Simatic VFD G120X used for Centrifuge application installed and the best dealer in Panvel
Siemens VFD G120X used for Textile machine synchronization in Nashik
Siemens VFD G120X used for Automatic batching system for Cadbury and dealer at Pune
Siemens Simatic VFD G120X top 5 dealer at Mumbai
Siemens used for Automatic batching system for Cadbury and dealer at Faridabad
Siemens G120X installed in Chennai
Siemens G120X Used to Purified Water Distribution system in Ahmedabad
Siemens best stockist Hyderabad
Siemens VFD G120X best dealer in lowest price in Hyderabad
Siemens Simatic VFD G120X with suppler and installed and distributor in Ahmedabad
Siemens G120X Standard used for Centrifuge application installed and the best dealer in Jaipur
Siemens Simatic G120X Stockist with best price range in Pune
Siemens VFD G120X Standard used for Centrifuge application installed and the best dealer in Hyderabad
Siemens VFD G120X used for Textile machine synchronization in New Delhi
Siemens Simatic VFD G120X successfully installed in Visakhapatnam
Siemens G120X used for Automatic batching system for Cadbury and dealer at Nashik
Siemens Simatic G120X best stockist New Delhi
Siemens VFD G120X successfully commissioned at Kolkata
Siemens Simatic G120X seller at Kolkata
Siemens VFD G120X seller at Indore
Siemens Simatic VFD G120X used for Automatic batching system for Cadbury and dealer at Chennai
Siemens used for Soap Cutting application installed Nashik
Siemens used for Soap Cutting application installed Mumbai
Siemens VFD G120X used for Soap Cutting application installed New Delhi
Siemens Simatic G120X used for Pick and Place automation in Nagpur
Siemens G120X used for Soap Cutting application installed Faridabad
Siemens G120X with supplier and installed Distribution system in Ahmedabad
Siemens G120X distributor in Kolkata
Siemens Simatic VFD G120X best dealer in lowest price in Jaipur
Siemens VFD G120X used for Soap Cutting application installed Pune
Siemens VFD G120X huge stockist with lowest price in Surat
Siemens Simatic VFD G120X Dealer with best price range in Nagpur
Siemens seller at Faridabad
Siemens Simatic VFD G120X used for Soap Cutting application installed New Delhi
Siemens successfully installed in Visakhapatnam
Siemens VFD G120X distributor in Kolkata
Siemens Simatic G120X distributor in Kolkata
Siemens used for Automatic batching system for Cadbury and distributor at New Delhi
Siemens VFD G120X dealers in Nagpur
Siemens distributor in Pune
Siemens Trader with best price range in Visakhapatnam
Siemens Simatic VFD G120X successfully installed in Vadodara
Siemens VFD G120X top 5 dealer at Nashik
Siemens Simatic VFD G120X seller at Pune
Siemens VFD G120X best dealer in lowest price in Nagpur
Siemens top 5 dealer at Ahmedabad
Siemens Simatic VFD G120X best stockist Vadodara
Siemens successfully commissioned at Vadodara
Siemens Simatic G120X successfully commissioned at Mumbai
Siemens Simatic G120X used for Textile machine synchronization in Faridabad
Siemens used for Fully Automatic PLC based Ointment Plant and distributor in Kanpur
Siemens Simatic VFD G120X Standard used for Centrifuge application installed and the best dealer in Hyderabad
Siemens Simatic G120X Standard used for Centrifuge application installed and the best dealer in Chennai
Siemens with supplier and installed Distribution system in Visakhapatnam
Siemens Simatic VFD G120X huge stockist with lowest price in Lucknow
Siemens Simatic VFD G120X used for Pick and Place automation in Indore
Siemens G120X Standard used for Centrifuge application installed and the best dealer in Bangalore
Siemens Simatic VFD G120X used for Automatic batching system for Cadbury and dealer at Nashik
Siemens Simatic G120X with supplier and installed Distribution system in Kolkata
Siemens best dealer in lowest price in Chennai
Siemens VFD G120X used for Automatic batching system for Cadbury and dealer at Visakhapatnam
Siemens VFD G120X Stockist with best price range in Nashik
Siemens distributor in Panvel
Siemens Simatic G120X used for Centrifuge application installed and the best dealer in Surat
Siemens G120X vendor with best price range in New Delhi
Siemens Simatic G120X used for Fully Automatic PLC based Ointment Plant and distributor in Vadodara
Siemens G120X successfully commissioned thousands of projects in many industries in best price Vadodara
Siemens VFD G120X huge stockist with lowest price in Nashik
Siemens VFD G120X Used to Purified Water Distribution system in Surat
Siemens VFD G120X with supplier and installed Distribution system in Visakhapatnam
Siemens Simatic VFD G120X used for Soap Cutting application installed Vadodara
Siemens VFD G120X installed in Lucknow
Siemens VFD G120X for Fully Automatic PLC based Ointment Plant and distributor in Nagpur
Siemens Simatic VFD G120X successfully installed in Mumbai
Siemens VFD G120X best dealer in lowest price in Pune
Siemens VFD G120X installed in Nagpur
Siemens Simatic VFD G120X best stockist Faridabad
Siemens high quality dealer at Lucknow
Siemens VFD G120X successfully commissioned thousands of projects in many industries in best price at Lucknow
Siemens G120X Dealer with best price range in Faridabad
Siemens used for Automatic batching system for Cadbury and dealer at Ahmedabad
Siemens VFD G120X installed in Mumbai
Siemens Simatic G120X successfully installed in Ahmedabad
Siemens VFD G120X successfully installed in coimbatore
Siemens VFD G120X with supplier and installed Distribution system in Jaipur
Siemens Simatic G120X Trader with best price range in Ahmedabad
Siemens G120X successfully commissioned at Panvel
Siemens Standard used for Centrifuge application installed and the best dealer in Visakhapatnam
Siemens with supplier and installed Distribution system in Faridabad
Siemens G120X with suppler and installed and distributor in coimbatore
Siemens Simatic G120X used for Automatic batching system for Cadbury and dealer at Faridabad
Siemens VFD G120X used for Soap Cutting application installed Bangalore
Siemens for Fully Automatic PLC based Ointment Plant and distributor in New Delhi
Siemens Simatic VFD G120X best dealer in lowest price in Kolkata
Siemens G120X with suppler and installed and distributor in Panvel
Siemens VFD G120X huge stockist with lowest price in coimbatore
Siemens VFD G120X used for Soap Cutting application installed Hyderabad
Siemens Dealer with best price range in Hyderabad
Siemens huge stockist with lowest price in Chennai
Siemens VFD G120X installed in Faridabad
Siemens VFD G120X used for Automatic batching system for Cadbury and dealer at coimbatore
Siemens Simatic G120X used for Soap Cutting application installed Nashik
Siemens best dealer in lowest price in New Delhi
Siemens Simatic G120X best stockist Nagpur
Siemens Simatic VFD G120X Trader with best price range in Kolkata
Siemens Simatic VFD G120X dealers in Faridabad
Siemens Simatic G120X successfully commissioned thousands of projects in many industries in best price Chennai
Siemens huge stockist with lowest price in Mumbai
Siemens Simatic G120X installed in Pune
Siemens VFD G120X with supplier and installed Distribution system in Kanpur
Siemens VFD G120X successfully commissioned thousands of projects in many industries in best price at Surat
Siemens Simatic G120X used for Soap Cutting application installed Chennai
Siemens Simatic VFD G120X used for Soap Cutting application installed Kolkata
Siemens with supplier and installed Distribution system in Kolkata
Siemens Simatic VFD G120X Dealer with best price range in Hyderabad
Siemens G120X used for Centrifuge application installed and the best dealer in Panvel
Siemens VFD G120X Used to Purified Water Distribution system in Kanpur
Siemens VFD G120X for Fully Automatic PLC based Ointment Plant and distributor in Panvel
Siemens successfully commissioned at Visakhapatnam
Siemens Simatic G120X used for Fully Automatic PLC based Ointment Plant and distributor in Pune
Siemens with suppler and installed and distributor in Nagpur
Siemens VFD G120X dealers in Jaipur
Siemens Simatic VFD G120X used for Fully Automatic PLC based Ointment Plant and distributor in Kolkata
Siemens G120X with supplier and installed Distribution system in Lucknow
Siemens VFD G120X Dealer with best price range in Visakhapatnam
Siemens Simatic VFD G120X used for Centrifuge application installed and the best dealer in Visakhapatnam
Siemens VFD G120X successfully commissioned thousands of projects in many industries in best price Kanpur
Siemens Simatic VFD G120X dealers in Chennai
Siemens Simatic VFD G120X successfully installed in Indore
Siemens successfully commissioned thousands of projects in many industries in best price Surat
Siemens G120X Trader with best price range in Bangalore
Siemens VFD G120X best dealer in lowest price in Mumbai
Siemens Simatic G120X used for Textile machine synchronization in Kanpur
Siemens Simatic G120X used for Textile machine synchronization in Visakhapatnam
Siemens G120X used for Automatic batching system for Cadbury and dealer at Mumbai
Siemens G120X successfully commissioned at Mumbai
Siemens G120X with supplier and installed Distribution system in Nagpur
Siemens huge stockist with lowest price in Vadodara
Siemens VFD G120X dealers in Mumbai
Siemens G120X used for Pick and Place automation in Bangalore
Siemens G120X vendor with best price range in Chennai
Siemens with suppler and installed and distributor in Panvel
Siemens G120X used for Centrifuge application installed and the best dealer in Bangalore
Siemens VFD G120X Trader with best price range in coimbatore
Siemens VFD G120X successfully installed in Vadodara
Siemens Standard used for Centrifuge application installed and the best dealer in Hyderabad
Siemens dealers in Surat
Siemens vendor with best price range in Kolkata
Siemens G120X Standard used for Centrifuge application installed and the best dealer in Indore
Siemens distributor in Jaipur
Siemens Simatic VFD G120X Stockist with best price range in Jaipur
Siemens Simatic G120X used for Soap Cutting application installed Bangalore
Siemens G120X successfully commissioned thousands of projects in many industries in best price at Chennai
Siemens Simatic VFD G120X successfully commissioned thousands of projects in many industries in best price Jaipur
Siemens Simatic VFD G120X for Fully Automatic PLC based Ointment Plant and distributor in Surat
Siemens G120X used for Textile machine synchronization in Indore
Siemens G120X successfully installed in Chennai
Siemens Simatic G120X best stockist Lucknow
Siemens Simatic VFD G120X used for Centrifuge application installed and the best dealer in Kolkata
Siemens G120X used for Soap Cutting application installed Hyderabad
Siemens VFD G120X top 5 dealer at Vadodara
Siemens Simatic G120X with suppler and installed and distributor in Mumbai
Siemens Used to Purified Water Distribution system in New Delhi
Siemens Simatic G120X used for Pick and Place automation in Bangalore
Siemens Simatic G120X Used to Purified Water Distribution system in Bangalore
Siemens used for Soap Cutting application installed Chennai
Siemens with supplier and installed Distribution system in Kanpur
Siemens best stockist Surat
Siemens dealers in Visakhapatnam
Siemens Simatic VFD G120X top 5 dealer at Jaipur
Siemens Simatic G120X Dealer with best price range in Ahmedabad
Siemens Simatic G120X huge stockist with lowest price in Pune
Siemens G120X huge stockist with lowest price in Ahmedabad
Siemens Simatic VFD G120X best dealer in lowest price in Surat
Siemens Simatic VFD G120X successfully commissioned thousands of projects in many industries in best price at Jaipur
Siemens VFD G120X distributor in Faridabad
Siemens used for Fully Automatic PLC based Ointment Plant and distributor in Ahmedabad
Siemens Simatic G120X distributor in Pune
Siemens used for Automatic batching system for Cadbury and dealer at Kanpur
Siemens Simatic VFD G120X high quality dealer at Chennai
Siemens Simatic G120X Used to Purified Water Distribution system in Ahmedabad
Siemens Simatic VFD G120X best dealer in lowest price in Vadodara
Siemens with supplier and installed Distribution system in coimbatore
Siemens VFD G120X used for Automatic batching system for Cadbury and dealer at Vadodara
Siemens VFD G120X with suppler and installed and distributor in Vadodara
Siemens VFD G120X used for Fully Automatic PLC based Ointment Plant and distributor in Chennai
Siemens VFD G120X successfully commissioned at Vadodara
Siemens Simatic G120X successfully commissioned at Vadodara
Siemens VFD G120X best stockist Lucknow
Siemens used for Textile machine synchronization in Lucknow
Siemens Simatic VFD G120X used for Pick and Place automation in Nagpur
Siemens G120X used for Automatic batching system for Cadbury and distributor at Kolkata
Siemens Simatic G120X used for Automatic batching system for Cadbury and dealer at Kanpur
Siemens for Fully Automatic PLC based Ointment Plant and distributor in Indore
Siemens used for Textile machine synchronization in Vadodara
Siemens G120X Stockist with best price range in coimbatore
Siemens VFD G120X distributor in coimbatore
Siemens G120X Trader with best price range in Pune
Siemens G120X with suppler and installed and distributor in Faridabad
Siemens VFD G120X distributor in Surat
Siemens Simatic G120X used for Pick and Place automation in Mumbai
Siemens VFD G120X used for Fully Automatic PLC based Ointment Plant and distributor in Indore
Siemens with suppler and installed and distributor in Jaipur
Siemens G120X seller at Mumbai
Siemens Simatic G120X used for Pick and Place automation in Visakhapatnam
Siemens Simatic VFD G120X used for Textile machine synchronization in Panvel
Siemens Simatic VFD G120X Trader with best price range in Mumbai
Siemens VFD G120X installed in Vadodara
Siemens VFD G120X used for Soap Cutting application installed Jaipur
Siemens used for Automatic batching system for Cadbury and dealer at Jaipur
Siemens Simatic VFD G120X dealers in Nashik
Siemens VFD G120X best stockist Chennai
Siemens successfully commissioned thousands of projects in many industries in best price coimbatore
Siemens with supplier and installed Distribution system in Indore
Siemens Simatic G120X top 5 dealer at Vadodara
Siemens Simatic VFD G120X used for Fully Automatic PLC based Ointment Plant and distributor in Hyderabad
Siemens Simatic G120X seller at Pune
Siemens Simatic VFD G120X used for Centrifuge application installed and the best dealer in Vadodara
Siemens Simatic G120X installed in Ahmedabad
Siemens with suppler and installed and distributor in Chennai
Siemens Simatic VFD G120X huge stockist with lowest price in Faridabad
Siemens G120X for Fully Automatic PLC based Ointment Plant and distributor in Hyderabad
Siemens Simatic G120X dealers in Mumbai
Siemens VFD G120X huge stockist with lowest price in Kolkata
Siemens G120X Standard used for Centrifuge application installed and the best dealer in Kanpur
Siemens VFD G120X successfully commissioned thousands of projects in many industries in best price Panvel
Siemens Simatic G120X used for Textile machine synchronization in Vadodara
Siemens G120X seller at Kanpur
Siemens with supplier and installed Distribution system in Surat
Siemens Simatic VFD G120X huge stockist with lowest price in Nagpur
Siemens Simatic G120X for Fully Automatic PLC based Ointment Plant and distributor in Mumbai
Siemens VFD G120X successfully commissioned thousands of projects in many industries in best price Vadodara
Siemens Simatic VFD G120X used for Automatic batching system for Cadbury and dealer at Visakhapatnam
Siemens for Fully Automatic PLC based Ointment Plant and distributor in Ahmedabad
Siemens Simatic VFD G120X used for Automatic batching system for Cadbury and distributor at Jaipur
Siemens Simatic VFD G120X best stockist Mumbai
Siemens Simatic VFD G120X vendor with best price range in New Delhi
Siemens VFD G120X Dealer with best price range in Surat
Siemens VFD G120X vendor with best price range in Jaipur
Siemens G120X used for Pick and Place automation in Kolkata
Siemens Trader with best price range in Nagpur
Siemens Simatic VFD G120X distributor in Nagpur
Siemens G120X successfully commissioned thousands of projects in many industries in best price Ahmedabad
Siemens Simatic G120X successfully commissioned at Nashik
Siemens VFD G120X successfully commissioned thousands of projects in many industries in best price Ahmedabad
Siemens G120X vendor with best price range in Visakhapatnam
Siemens used for Centrifuge application installed and the best dealer in Chennai
Siemens Simatic VFD G120X best dealer in lowest price in Panvel
Siemens VFD G120X Dealer with best price range in Nashik
Siemens G120X successfully commissioned at Ahmedabad
Siemens G120X used for Soap Cutting application installed Mumbai
Siemens Simatic VFD G120X used for Automatic batching system for Cadbury and distributor at Nashik
Siemens Simatic VFD G120X seller at Lucknow
Siemens Simatic G120X used for Automatic batching system for Cadbury and dealer at Jaipur
Siemens Simatic VFD G120X used for Textile machine synchronization in Kolkata
Siemens VFD G120X used for Fully Automatic PLC based Ointment Plant and distributor in Nagpur
Siemens VFD G120X for Fully Automatic PLC based Ointment Plant and distributor in Nashik
Siemens G120X seller at Ahmedabad
Siemens VFD G120X installed in Bangalore
Siemens Simatic G120X Stockist with best price range in Vadodara
Siemens Simatic G120X successfully commissioned thousands of projects in many industries in best price at Chennai
Siemens used for Soap Cutting application installed Panvel
Siemens Simatic G120X Trader with best price range in Kolkata
Siemens Simatic VFD G120X high quality dealer at Faridabad
Siemens G120X vendor with best price range in Kanpur
Siemens Stockist with best price range in Kolkata
Siemens huge stockist with lowest price in Faridabad
Siemens G120X distributor in Chennai
Siemens successfully commissioned thousands of projects in many industries in best price Vadodara
Siemens G120X best stockist Kolkata
Siemens G120X installed in Nagpur
Siemens top 5 dealer at Pune
Siemens Simatic VFD G120X successfully commissioned at Surat
Siemens Simatic G120X successfully commissioned at Chennai
Siemens Simatic VFD G120X Dealer with best price range in Kolkata
Siemens Simatic VFD G120X Trader with best price range in Hyderabad
Siemens used for Automatic batching system for Cadbury and dealer at Nagpur
Siemens G120X used for Centrifuge application installed and the best dealer in Nagpur
Siemens Simatic VFD G120X successfully commissioned at Nagpur
Siemens Simatic G120X successfully commissioned at coimbatore
Siemens G120X best dealer in lowest price in Kolkata
Siemens Simatic VFD G120X best stockist Panvel
Siemens with suppler and installed and distributor in Kolkata
Siemens G120X used for Pick and Place automation in Faridabad
Siemens Simatic VFD G120X used for Automatic batching system for Cadbury and dealer at Ahmedabad
Siemens Simatic G120X with suppler and installed and distributor in Pune
Siemens G120X successfully commissioned thousands of projects in many industries in best price Nashik
Siemens Simatic G120X successfully commissioned thousands of projects in many industries in best price at Kanpur
Siemens used for Fully Automatic PLC based Ointment Plant and distributor in Chennai
Siemens G120X Used to Purified Water Distribution system in Nashik
Siemens used for Automatic batching system for Cadbury and distributor at Jaipur
Siemens VFD G120X installed in Jaipur
Siemens Simatic G120X Trader with best price range in Visakhapatnam
Siemens top 5 dealer at Kolkata
Siemens Simatic G120X successfully commissioned at Hyderabad
Siemens G120X top 5 dealer at Lucknow
Siemens VFD G120X installed in Kanpur
Siemens VFD G120X with supplier and installed Distribution system in Indore
Siemens Simatic VFD G120X used for Textile machine synchronization in Mumbai
Siemens VFD G120X successfully commissioned thousands of projects in many industries in best price Kolkata
Siemens Simatic G120X used for Pick and Place automation in Panvel
Siemens Simatic G120X used for Fully Automatic PLC based Ointment Plant and distributor in Lucknow
Siemens G120X used for Automatic batching system for Cadbury and distributor at Hyderabad
Siemens Simatic G120X Dealer with best price range in Panvel
Siemens VFD G120X seller at Nagpur
Siemens Simatic VFD G120X for Fully Automatic PLC based Ointment Plant and distributor in Kanpur
Siemens G120X with supplier and installed Distribution system in Bangalore
Siemens VFD G120X successfully installed in Nagpur
Siemens Simatic VFD G120X for Fully Automatic PLC based Ointment Plant and distributor in Lucknow
Siemens Simatic G120X successfully commissioned at Kolkata
Siemens Simatic VFD G120X used for Centrifuge application installed and the best dealer in coimbatore
Siemens VFD G120X best dealer in lowest price in Faridabad
Siemens Simatic G120X used for Soap Cutting application installed Nagpur
Siemens Simatic G120X used for Pick and Place automation in Kolkata
Siemens dealers in Hyderabad
Siemens Stockist with best price range in coimbatore
Siemens Simatic G120X used for Automatic batching system for Cadbury and distributor at Lucknow
Siemens Simatic G120X used for Soap Cutting application installed Nashik
Siemens G120X vendor with best price range in Indore
Siemens VFD G120X huge stockist with lowest price in Faridabad
Siemens VFD G120X seller at Mumbai
Siemens Simatic G120X seller at Indore
Siemens Simatic VFD G120X used for Soap Cutting application installed Vadodara
Siemens Simatic G120X with supplier and installed Distribution system in Nashik
Siemens Simatic VFD G120X used for Automatic batching system for Cadbury and dealer at Vadodara
Siemens Simatic VFD G120X seller at Panvel
Siemens G120X best dealer in lowest price in Hyderabad
Siemens VFD G120X vendor with best price range in Surat
Siemens Simatic G120X successfully installed in Vadodara
Siemens Simatic VFD G120X vendor with best price range in Mumbai
Siemens Standard used for Centrifuge application installed and the best dealer in coimbatore
Siemens Simatic G120X Trader with best price range in Nagpur
Siemens installed in coimbatore
Siemens Simatic VFD G120X with supplier and installed Distribution system in Jaipur
Siemens Simatic VFD G120X Trader with best price range in Kanpur
Siemens G120X Dealer with best price range in Vadodara
Siemens Simatic VFD G120X huge stockist with lowest price in Visakhapatnam
Siemens G120X top 5 dealer at Panvel
Siemens VFD G120X used for Centrifuge application installed and the best dealer in Nashik
Siemens VFD G120X successfully commissioned thousands of projects in many industries in best price Chennai
Siemens Simatic VFD G120X seller at Hyderabad
Siemens VFD G120X used for Pick and Place automation in coimbatore
Siemens G120X successfully commissioned thousands of projects in many industries in best price Lucknow
Siemens G120X best stockist Chennai
Siemens G120X used for Centrifuge application installed and the best dealer in coimbatore
Siemens G120X seller at Jaipur
Siemens Simatic G120X with suppler and installed and distributor in Chennai
Siemens G120X Dealer with best price range in Indore
Siemens Used to Purified Water Distribution system in Surat
Siemens G120X for Fully Automatic PLC based Ointment Plant and distributor in Vadodara
Siemens G120X with suppler and installed and distributor in Vadodara
Siemens Simatic VFD G120X with suppler and installed and distributor in Faridabad
Siemens VFD G120X used for Soap Cutting application installed Bangalore
Siemens Simatic VFD G120X used for Automatic batching system for Cadbury and dealer at Nashik
Siemens Simatic VFD G120X huge stockist with lowest price in Mumbai
Siemens Simatic VFD G120X used for Automatic batching system for Cadbury and dealer at Lucknow
Siemens VFD G120X Trader with best price range in Visakhapatnam
Siemens Simatic G120X with supplier and installed Distribution system in Vadodara
Siemens Simatic VFD G120X used for Textile machine synchronization in Kanpur
Siemens G120X successfully commissioned thousands of projects in many industries in best price at Kolkata
Siemens Simatic G120X top 5 dealer at Pune
Siemens VFD G120X installed in Visakhapatnam
Siemens Simatic G120X dealers in coimbatore
Siemens VFD G120X best stockist Nashik
Siemens VFD G120X best stockist Bangalore
Siemens Simatic VFD G120X Stockist with best price range in Ahmedabad
Siemens high quality dealer at Chennai
Siemens Simatic VFD G120X successfully commissioned thousands of projects in many industries in best price at Nashik
Siemens successfully commissioned at Pune
Siemens VFD G120X Trader with best price range in Nagpur
Siemens vendor with best price range in Mumbai
Siemens G120X best dealer in lowest price in Vadodara
Siemens G120X Standard used for Centrifuge application installed and the best dealer in Chennai
Siemens Simatic VFD G120X used for Soap Cutting application installed Nashik
Siemens G120X used for Centrifuge application installed and the best dealer in Kolkata
Siemens installed in Surat
Siemens successfully commissioned thousands of projects in many industries in best price at Hyderabad
Siemens Simatic G120X high quality dealer at Faridabad
Siemens G120X best stockist Kanpur
Siemens G120X top 5 dealer at Vadodara
Siemens Simatic G120X for Fully Automatic PLC based Ointment Plant and distributor in Ahmedabad
Siemens VFD G120X best stockist Pune
Siemens Simatic VFD G120X used for Soap Cutting application installed Jaipur
Siemens Simatic G120X installed in Visakhapatnam
Siemens VFD G120X dealers in New Delhi
Siemens Simatic G120X best stockist Ahmedabad
Siemens with suppler and installed and distributor in Vadodara
Siemens G120X installed in Ahmedabad
Siemens used for Automatic batching system for Cadbury and distributor at Lucknow
Siemens Simatic G120X seller at Panvel
Siemens Simatic G120X best dealer in lowest price in Hyderabad
Siemens VFD G120X with suppler and installed and distributor in Panvel
Siemens G120X used for Automatic batching system for Cadbury and dealer at Ahmedabad
Siemens G120X used for Fully Automatic PLC based Ointment Plant and distributor in Surat
Siemens Simatic G120X installed in New Delhi
Siemens G120X Dealer with best price range in Ahmedabad
Siemens VFD G120X for Fully Automatic PLC based Ointment Plant and distributor in Hyderabad
Siemens VFD G120X with supplier and installed Distribution system in Chennai
Siemens used for Fully Automatic PLC based Ointment Plant and distributor in Hyderabad
Siemens Simatic G120X best stockist Panvel
Siemens Simatic VFD G120X used for Soap Cutting application installed Visakhapatnam
Siemens VFD G120X used for Centrifuge application installed and the best dealer in Panvel
Siemens VFD G120X vendor with best price range in Chennai
Siemens Simatic VFD G120X used for Automatic batching system for Cadbury and dealer at Panvel
Siemens Simatic G120X best dealer in lowest price in Faridabad
Siemens Simatic VFD G120X installed in Visakhapatnam
Siemens VFD G120X used for Soap Cutting application installed Surat
Siemens G120X huge stockist with lowest price in Kanpur
Siemens Simatic G120X with supplier and installed Distribution system in Chennai
Siemens VFD G120X Trader with best price range in Indore
Siemens Simatic VFD G120X used for Soap Cutting application installed Jaipur
Siemens VFD G120X Used to Purified Water Distribution system in Jaipur
Siemens Simatic G120X top 5 dealer at Mumbai
Siemens Simatic G120X seller at Nagpur
Siemens Simatic VFD G120X successfully commissioned at Lucknow
Siemens Simatic VFD G120X Standard used for Centrifuge application installed and the best dealer in Surat
Siemens Simatic G120X used for Automatic batching system for Cadbury and dealer at Ahmedabad
Siemens G120X successfully installed in Hyderabad
Siemens G120X used for Pick and Place automation in coimbatore
Siemens vendor with best price range in Jaipur
Siemens Simatic VFD G120X best stockist Kolkata
Siemens VFD G120X for Fully Automatic PLC based Ointment Plant and distributor in Bangalore
Siemens VFD G120X used for Soap Cutting application installed Mumbai
Siemens Simatic VFD G120X huge stockist with lowest price in New Delhi
Siemens G120X used for Fully Automatic PLC based Ointment Plant and distributor in Faridabad
Siemens VFD G120X successfully installed in Hyderabad
Siemens G120X successfully installed in Bangalore
Siemens Simatic VFD G120X used for Fully Automatic PLC based Ointment Plant and distributor in Pune
Siemens Simatic VFD G120X used for Automatic batching system for Cadbury and dealer at coimbatore
Siemens G120X best dealer in lowest price in Surat
Siemens used for Soap Cutting application installed Panvel
Siemens G120X high quality dealer at Vadodara
Siemens G120X for Fully Automatic PLC based Ointment Plant and distributor in Faridabad
Siemens Simatic G120X best stockist Chennai
Siemens Simatic VFD G120X Trader with best price range in Nagpur
Siemens Simatic G120X used for Centrifuge application installed and the best dealer in New Delhi
Siemens Simatic VFD G120X Standard used for Centrifuge application installed and the best dealer in Nashik
Siemens G120X Dealer with best price range in Lucknow
Siemens G120X used for Soap Cutting application installed Bangalore
Siemens Simatic G120X Standard used for Centrifuge application installed and the best dealer in Visakhapatnam
Siemens VFD G120X best stockist Visakhapatnam
Siemens vendor with best price range in coimbatore
Siemens Simatic VFD G120X with supplier and installed Distribution system in Lucknow
Siemens Simatic G120X used for Soap Cutting application installed New Delhi
Siemens used for Pick and Place automation in Panvel
Siemens VFD G120X installed in Pune
Siemens G120X installed in Indore
Siemens G120X used for Centrifuge application installed and the best dealer in Nashik
Siemens VFD G120X used for Automatic batching system for Cadbury and dealer at Kanpur
Siemens Simatic VFD G120X used for Textile machine synchronization in Surat
Siemens VFD G120X used for Soap Cutting application installed Kolkata
Siemens G120X used for Pick and Place automation in Vadodara
Siemens for Fully Automatic PLC based Ointment Plant and distributor in Mumbai
Siemens Simatic VFD G120X distributor in Hyderabad
Siemens VFD G120X used for Soap Cutting application installed Nagpur
Siemens G120X Standard used for Centrifuge application installed and the best dealer in Hyderabad
Siemens G120X best dealer in lowest price in Mumbai
Siemens VFD G120X top 5 dealer at Bangalore
Siemens Simatic VFD G120X used for Soap Cutting application installed Bangalore
Siemens Simatic VFD G120X dealers in New Delhi
Siemens Simatic G120X used for Automatic batching system for Cadbury and distributor at Nashik
Siemens installed in Panvel
Siemens Simatic G120X dealers in Panvel
Siemens Simatic G120X best dealer in lowest price in Visakhapatnam
Siemens G120X vendor with best price range in Ahmedabad
Siemens Simatic VFD G120X used for Textile machine synchronization in Faridabad
Siemens Trader with best price range in Panvel
Siemens Simatic G120X Used to Purified Water Distribution system in Surat
Siemens Simatic VFD G120X used for Automatic batching system for Cadbury and dealer at Bangalore
Siemens G120X best dealer in lowest price in Chennai
Siemens G120X huge stockist with lowest price in Nashik
Siemens successfully commissioned thousands of projects in many industries in best price at Surat
Siemens VFD G120X Dealer with best price range in Faridabad
Siemens Simatic VFD G120X Standard used for Centrifuge application installed and the best dealer in Kanpur
Siemens Simatic VFD G120X with suppler and installed and distributor in Hyderabad
Siemens Simatic VFD G120X distributor in Indore
Siemens best stockist Ahmedabad
Siemens Simatic G120X high quality dealer at Nashik
Siemens VFD G120X huge stockist with lowest price in Panvel
Siemens VFD G120X used for Automatic batching system for Cadbury and distributor at Jaipur
Siemens Simatic VFD G120X successfully commissioned at Indore
Siemens Used to Purified Water Distribution system in Nagpur
Siemens G120X Used to Purified Water Distribution system in Visakhapatnam
Siemens G120X Used to Purified Water Distribution system in Pune
Siemens used for Centrifuge application installed and the best dealer in Ahmedabad
Siemens Simatic G120X used for Automatic batching system for Cadbury and dealer at Faridabad
Siemens G120X distributor in Lucknow
Siemens Simatic G120X Dealer with best price range in New Delhi
Siemens used for Textile machine synchronization in Pune
Siemens VFD G120X used for Automatic batching system for Cadbury and dealer at Faridabad
Siemens VFD G120X huge stockist with lowest price in Lucknow
Siemens Simatic G120X successfully commissioned thousands of projects in many industries in best price Nagpur
Siemens VFD G120X used for Pick and Place automation in Indore
Siemens Simatic VFD G120X huge stockist with lowest price in Hyderabad
Siemens VFD G120X used for Textile machine synchronization in Panvel
Siemens Simatic G120X used for Pick and Place automation in Ahmedabad
Siemens G120X high quality dealer at Chennai
Siemens Simatic VFD G120X used for Automatic batching system for Cadbury and dealer at Chennai
Siemens Simatic G120X with suppler and installed and distributor in Lucknow
Siemens top 5 dealer at Hyderabad
Siemens G120X used for Pick and Place automation in Hyderabad
Siemens Simatic G120X distributor in Nashik
Siemens Simatic VFD G120X vendor with best price range in Jaipur
Siemens VFD G120X successfully commissioned thousands of projects in many industries in best price at New Delhi
Siemens VFD G120X Trader with best price range in Nashik
Siemens Simatic VFD G120X Stockist with best price range in Nashik
Siemens VFD G120X successfully commissioned thousands of projects in many industries in best price at Chennai
Siemens with supplier and installed Distribution system in Panvel
Siemens VFD G120X with supplier and installed Distribution system in Panvel
Siemens Simatic G120X for Fully Automatic PLC based Ointment Plant and distributor in Vadodara
Siemens VFD G120X best stockist Kolkata
Siemens Simatic G120X Dealer with best price range in Kanpur
Siemens VFD G120X successfully commissioned at Chennai
Siemens Simatic G120X best dealer in lowest price in Lucknow
Siemens VFD G120X Trader with best price range in Kanpur
Siemens high quality dealer at Visakhapatnam
Siemens Simatic VFD G120X dealers in Indore
Siemens G120X best stockist Hyderabad
Siemens G120X high quality dealer at Kanpur
Siemens best dealer in lowest price in Kanpur
Siemens Simatic VFD G120X seller at Ahmedabad
Siemens Simatic G120X successfully commissioned thousands of projects in many industries in best price Surat
Siemens Simatic G120X distributor in Vadodara
Siemens G120X used for Automatic batching system for Cadbury and dealer at Bangalore
Siemens used for Textile machine synchronization in Chennai
Siemens Simatic G120X top 5 dealer at Kolkata
Siemens VFD G120X used for Pick and Place automation in Surat
Siemens VFD G120X successfully commissioned thousands of projects in many industries in best price at Jaipur
Siemens Simatic VFD G120X used for Soap Cutting application installed Faridabad
Siemens Simatic VFD G120X Dealer with best price range in Faridabad
Siemens VFD G120X with suppler and installed and distributor in Visakhapatnam
Siemens Simatic G120X used for Soap Cutting application installed Surat
Siemens Simatic G120X Stockist with best price range in Mumbai
Siemens G120X used for Automatic batching system for Cadbury and distributor at coimbatore
Siemens G120X Stockist with best price range in Nagpur
Siemens Simatic G120X high quality dealer at Chennai
Siemens Simatic G120X seller at Lucknow
Siemens Simatic G120X Used to Purified Water Distribution system in coimbatore
Siemens Simatic VFD G120X Dealer with best price range in coimbatore
Siemens G120X used for Centrifuge application installed and the best dealer in Indore
Siemens VFD G120X Used to Purified Water Distribution system in Lucknow
Siemens G120X seller at Hyderabad
Siemens VFD G120X successfully installed in Kolkata
Siemens Simatic G120X used for Fully Automatic PLC based Ointment Plant and distributor in Kolkata
Siemens VFD G120X successfully installed in Indore
Siemens Simatic VFD G120X installed in Nagpur
Siemens Simatic G120X used for Pick and Place automation in Kanpur
Siemens VFD G120X Dealer with best price range in Panvel
Siemens G120X high quality dealer at Ahmedabad
Siemens Simatic VFD G120X successfully commissioned thousands of projects in many industries in best price Nashik
Siemens Simatic G120X high quality dealer at Bangalore
Siemens VFD G120X used for Automatic batching system for Cadbury and distributor at Chennai
Siemens Simatic G120X seller at Hyderabad
Siemens Simatic VFD G120X for Fully Automatic PLC based Ointment Plant and distributor in Vadodara
Siemens VFD G120X used for Centrifuge application installed and the best dealer in Surat
Siemens for Fully Automatic PLC based Ointment Plant and distributor in Nagpur
Siemens Simatic VFD G120X Used to Purified Water Distribution system in Faridabad
Siemens G120X used for Automatic batching system for Cadbury and dealer at Ahmedabad
Siemens G120X used for Automatic batching system for Cadbury and dealer at Jaipur
Siemens successfully installed in Nagpur
Siemens G120X top 5 dealer at Kanpur
Siemens Simatic G120X used for Automatic batching system for Cadbury and distributor at Bangalore
Siemens G120X dealers in Lucknow
Siemens VFD G120X best dealer in lowest price in Nashik
Siemens G120X best stockist New Delhi
Siemens VFD G120X used for Automatic batching system for Cadbury and dealer at Lucknow
Siemens Simatic G120X used for Automatic batching system for Cadbury and dealer at coimbatore
Siemens Simatic VFD G120X successfully installed in Kolkata
Siemens VFD G120X used for Automatic batching system for Cadbury and dealer at Hyderabad
Siemens Simatic VFD G120X best dealer in lowest price in coimbatore
Siemens successfully commissioned thousands of projects in many industries in best price at New Delhi
Siemens VFD G120X with supplier and installed Distribution system in Ahmedabad
Siemens Simatic G120X successfully commissioned at Bangalore
Siemens Simatic G120X used for Fully Automatic PLC based Ointment Plant and distributor in coimbatore